The challenge of building a fairer society for all is as enormous as ever. In the UK, income inequality remains high and people's life chances vary greatly.
These are problems that no single organisation can tackle alone. The construction industry has a massive role to play. We will work with our customers and experts to fully understand what is needed and how we can help deliver real, long-term impact.
There are lots of ways to do this, but we will focus on young people facing societal or personal barriers to access good careers.
Our Building Lives theme and associated activities are guided by the Willmott Dixon Foundation.
Our ambitions to 2030
We will deliver high-impact social value which we can demonstrate meets the needs of local communities: Working with our customers, we will take an evidence-based approach to identify particular local needs, and partner with local organisations who know their communities well, in order to focus on what is important and where we can have most impact.
How we do business will set the standard for social value in our sector: As a leader we should be sharing our knowledge and expertise to support other businesses to prosper. We will also make social value a consideration in every decision we make – from how we support our own people and what we procure, through to the products and services we offer.
We will support people who face significant barriers to be in, or on the path to, good careers: We have always maintained that the best way to improve a person's life chances is by enabling them to access good quality work. Having a good career can provide purpose, skills, a sense of achievement and increased self-esteem – as well as an income. We want to support as many people as we can in the communities in which we work and have a deeper, more meaningful impact on the lives of people facing particularly significant barriers to work.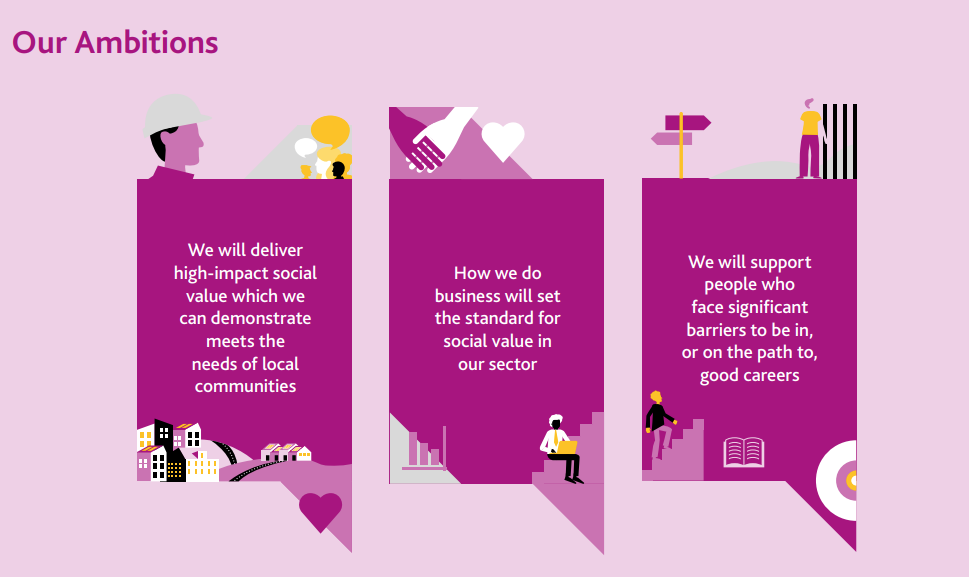 Our Building Lives ambitions build on the success of our first Willmott Dixon Foundation strategy, which included our headline target to enhance the life chances of 10,000 young people, which we met in July 2019.
Whilst we want to maintain our wide reach in our communities, our 2030 careers target is geared towards having a more meaningful impact; over months and years, we can help people facing significant barriers develop good careers, some of them in our business.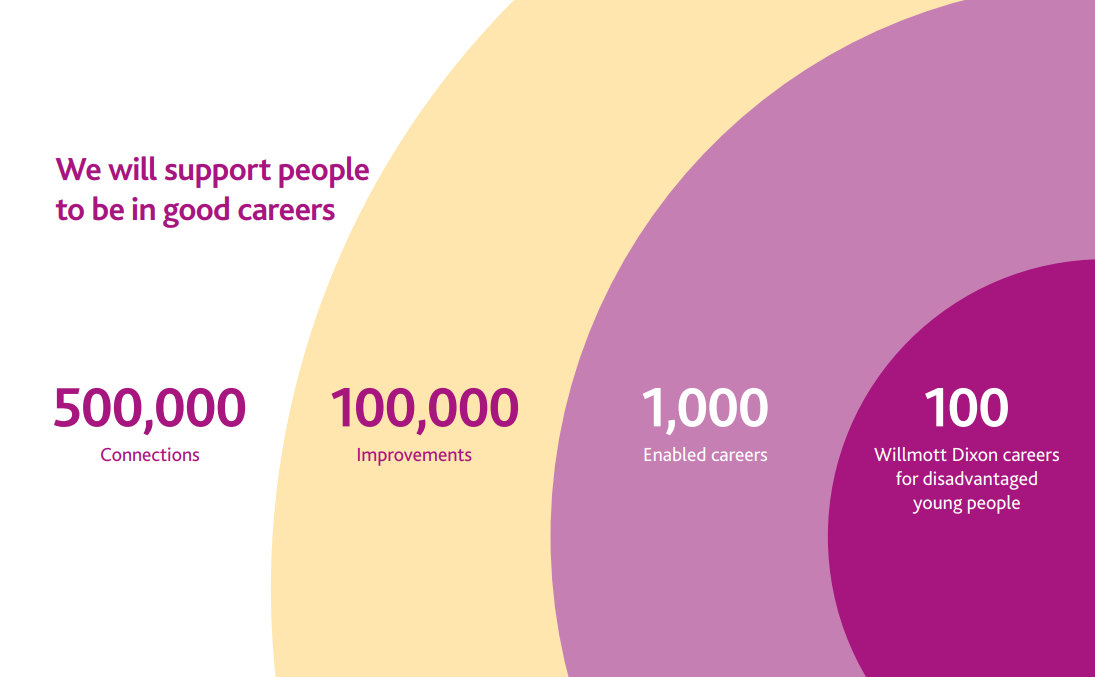 Key:
| | |
| --- | --- |
| Term | Definition |
| Connection | A one-off interaction between Willmott Dixon and an individual or group. i.e. careers fairs, school assemblies, site visits. |
| Improvements | A series of interactions with the same individual/set of individuals over a number of interactions, which is part of a recognised Willmott Dixon programme. |
| Enabled Careers | Enabling an individual to gain access to good and sustainable employment which they wouldn't have had access to without the interaction with Willmott Dixon. This career doesn't have to be with Willmott Dixon or within the Construction industry. |
| Careers with Willmott Dixon for young people who face significant barriers | Willmott Dixon directly employing a young person who faced significant barriers for over one year. |
Find out more about how we will be delivering our ambitions in our strategy document and through the links below.