The challenge of building a fairer society for all is as enormous as ever. In the UK, income inequality remains high and people's life chances vary greatly.
These are problems that no single organisation can tackle alone. The construction industry has a massive role to play. We will work with our customers and experts to fully understand what is needed and how we can help deliver real, long-term impact.
Our Building Lives theme and associated activities are guided by the Willmott Dixon Foundation. Our ambitions revolve around Community, Business and People. It provides our approach to CSR, Social Value and Community.
Understanding community to increase impact: Ensuring that we always deliver high-impact social value which we can demonstrate meets the real needs of our communities is essential. We know that our communities include our people, customers and supply chain as well as wider community organisations and groups, so we listen carefully to all of them to understand where we can have the most impact. In 2020 we developed and launched our national Building Lives Delivery Suite. This suite of programmes enables us to deliver our social value programmes in a socially-distanced, digital, or face-to-face format – we always collect feedback on their success and they are reviewed every time they are delivered to make sure they are truly delivering what is needed.
Harnessing business leverage: Increasing our social impact by making sure that all our business processes have social value and community wellbeing at their heart – from innovating on our projects to supporting and spending with local businesses and social enterprises and repurposing IT equipment to tackle digital poverty.
Supporting people directly: At Willmott Dixon, we have always maintained that the best way to improve a person's life chances is by enabling them to access good quality work. This starts with our people and extends to those in our supply chain and beyond. This belief is what led us to sign up to the Real Living Wage, set our 2030 gender parity target and regularly test how we are doing in the Best Companies review. It is also what led us to create our 2013 Young People Target and our new Careers Target.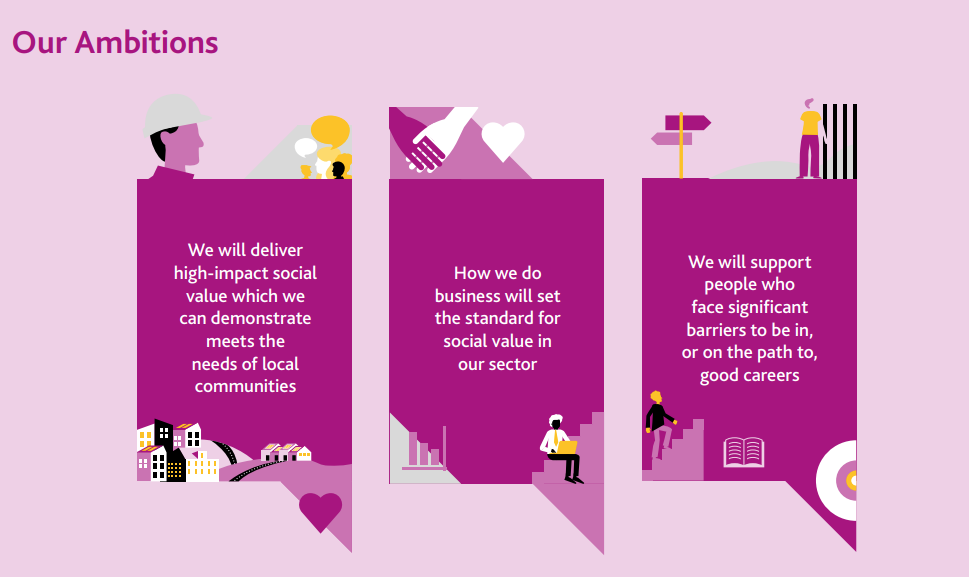 Find out more about how we will be delivering our ambitions in our strategy document and via the links below.