The latest drylining academy at HMP Lincoln follows similar academies at HMP Elmley in Kent, HMP Cardiff (in partnership with Etex) and HMP Belmarsh as part of our Building Lives strategy to support social mobility. As with our other drylining academies, the HMP Lincoln academy will help prisoners obtain key qualifications as they get ready for release.
Groups of up to eight people a time will go through the academy to learn drylining skills and get their Construction Skills Certification Scheme (CSCS) card, which will enable them to work on construction sites. We have teamed up with local supply chain partners to support the programme, with the first cohort of learners finishing later this month.
Our focus on social mobility has seen Willmott Dixon become one of only a few companies to receive an accolade in the Kings Awards for Enterprise, winning the UK's most coveted business prize in the Promoting Opportunity category.
Nick Heath, director at Willmott Dixon in the Midlands, said: "We are proud to launch our first Drylining Academy in the Midlands at HMP Lincoln. Willmott Dixon has a purpose beyond profit and that includes providing opportunities and driving social mobility in our communities. With our presence in Lincolnshire growing, our newest academy will help people coming out of HMP Lincoln find long-term work and reduce the likelihood of reoffending.
"The construction industry faces a chronic skills shortage. According to a recent CITB Construction Skills Network (CSN) report, the industry needs to recruit an extra 225,000 workers by 2027 to meet construction demand, which translates to an additional 45,000 workers per year. Our academy equips ex-offenders with skills to find a rewarding job when their sentence completes and boosts the local talent pool of skilled construction workers."
A prisoner at HMP Lincoln, said: "The programme has given me knowledge as to what I could do [when I'm released], and how it could lead to a job. It will help me to not go back to being the same person I was before. My favourite bit of the programme has been building something and looking back and knowing that you've done it - the satisfaction of doing something."
Matt Spencer, governor at HMP Lincoln, said: "The partnership between Willmott Dixon, HMP Lincoln and the supply chain is a great example of the quality vocational training HMP Lincoln wants to provide to its prisoners. With this vocational training, HMP Lincoln prisoners have a much better chance of getting a job on release and this means they are much less likely to reoffend."
The academy would not be possible without the generous donations of money, time and tools from Willmott Dixon's supply chain partners. In particular, the support provided by Advante, British Gypsum, Elmsmere, Nuneaton Signs, We Are Social Enterprise and Lincsco.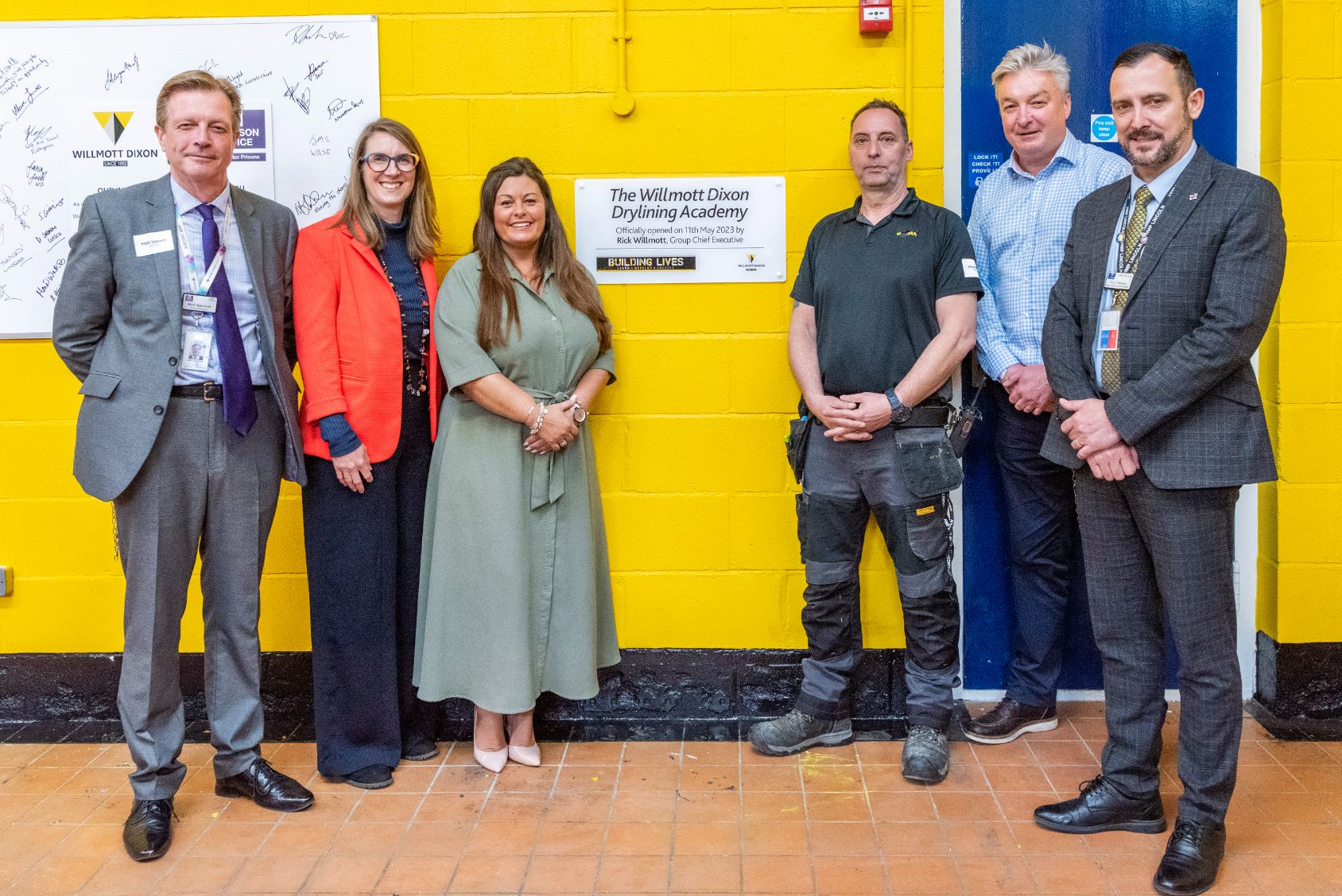 From left to right, Matt Spencer (HMP Lincoln's Governor), Head of the Willmott Dixon Foundation Sarah Fraser, Willmott Dixon social value manager Shelley Williamson, Vince Pickett, the drylining academy tutor at the prison, Nick Heath, Willmott Dixon Director for East Midlands and Terry Pagram, Head of Reducing Reoffending at HMP Lincoln.