The Centre for Medicine, University of Leicester is the UK's largest non-residential Passivhaus scheme.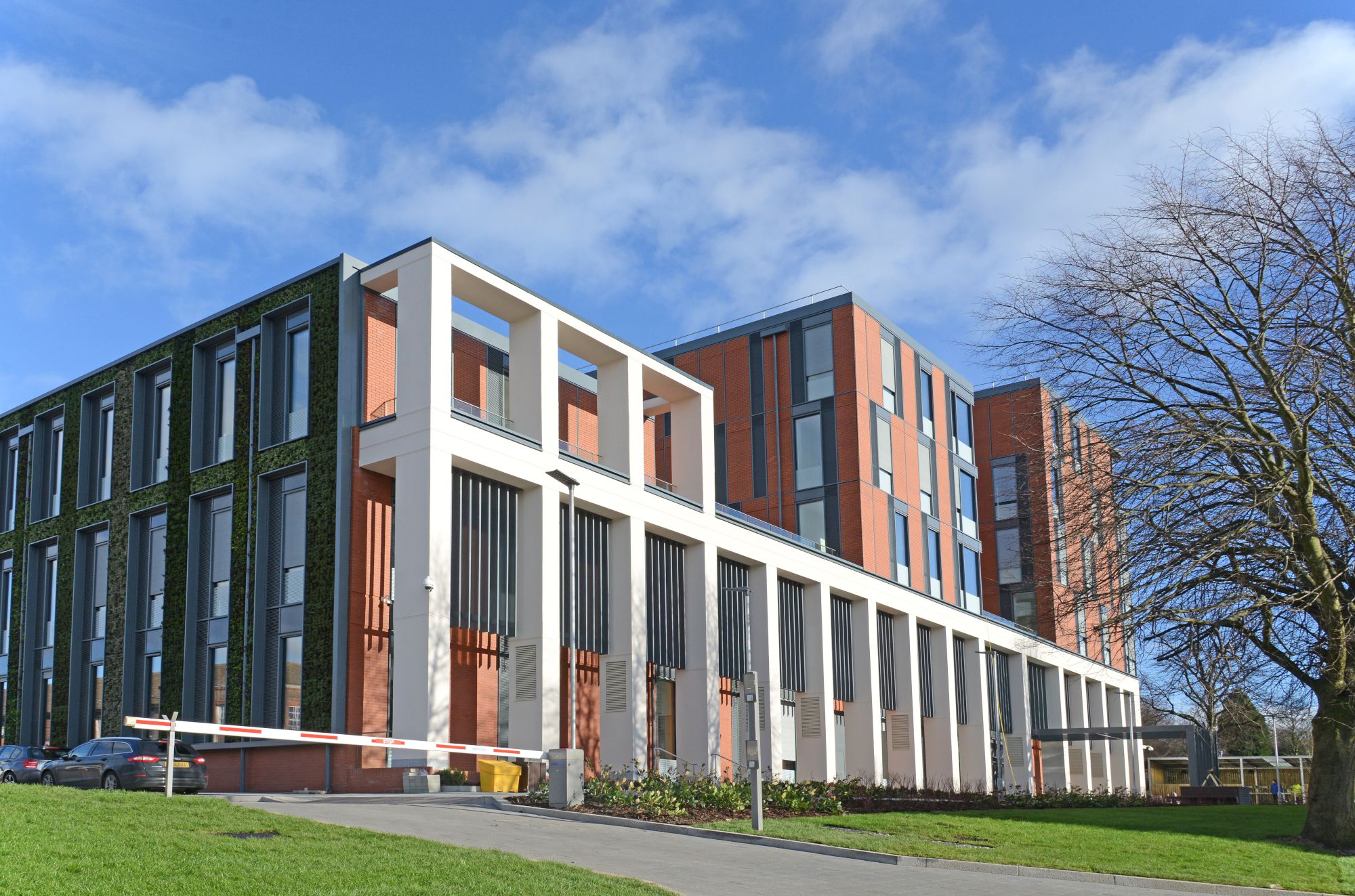 At the 2018 CIBSE awards, it was crowned best project for public use given its energy performance!
Judges said:
"The standard of the shortlist was incredibly high but the Centre for Medicine had the best performance and will be a tough project to follow. We are impressed with the actual energy performance as well as the application of Soft Landings and post-occupancy evaluation, which
provide a great demonstration of best practice for the industry to follow."
Full extract from awards programme:
The impressively-designed Centre for Medicine (CfM) at the University of Leicester (UoL) has set a new best practice example for large-scale higher education buildings and has gained Passivhaus certification, the largest building in the UK to do so.
The CfM brings together the colleges of medicine, psychology and biological sciences under one roof for the first time and accommodates 2,400 occupants in a range of teaching, social, 'dry' laboratory and academic research spaces. These departments previously occupied 19 separate old and inefficient buildings.
Reduce carbon emissions
A key driver behind the CfM has been UoL's sustainability strategy and desire to reduce carbon emissions by 60% by 2020, based on a 2005 benchmark. It was recognised early on that achieving a low energy/low carbon building should be the first priority. The university has a long record of actively managing energy use, and was one of the first universities to publicise its Display Energy Certificates online.
The site is a former football pitch and is located on the edge of a conservation area. There are a number of listed buildings in the vicinity and views from Regents College to the north of the site towards the war memorial are protected.All of this created a sensitive site in terms of planning.
Big challenge
To respect and overcome these challenges, the building has a stepped down shape and is split between three main blocks. This largely satisfied the planning requirements, but meant that increased energy demand due to this deviationfrom the ideal form factor and orientation that Passivhaus favours, had to be made up elsewhere, such as by better airtightness and higher fabric thermal performance.
The university set several objectives: as well as achieving Passivhaus Certification it was to be BREEAM Excellent, have an 'A' rated EPC on construction and obtain an 'A' rated DEC by the end of the third year of operation. All were accomplished. It was also agreed to adopt the Soft Landings approach.
Focus on soft landings
Willmott Dixon believes the Soft Landings framework has been central to the building achieving DEC rating of 'A' in just over a year, well ahead of the three-year postcompletion deadline.
Measurements of CO2, humidity, temperature and a presence detection system are used by the building management system to create a highly automated building that maximises energy efficiency while maintaining a high level of user comfort. However, users have override control within a range as described in the building user guide.
To further reduce energy, the building benefits from a ground air heat exchange system (GAHE), which pre-heats and pre-cools incoming air. This 1.6km labyrinth of pipes had to be fitted between foundation piles, pile caps and other underground services. Two solutions were explored – install GAHE pipes either before or after piling. The latter was chosen as it would prevent the risk of GAHE pipes being damaged by piling, but meant design had to be modified to accommodate piles being partially exposed after installation and the unequal loadings they were subjected to.
Judges praised Willmott Dixon for their approach and the objectives achieved
Learning for other projects
Willmott Dixon shared its approach and lessons at a number of industry events including Passivhaus conferences, Passivhaus Trust site visit, and during presentations and site visits to staff and students from universities including Loughborough, Birmingham, Oxford and Leeds.