Willmott Dixon's sustainability team scoops prestigious award.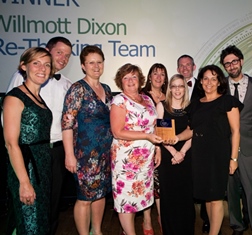 'Re-Thinking', Willmott Dixon's sustainability team beat a very impressive short list of companies to win the prestigious title of 'Sustainability Team of the Year' at the 2014 BusinessGreen Leaders' Awards – celebrating the leading businesses and people from across the green economy.

The team was singled out for its work in supporting the company to deliver on its carbon and waste targets, as well as helping to drive sustainability across the sector, through collaboration in a number of industry groups.
Key achievements that helped win the award include:
· Securing commitment from across the Group for the launch of an industry-leading sustainable development strategy containing some of the most challenging targets in the sector.
· Significant reductions in carbon and waste intensity over the last three years.
· Successful completion of technically challenging and high profile construction projects: knowledge gained and shared has helped the company win further work.
· Leadership of industry groups which are having a huge positive impact on the sustainability of the construction industry.
· Over 1000 supply chain members signed up to the Supply Chain Sustainability School.
Willmott Dixon's Re-Thinking team drives change and delivers viable solutions to address the risks and opportunities of a low carbon and sustainable built environment.