George Davies Centre — University of Leicester
Largest non-residential building to achieve coveted ultra low energy consumption Passivhaus standard
"This George Davies Centre gives Leicester medical students probably the most advanced environment and facilities in which to study medicine in the UK." Professor David Wynford-Thomas, Dean of the School of Medicine and Head of the College of Medicine, Biological Sciences and Psychology, University of Leicester
The UK's largest non-residential project built to the ultra-energy efficient Passivhaus standard
Passivhaus on the scale of the Centre hasn't been achieved before in the UK. With a gross internal floor area of just under 13,000m2, the building is four times larger than previous record holder, the Enterprise Centre at the University of East Anglia.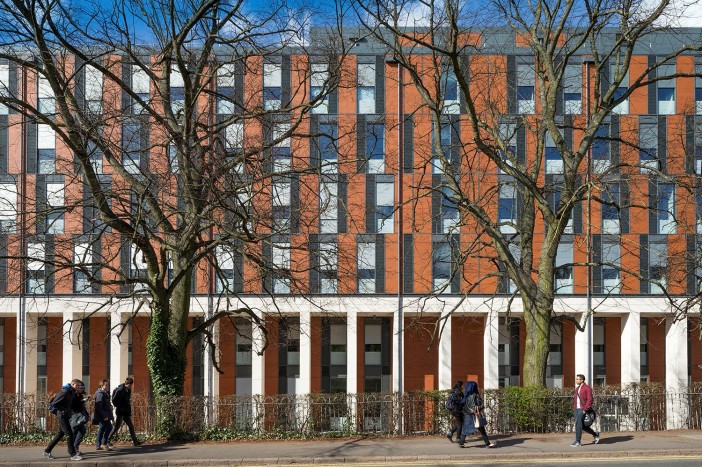 It's also a milestone for a university sector investing heavily in modernising estates and becoming more efficient in consuming energy - a national trend.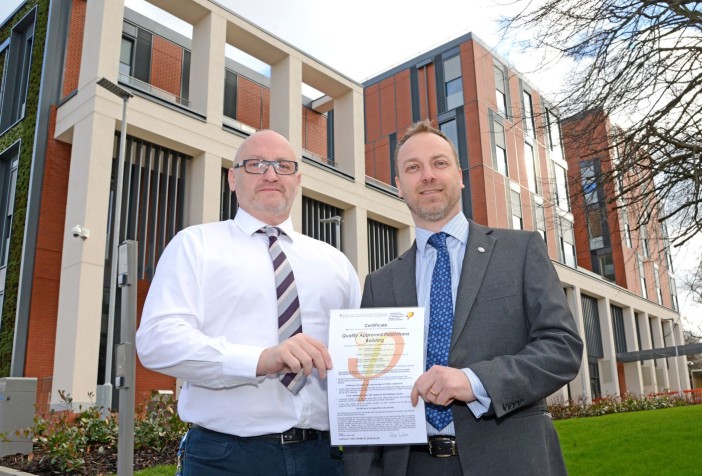 Passivhaus first! University of Leicester project manager Dave Vernan (left) and Willmott Dixon's James Elliment hold a certificate confirming the standard
Big goals
The University of Leicester needed a new centre for medicine to replace an existing building and meet huge demand for highly skilled doctors alongside new research. This £40+ million cost was the largest investment in medical teaching and applied research by a UK university in the last decade.

The focus on Passivhaus and DEC A
The University wanted a new facility that reduced annual energy bills by 80%.
By going for Passivhaus, they could have a building recording a '19' energy performance asset rating, placing it in the 'A' category. Amazingly, since completion, energy consumption is 80kWh/m², compared to the previous 500kWh/m²!
The university also wanted an 'A' rated EPC on construction and an 'A' rated DEC by the end of the third year of operation. All were accomplished.
It was also agreed to adopt the Soft Landings approach. We believe the Soft Landings framework has been central to the building achieving DEC rating of 'A' in just over a year, well ahead of the three-year post completion deadline.
Measurements of CO2, humidity, temperature and a presence detection system are used by the building management system to create a highly automated building that maximises energy efficiency while maintaining a high level of user comfort. However, users have override control within a range as described in the building user guide.
BIM first
The project relied heavily on design coordination in BIM and the offsite manufacture of curtain walling on the upper storeys to deliver high levels of quality and precision. The ground and first floor levels were built using traditional masonry brick and block cavity walls, filled with 300mm of cavity insulation, which increased reliance on the quality of individual workmanship, using wet plaster and tape to achieve air tightness.
Around 30% of the air entering the building passes through 1.6km of Rehau 'earth tubes', or ground air heat exchangers, embedded below the building, that temper incoming air to a consistent comfortable temperature. The orthodox Passivhaus approach of including more windows oriented to the south, and fewer to the north, east and west, was rejected in favour of a more even distribution of openings across the facade.
Award winning
When CIBSE declared it their Project of the Year for Public use at the 2018 awards, judges said:
"The standard of the shortlist was incredibly high but the Centre for Medicine had the best performance and will be a tough project to follow. We are impressed with the actual energy performance as well as the application of Soft Landings and post-occupancy evaluation, which provide a great demonstration of best practice for the industry to follow."
About Passivhaus
Developed in Germany in the early 1990s, Passivhaus is the fastest-growing energy performance standard in the world and substantially reduces the George Davies Centre's energy bill thanks to excellent thermal performance.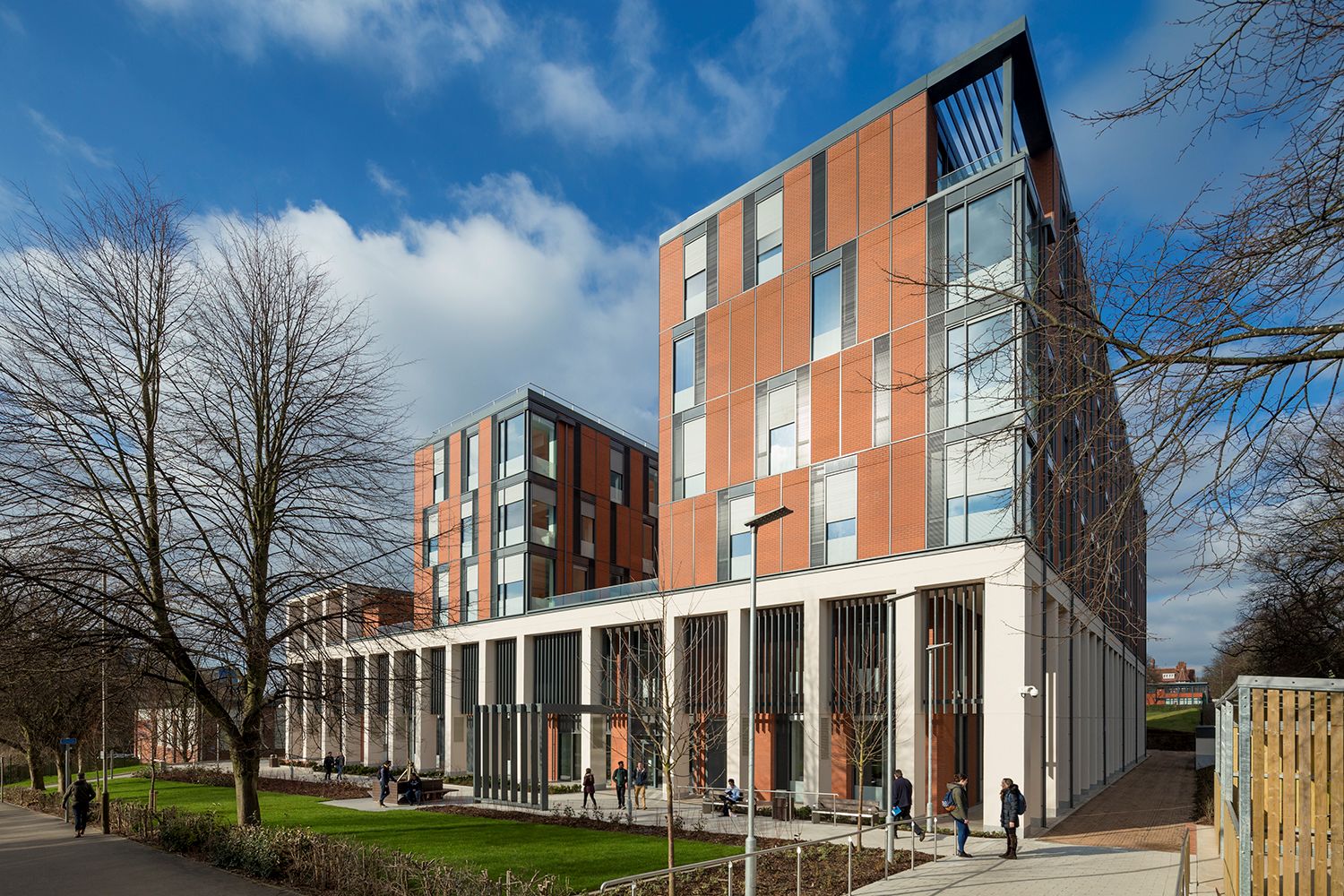 A key facet of Passivhaus is a 'fabric first' approach to construction and as such the building is incredibly well insulated and air tight to prevent heat leakage through the windows, walls, floor and roof. Comfort for staff, students and visitors from the local community and beyond, will be maintained by a state-of-the-art heating, cooling and ventilation system.
Ultra air-tightness required
At this project, key to achieving the Passivhaus standard was getting air tightness down to 1.0 m2/(hr.m3) - no mean feat in a building of this complexity!
Renewable features:
Ground air heat exchanger system
Heat recovery ventilation
Renewable energy
Green wall and roof
Solar PV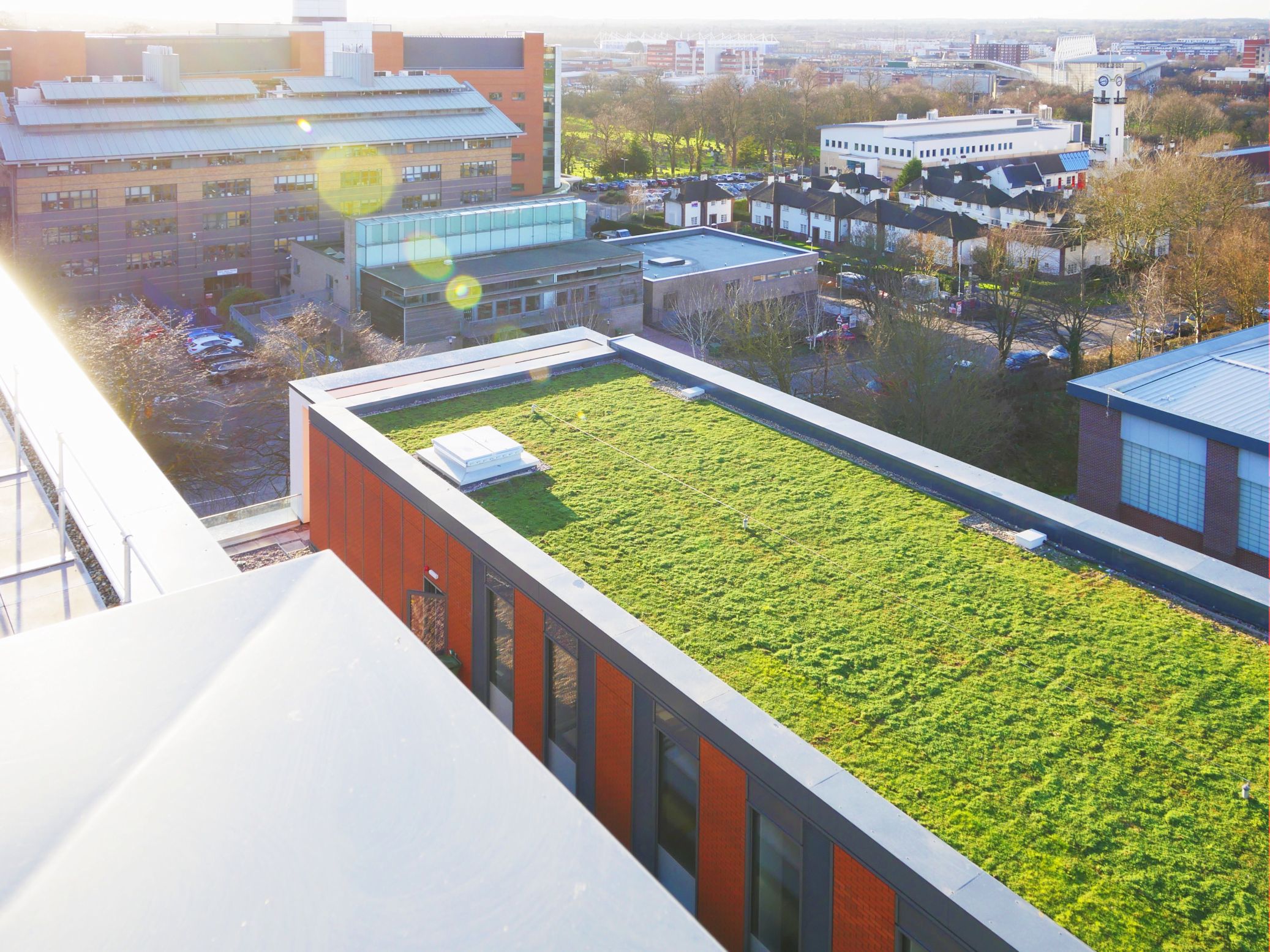 James Elliment, operations manager at Willmott Dixon:
"This is a significant project for UK universities. Delivering a Passivhaus on such a large scale is not without its challenges and we employed a number of energy efficient mechanisms to ensure that this standard was met. The building boasts many intelligent energy efficiencies including a ground to air heat exchange system, active solar shading and embedded soffit cooling which aids reduction of energy used within the building."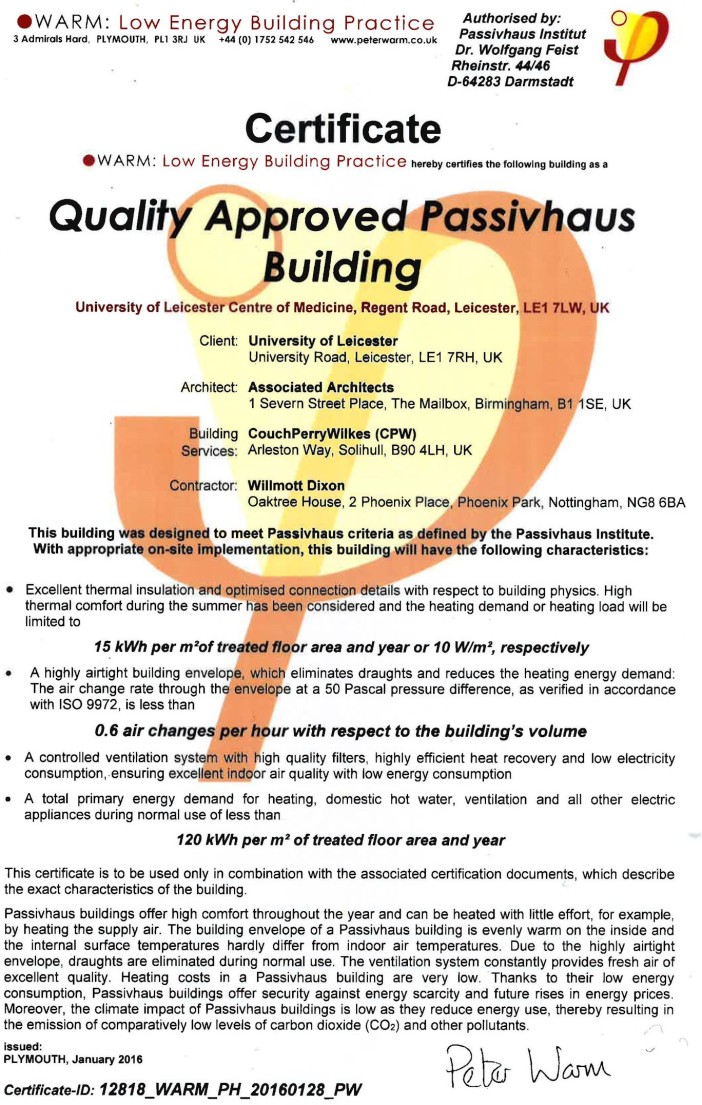 Professor David Wynford-Thomas, Dean of the School of Medicine and Head of the College of Medicine:
"This gives Leicester medical students the most advanced environment in which to study medicine in the UK."
All in one hub
The Centre defines the future of energy efficient buildings for universities.
Acting as a hub to bring together, for the first time, the University's leading academics, researchers, clinicians and students; currently spread across multiple sites in the city, the Centre completely transforms medical teaching to improve the lives of many patients in the region and beyond.
It is home for the College of Medicine, Biological Sciences and Psychology departments, with teaching rooms, offices, lecture theatres, dry lab research facilities and support spaces to more than 2,350 staff and students.
The campus features two tower blocks – one of five storeys, one of six – which maximise the use of natural daylighting.
It includes a green wall and roof with a planting regime to attract wildlife to help pollination and promote bio-diversity.
Passivhaus standards in building envelope
Achieving Passivhaus is a very technical feat; the building envelope – roof, walls and ground floor slab – is highly insulated, with U-values of 0.13W/m2/k.
PROJECT HIGHLIGHTS
Largest investment in medical teaching and applied research by UK university in last decade
UK's largest non-residential project built to Passivhaus standard
Almost four times larger than closest competitor
Energy performance asset rating of 19
Declared CIBSE's 2018 Project of the Year - Public Use
PROJECT DETAILS
CONTACT US
Ground Floor, Lock House, Castle Meadow Road, Nottingham
NG2 1AG
Tel: 0115 977 1322
Fax: 0115 979 7886