At the prestigious HR Excellence awards, a panel of HR professionals from many sectors chose Rick Willmott as their 2020 Best people-focused CEO of the year.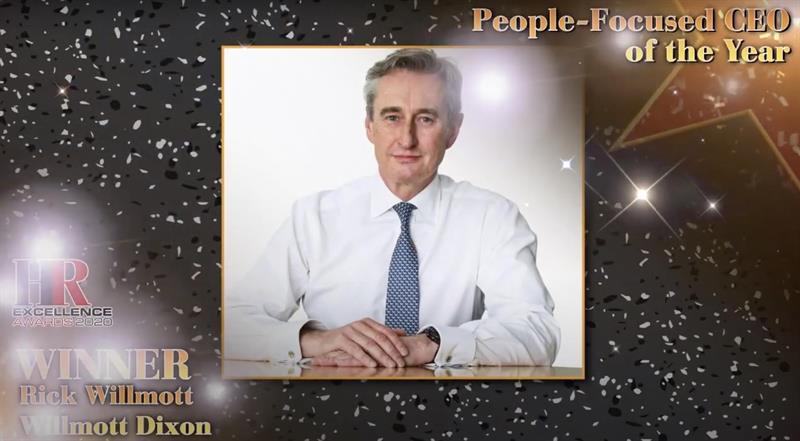 Rick was honoured for the way that under his leadership, 'the company has achieved several notable achievements for being one of the UK's best, most inclusive and diverse employers, including being fifth in the Sunday Times' Best Companies list in 2020, the highest placed UK company in the first ever FT Diversity leader's list and being named as one of The Times' top 50 employers for women for the past two years.'
You cannot enter for this award; winners are picked out by judges for showing exemplary leadership, and in the case of Rick, the judges praised the fact that his 'approach to his people is one of openness, approachability, empathy and humility. This was especially evident when the pandemic resulted in the company taking swift action to safeguard the wellbeing of its people.'
Judges went on, 'With a need to put its people on furlough, Willmott gave employees the opportunity to apply on a voluntary basis. This resulted in a higher proportion of women applying, the feedback being they found it beneficial to help balance competing pressures for their time, especially during lockdown.
Sustainability is big issue to Willmott and he described it as something of personal importance. His aim for the company is to lead by example – it has been carbon neutral since 2012. It is now on track to be the first contractor powering all sites with 100% natural renewable energy.
Rick said:
I'm very honoured and humbled to receive this award. A focus on people has been at the core of our culture, and is something I've been very keen to ensure we don't lose sight of during the past year which has stretched us all to the limit as we tackle the challenges presented by Covid.
Our people make us the business we are, and their attitude and approach has been vital in helping us navigate the worse impacts of the pandemic, so really I want to use this opportunity to thank everyone at Willmott Dixon for their contribution over the last year, this award is a reflection on them too.