Since 1852 we have been passionate about leaving the right sort of legacy.
Our Sustainable Development Strategy sets out our goals and aspirations for 2020, and puts social value at the heart of strategic innovation across Willmott Dixon.
Our Sustainable Development Strategy shows how we will continue to reduce the negative impact of our own operations, while setting out how our company can use its influence and example to become an even greater force for good within the wider society.
Our strategy sets out our nine ambitions under four themes of 'Putting People First', 'Responsible Business', 'Energy/Climate Change' and 'Smarter Use of Natural Resources'. The strategy includes three headline targets. These are:
Reduction of carbon intensity by 50% by 2020, compared with 2010
Reduction of construction waste intensity by 60% by 2020, compared with 2012
To contribute at least 5,820 to the Willmott Dixon Foundation target of having enhanced the life-chances of 10,000 young people, compared with 2012.
We have developed a Group Sustainable Development Strategy action plan to drive performance, and progress against this plan is reported to local management teams and Boards each month. Group progress is reported quarterly to the Holdings Boards.
Download Transforming Tomorrow PDF.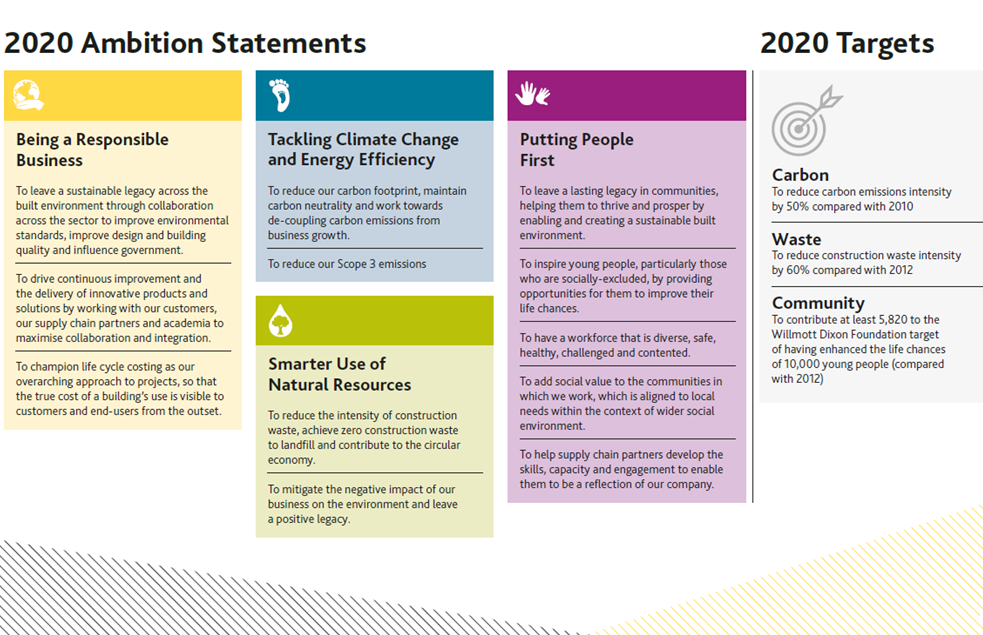 Progress against our 2013-2020 strategy: