National College High Speed Rail – Birmingham
College will help make UK world leaders in rail infrastructure
The National College for High Speed Rail will play a key role in generating the workforce of the future who will design and build the UK's new high-speed rail network and future infrastructure projects including HS2.
Creating the National College for High Speed Rail in Birmingham:
We've created two such colleges to equip engineers with skills for rail and other huge engineering projects - this one in Birmingham and the other in Doncaster.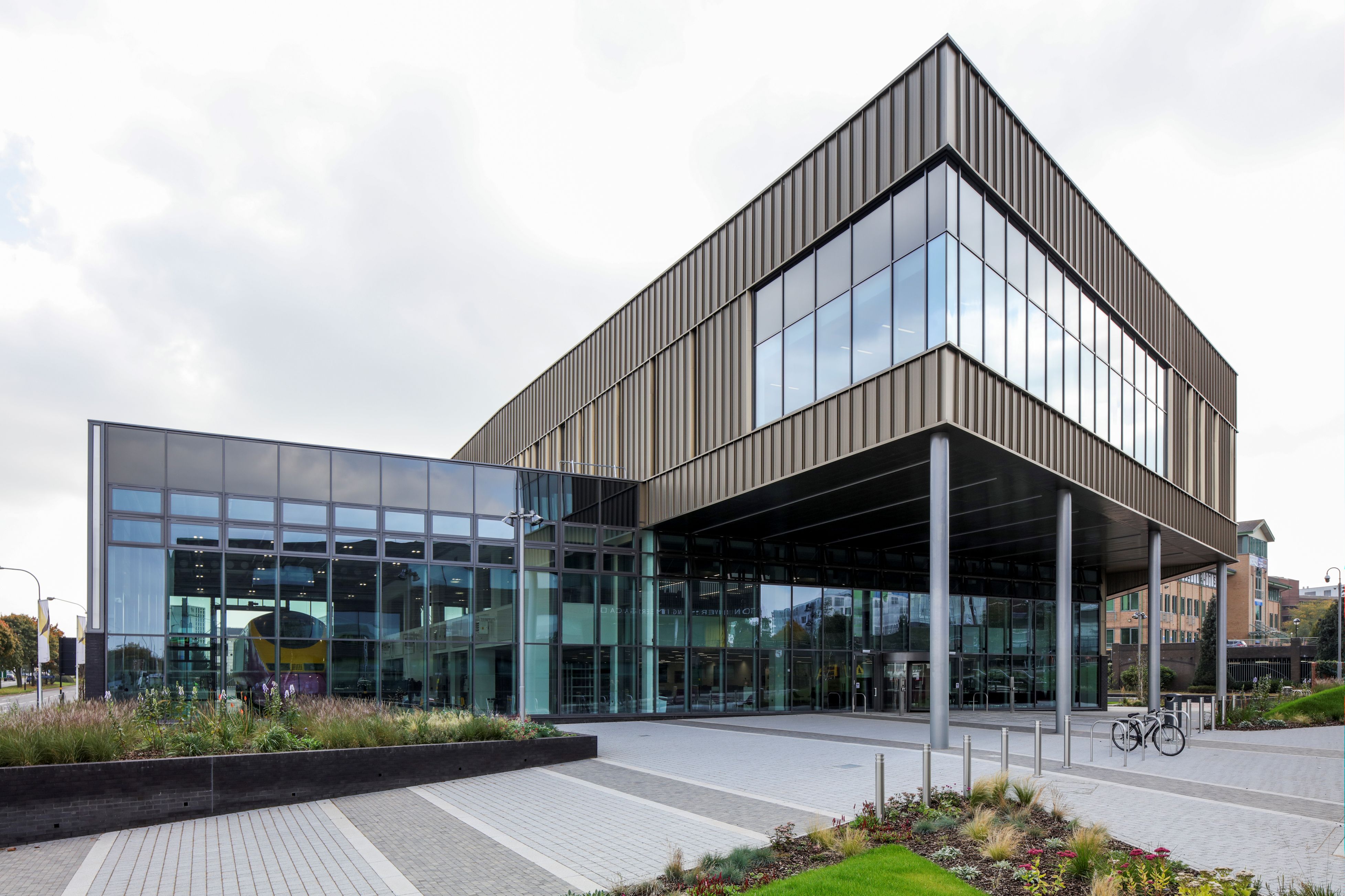 The National College for High Speed Rail (NCHSR) in Birmingham was built simultaneously with a sister facility in Doncaster.
Twin approach
Alongside Doncaster, the Birmingham campus will welcome 150 students across both sites in the 2017-18 academic year. At full capacity, the college can cater for 1,200 students a year.
Both colleges will fill the engineering, design, planning, manufacturing and construction skills gap Britain faces as it invests billions of pounds in modernising our rail network and wider transport infrastructure.
Below: a real Eurostar train arrives at the Birmingham college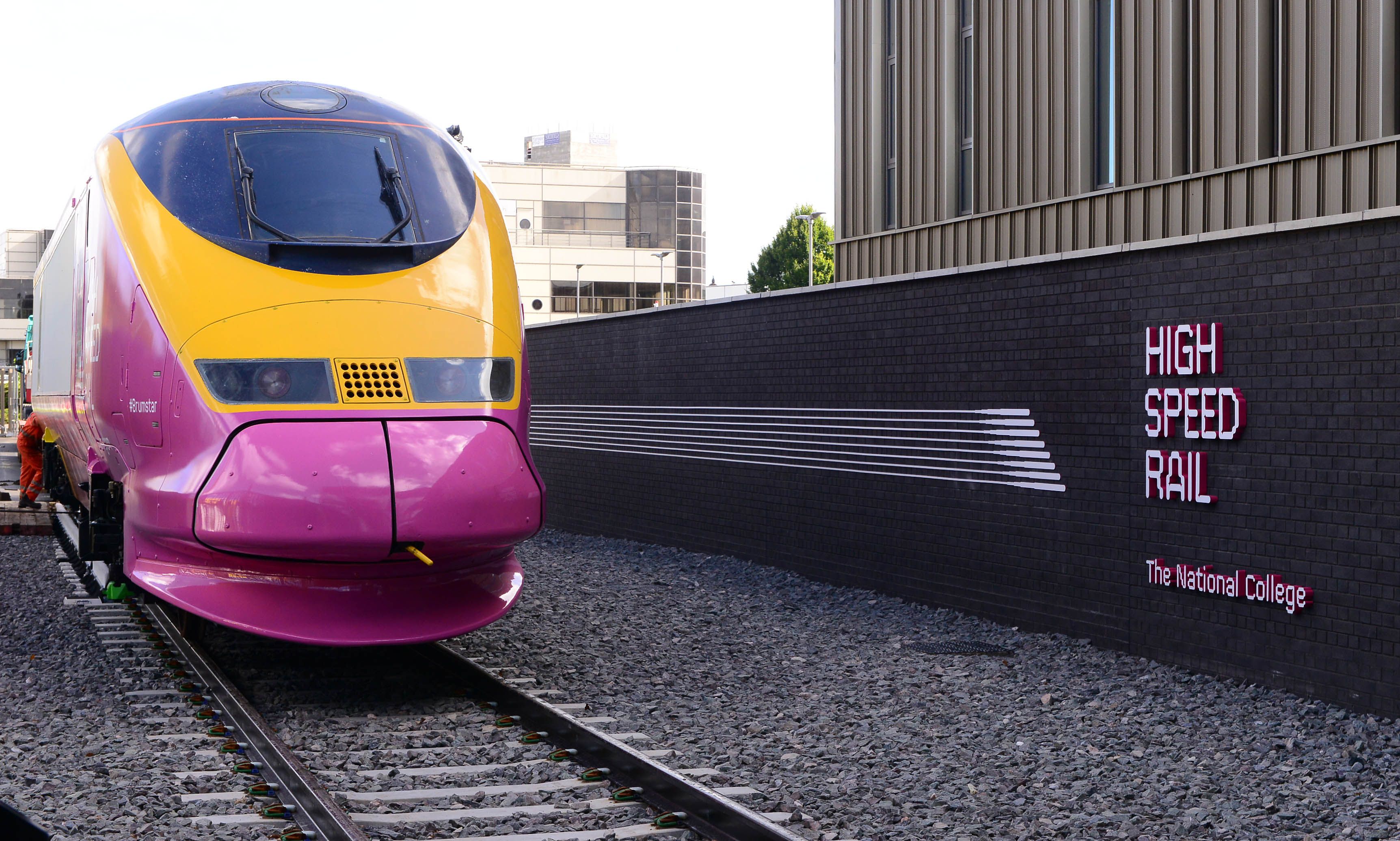 Far reaching scope
The National College for High Speed Rail in Lister Street, Birmingham, has been equipped with the very latest in cutting-edge technology, including virtual reality training on board a Eurostar power car, an augmented reality classroom, and a dedicated BIM (building information modelling) cave.
The highly specialised college will contain workshops, classrooms, plus external teaching area containing railway tracks, masts and social space next to the canal. It will equip thousands with world-class technical skills required to build, operate and maintain a railway, including a strong emphasis on practical and virtual learning.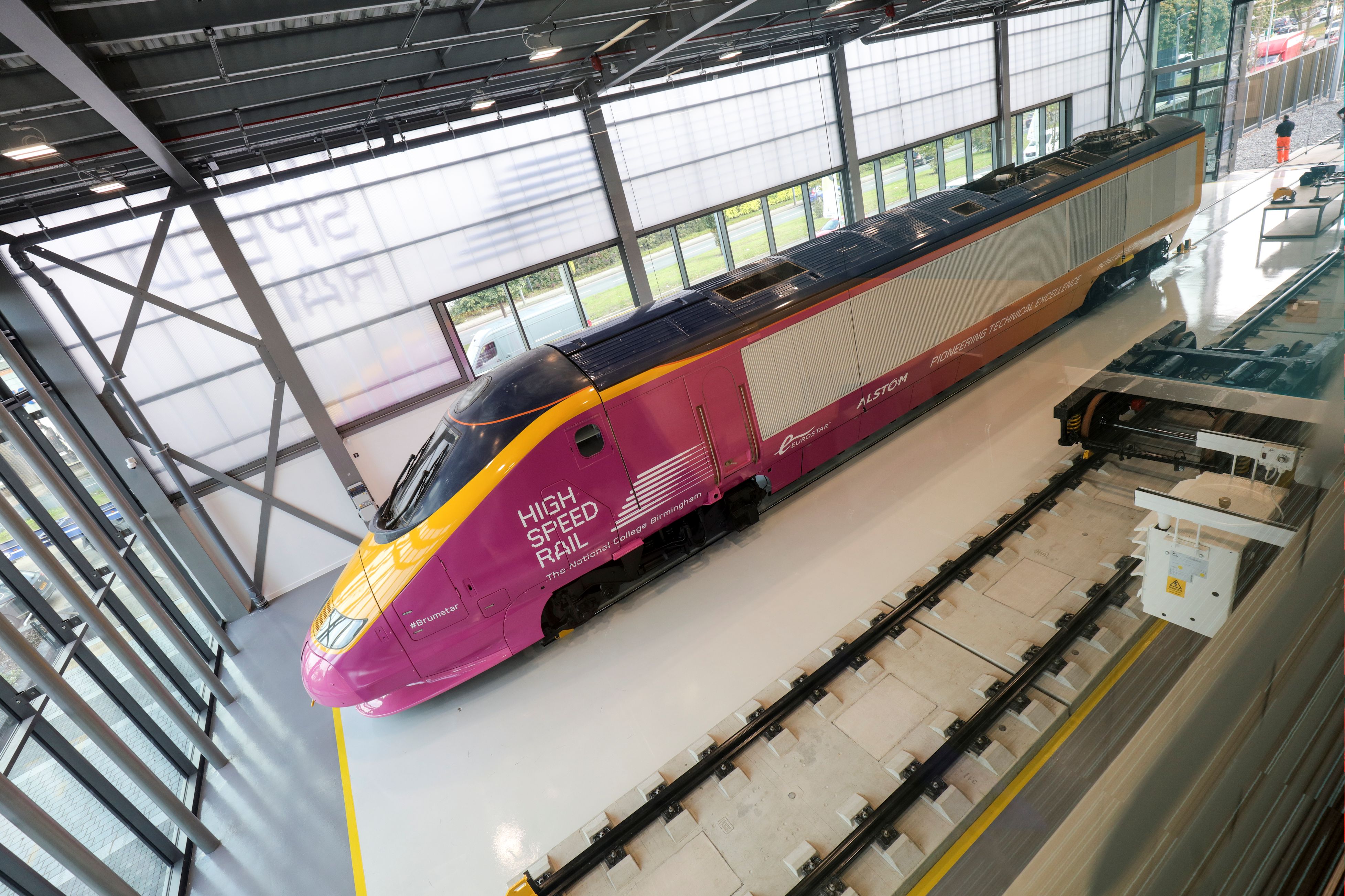 Another education landmark for Birmingham
Alongside the many universities, Birmingham NCHSR is a real centre of learning for engineers of tomorrow. It has a 'real work' environment will make the UK one of the 'engine rooms' for rail infrastructure construction, attracting people from around the world.
Birmingham City Council worked in partnership with HS2 Ltd to set up the structure of the College and develop the curriculum. The location in Birmingham's Learning Quarter will feed into the development of the HS2 high-speed rail line between London and Birmingham, including its terminal in nearby Curzon Street, and other future rail projects.
Watch the college created in 3 minutes!
Applying for courses!
If you are interested in studying at either college, you can check out courses to apply for by visiting the college website.
Clair Mowbray, chief executive for the National College for High Speed Rail: "
"We're extremely grateful to the Government, Birmingham City Council, GBSLEP, and all of the employers for the support the college has received to get to this stage. However, the work has only just begun; we want to make sure that we have a UK workforce that has the skills to not only deliver HS2 and other major infrastructure projects, but also become the pioneers of the UK's new high speed rail industry. Now that the building is complete and fitted-out with the latest cutting-edge technology, our focus turns exclusively to our learners and building the capacity of the college to help solve Britain's productivity crisis and engineering shortage.
Beth West, HS2 Ltd commercial director:
"The National College for High Speed Rail will help re-define what it means to be employed by the rail industry by attracting new people and providing the opportunity to create the diverse workforce that the industry aspires to. It is vital that we act now to ensure we have enough skilled people to build HS2 and the College will provide specialist vocational training for the next generation of engineers and apprentices."
HS2
The new link will improve capacity across Britain's rail network, shorten journey times between major cities and boost the economy. It will support up to 100,000 jobs nationwide, create around 25,000 jobs during construction of Phases One and Two and create 2,000 apprenticeships.
It will be open to a wide range of people including new entrants, existing workforce, students studying for a foundation degree in rail engineering, access students, mature entrants, higher apprentice rail engineering students, progression from L3 diploma rail engineering, continuous professional development and career changers.
PROJECT HIGHLIGHTS
Training centre to create generation of world-class rail engineers
End user is National College High Speed Rail
Will produce thousands of workers to construct HS2
Willmott Dixon also built college in Doncaster and HS2 HQ in Birmingham
Company making Birmingham the centre of rail infrastructure
PROJECT DETAILS
CONTACT US
Chantry House, High Street, Coleshill, Birmingham
B46 3BP
Tel: 01675 467666
Fax: 01675 467655