Bingham Arena and Enterprise Centre
Building an environmentally conscious facility for the community
We're on site creating Bingham Arena and Enterprise Centre for Rushcliffe Borough Council, which comprises a leisure centre, community hall and self-contained offices.
The facility will help to achieve Bingham Growth Board's aspiration to form a connection between the current town centre and the new housing developments in the north of the town.
A sustainable facility
Once complete, the facility will 78% more efficient in terms of carbon emissions than other leisure centres in the borough and 82% more than similar office developments.
The leisure centre will be home to an innovative 25m Myrtha Pool, which utilises a steel-frame rather than a traditional concrete solution. This design feature alone reduces greenhouse gas emissions by 45%. The pool will also have added strength and resistance to chemicals and corrosives needed in a pool environment due to its chromium-rich alloy, which in turn will offer a longer life span for our customer.
To ensure the building remains sustainable when in use, we carried out a low-carbon technologies assessment to provide assurance that the chosen design included the most suitable renewable energy sources. There will be photovoltaics (PV) on the roof of the office building and combined heat and power (CHP) engines will power the pool. Other measures will include air source heat pumps, water efficiency measures and LED lighting.
In order to make sure the facility operates at peak efficiency, our team will be using our Energy SynergyTM service to track in-use energy performance against design. This will ensure the facility achieves Rushcliffe Borough Council's energy efficiency goals and supports their ambitions of becoming carbon neutral by 2030.
Creating spaces for the community
Once completed, this project will provide much-needed spaces for the community.
The leisure centre facilities will include a 25-metre, six-lane swimming pool with seating for 330 spectators. These features will be a valuable resource for local schools and for swimming competitions.
The facility will also include a learning pool, a café, two exercise studios, a spin studio, a fitness gym and changing room facilities, as well as a 207-space car park and 12 accessible spaces.
It will become a hub for the community with the inclusion of a 260sq.m community hall, which can accommodate 300 people and features a fixed stage area with dedicated changing facilities, a control room, kitchen and storage.
Also situated on the site will be Bingham Enterprise Business. The two-storey building comprises 12 self-contained offices, a breakout area, meeting room and shared working space. The office spaces are going to be let to new businesses in the area to support them in their growth.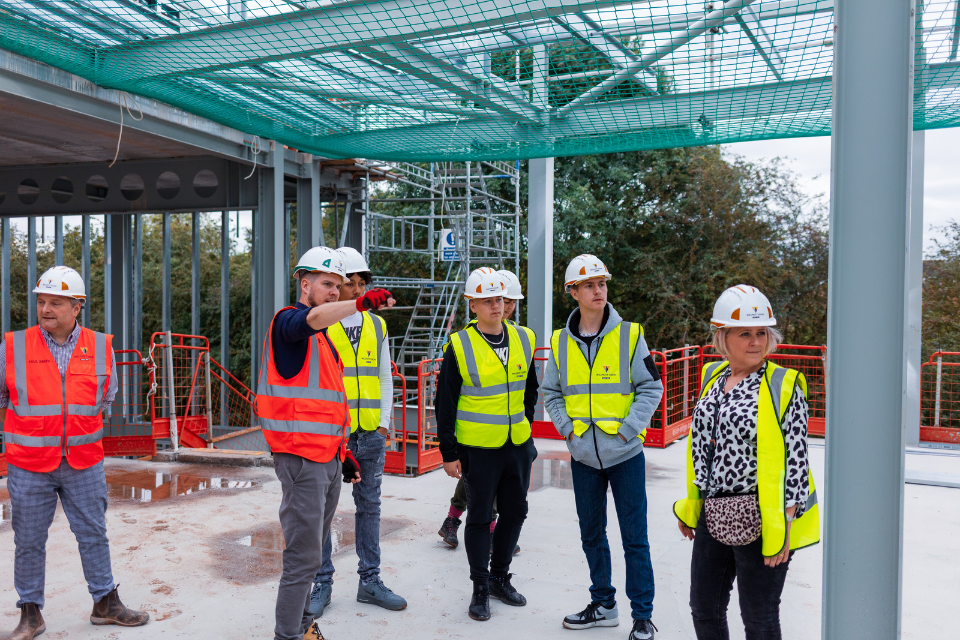 An Open Doors tour from October 2021
Investing back into the community
During the construction phase, we are giving back to the community in several ways. We are working with social enterprises to support the creation of additional local jobs. This includes Streetwise (to support with grounds maintenance and landscaping) and Radiant Cleaners (to maintain cleanliness onsite in shared working areas).
Our team is also supporting the career prospects of young people by working in collaboration with the Trent Bridge Community Trust and Toot Hill School, by giving children the opportunity to visit the construction site for educational tours.
We also welcomed local people to site as part of Open Doors Week, including a group from Nottingham University Samworth Academy. The tour was arranged by ThinkForward UK, a charity that supports young people with coaching and skills development to help them overcome challenges and prepare them for the world of work. The tour provided the students with the opportunity to learn about working in the construction industry.
Simon Robinson, council leader, said:
"It's fantastic to see a major project taking shape that will benefit Bingham and the wider community that has also prioritised the environmental aspects so well.



"I am delighted to have all our partners join us in delivering a greener and more efficient development, that remains on schedule and that will be enjoyed for generations to come."
Conor Neild-Crabb, key account manager for Procure Partnerships, said:
"Bingham Arena and Enterprise Centre is a fantastic scheme providing local employment, first-class leisure facilities, and space for new local businesses to grow in a facility with outstanding environmental credentials. It really is an impressive scheme, delivering brilliant outcomes for Rushcliffe Borough Council through the Procure Partnerships."
PROJECT HIGHLIGHTS
78% fewer carbon emissions compared with other leisure
centres
Innovative pool technology utilises a steel frame rather
than concrete
Energy Synergy will run on the project to address the
performance gap
PROJECT DETAILS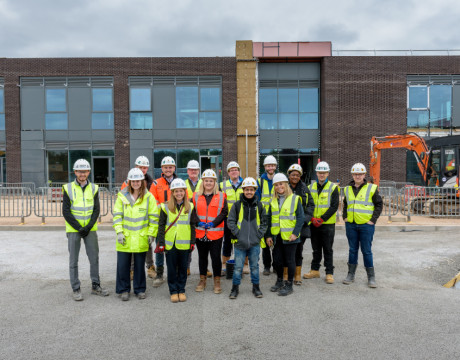 CONTACT US
Ground Floor, Lock House, Castle Meadow Road, Nottingham
NG2 1AG
Tel: 0115 977 1322
Fax: 0115 979 7886