Accolade recognises how four out of five of company's workforce deliver an activity to make society a better place
The work of Willmott Dixon's people to drive social mobility and increase the life chances of those less fortunate was recognised by Hertfordshire's Lord-Lieutenant Robert Voss, who presented Group Chief Executive Rick Willmott with a King's Award for Enterprise for Promoting Opportunity.
Willmott Dixon was one of only nine companies recognised this year in this category.
It's the fourth such accolade for the company, and the first from HM King Charles III. It was awarded in recognition of the wide-ranging activities of Willmott Dixon's people to make society a better place, especially for those who face significant barriers to achieving their full potential in life.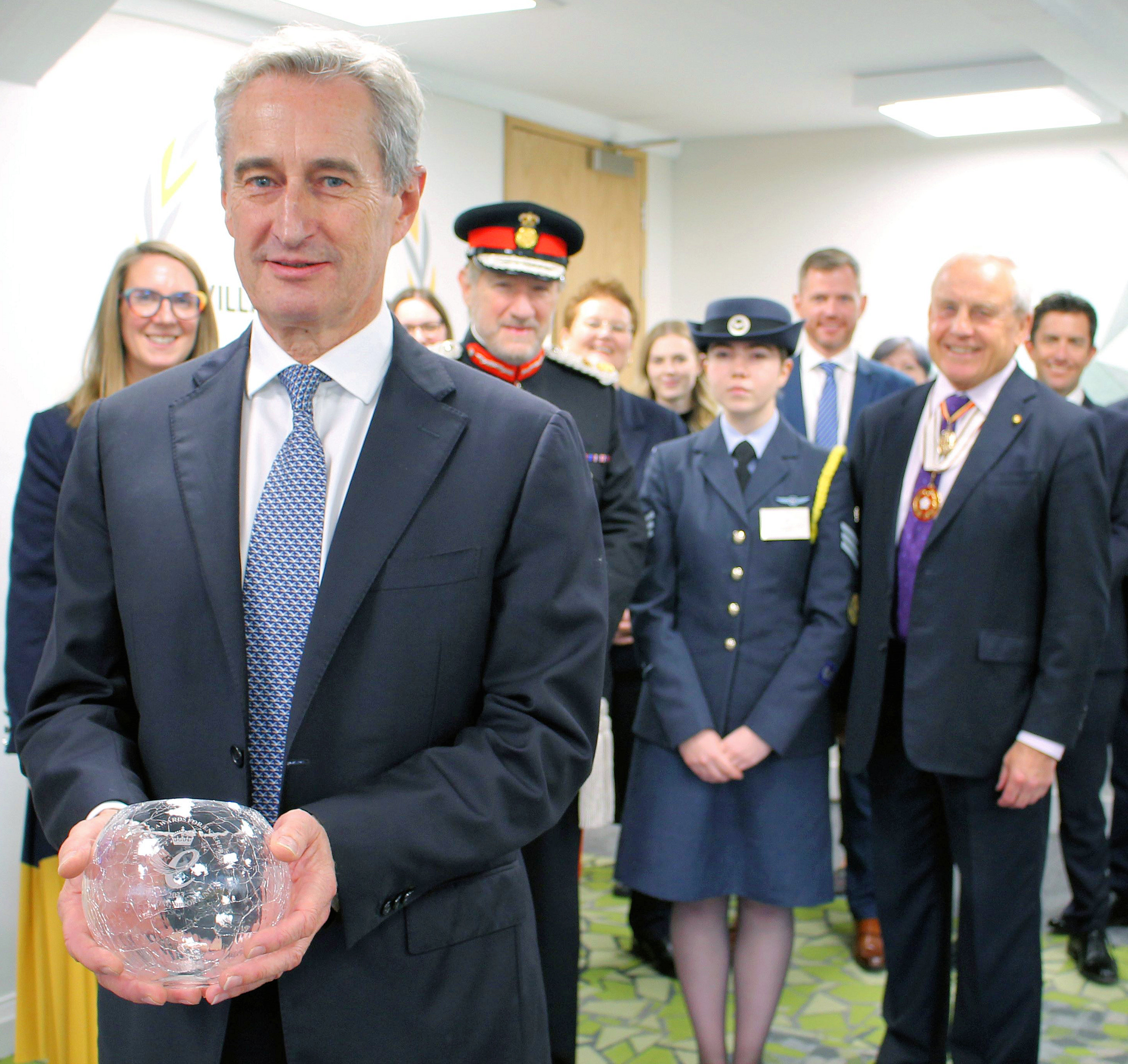 Rick Willmott was joined by Hertfordshire's Lord-Lieutenant Robert Voss in receiving the King's Award for Enterprise
In the last year, four out of five of Wilmott Dixon's 2000+ workforce have delivered a social value-based activity in their community to improve the life chances of others. This includes mentoring, supporting people with interview training, careers advice and enhancing a local community asset for people to use. In all, last year saw Willmott Dixon's team create and deliver over 608 community programmes and engage with over 70,000 people in activities to boost their life chances. This led to 88% saying it had a beneficial impact on them.
In total, over 48,000 hours were volunteered by Willmott Dixon people, and this led to over 200 people facing major barriers to work gaining employment through the company's intervention. Willmott Dixon also helped further drive social mobility among the most vulnerable and less fortunate by spending over £2.5m with social businesses last year.
Rick Willmott explained:
"This sense of purpose to help the communities where we work is in the very DNA of our company. From offering opportunities and employability skills for those facing major barriers to employment, to improving buildings so they encourage better community cohesion – our social value projects are an important reason people want to work for us and their impact is something our customers and communities value hugely.
"I want to express my deep appreciation to everyone who's work has made a difference. This award belongs to us all, and it reflects the passion and dedication we share for helping others."
Earlier this year, Willmott Dixon set up drylining academies in two more prisons, HMP Lincoln (below) and HMP Belmarsh, to help equip prisoners with key skills to help them find work on release. The company has already set up two others across the country, and they are playing a key role in helping ex-offenders find long-term jobs, mainly in the construction industry.