The new normal: delivering social value in a post Covid-19 world
Sarah introduces our 'Building Lives' theme, part of our 2030 sustainability strategy and supporting the community virtually
Earlier this year, I penned a blog calling on businesses to prioritise their social purpose during the pandemic. My message was clear: helping your community matters now more than ever. Despite Covid-19 presenting many unforeseeable challenges, it also presents some really obvious ones.
I write this having just read an article in The Observer (published Sunday 17 October, 2020) which stated: "A jobs crisis is poised to hit up to a million young people within weeks, creating a new 'Covid generation' that will struggle to find work, according to alarming new analysis of the pandemic's likely economic effects."
Since 1852, the company that I love and work for has focused on leaving behind a social, environmental and economic legacy. In September, we launched Now or Never, our 2030 sustainability strategy. Made up of three ambitious themes; Brilliant Buildings, Building Lives and Better Planet, the ten-year strategy is underpinned by the aim to leave a world fit for future generations.
Building Lives is where the Willmott Dixon Foundation focuses. Our theme is all about supporting the people and businesses in our communities to thrive.
To support people who face significant barriers to be in, or on the path to, good careers is one of the three ambitions we have set. To meet our ambition, we will support over 1,000 people to overcome barriers and be in good careers with other companies. We will directly employ over 100 people into Willmott Dixon, as a result of long-term relationships that start with training and support. We will host training activities with over half a million people.
We set ourselves these targets because we knew it was important. Naively, I didn't quite realise the urgency we'd be facing. We can't wait for a ten-year plan to come into fruition. We need to start now.
Luckily, I work with people who really care and are embracing the challenge of these difficult times. We are on the case.
We have had to completely rethink how we deliver our social value activities, and whilst we know that nothing can replace a real, face-to-face interaction, we're really excited to be hosting our first Virtual Work Experience Weeks on October 26 (both programmes were oversubscribed by 55% showing us we need more and we are planning more!)
The programme is the first of five of our National Building Lives Programmes aimed at helping those furthest from the job market gain skills and experience.
In November, we are launching our Career Enrichment programme delivered in schools (which links to the STEM curriculum) and employability programmes for those in school and recent school leavers.
Next, we will focus on job creation for the long-term unemployed by reviewing our Building Lives Academies and we will look to further increase the reach of our work with offenders and ex-offenders with Building Lives Inside and Out.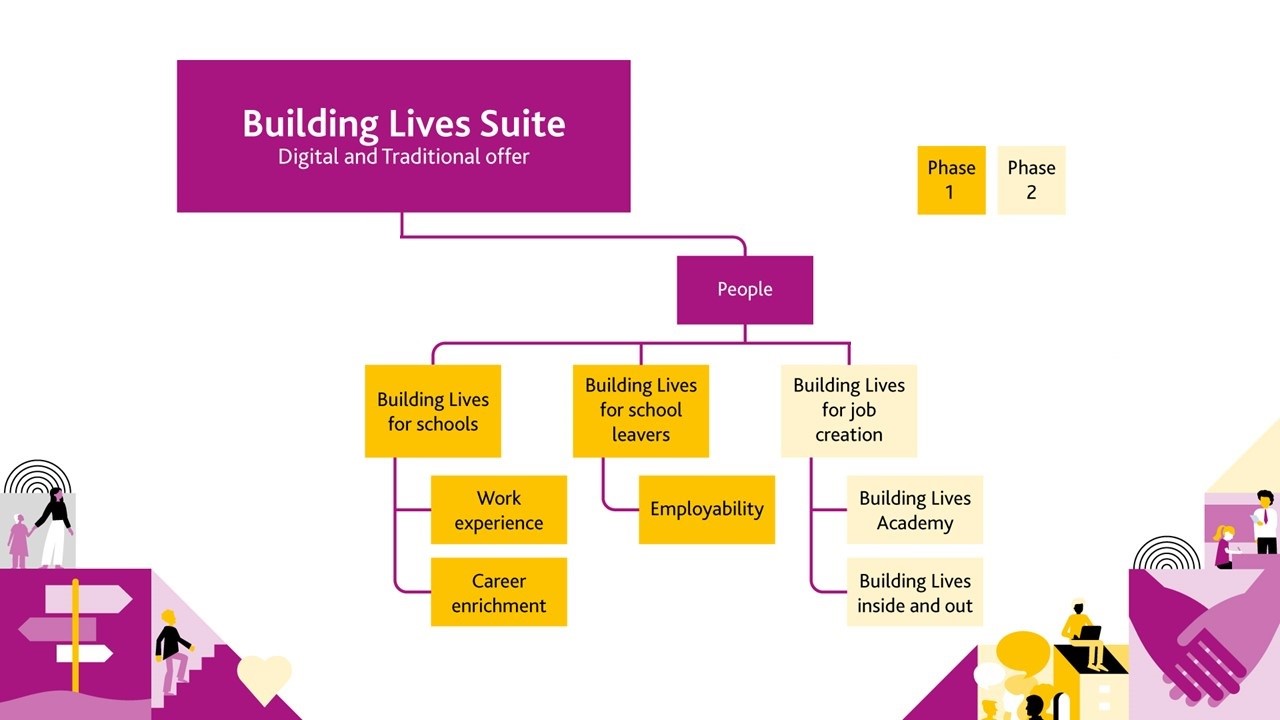 Our Building Lives Suite of programmes that can be delivered in a digital or traditional way
Responding to the 'Covid generation' analysis, I thought the Archbishop of Canterbury, Justin Welby summarised beautifully:
"It is a fundamental matter of respect and love for our neighbour that in our nation the economy is meant, among other things, to serve the cause of fulfilling work for all."
I don't think business can assume that this is a challenge for our government alone. The challenge is for all of us.
We are always happy to work with others to make a bigger difference. If you have ideas to share and want to collaborate, please contact the Willmott Dixon Foundation.