Recladding and refurbishment, with respect for the community
Graeme Whitty, explains how we are building on our legacy of good practice at Gateshead HEIGHTs
17 June 2020
Across England and Wales, we are recladding a range of non-compliant high-rise buildings to meet stringent façade safety regulations. As most of the work is conducted within a live environment, the engagement and support from the residents and the local community is essential. A leading example of community engagement for these works is our Gateshead HEIGHTs project. Following completion, capturing the good practice to embed in future projects has been critical.
Critical works
Graeme explains "in December 2018 we completed a major refurbishment of seven tower blocks in Gateshead. Appointed by Gateshead Council and procured through the Scape National Major Works framework, the ambitious £19.6M project involved the refurbishment of seven high-rise tower blocks and recladding of one of the buildings to create a modern and energy-efficient living environment for a community across 621 homes.
As the project required access to resident's homes to fit new energy-efficient systems such as heating, double-glazed windows and radiators, as well as external recladding works, a strong community engagement strategy was required to ensure access to properties and residents' buy-in to the scheme.
A plan of action
As part of the engagement strategy, we worked closely with Gateshead Council, who ran consultation events for residents on a 'drop-in' basis and produced FAQs for all questions raised, that were then distributed to all residents. This achieved an approval rate of over 60%, allowing the project to proceed. Following this, pre-commencement workshops were undertaken and our resident liaison officers (RLOs) set up monthly 'clinics' to listen to concerns. Designated block 'ambassadors' were nominated six months before going on-site, giving us a valuable point of contact.
As the project was to last 66 weeks, we were aware of the impact the longevity of the works could have on the mental health of the residents. Consequently, we hosted mental health awareness days and our RLOs helped residents with mental health issues heightened by ongoing work in the buildings. Updates throughout the project were frequent and communicated to the residents via the Service Improvement Groups and regular newsletters. This was coupled with an open-door policy with weekly drop-in sessions for residents.
Award-winning community engagement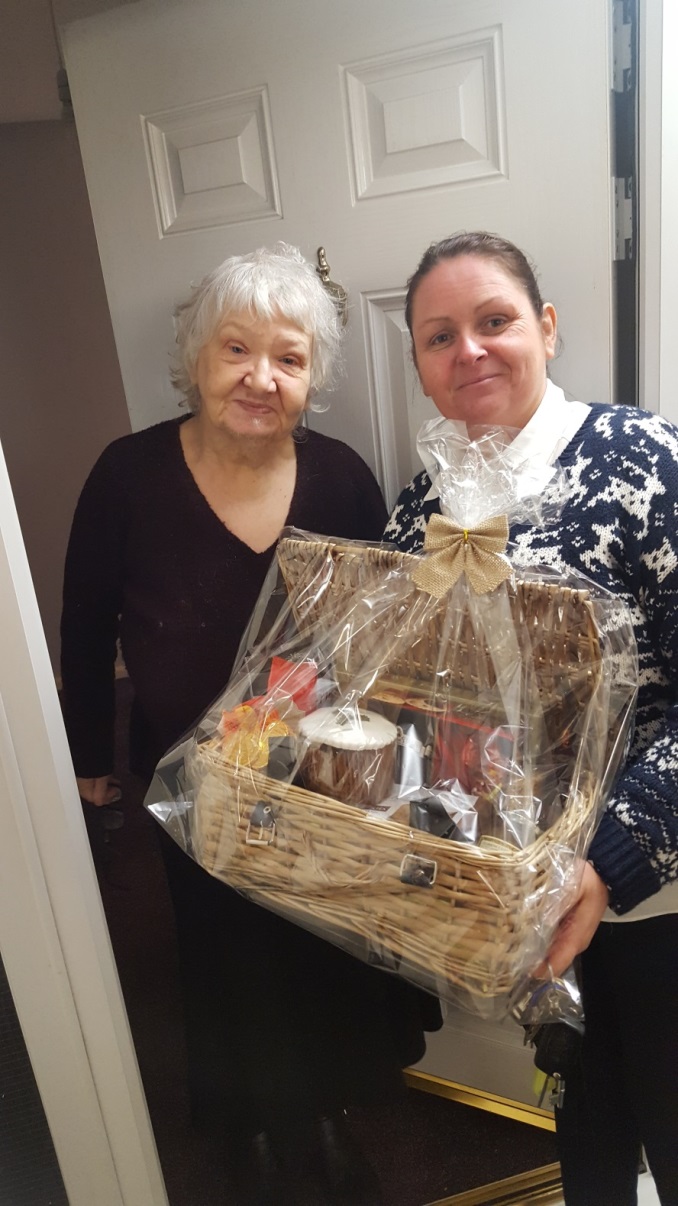 The internal refurbishments involved requiring access to all 621 properties and to help ensure this was achieved, the RLOs carried out visits to each flat 21-days, seven-days, and one-day prior to starting work. Throughout this process, our RLOs built strong bonds with the residents, turning some of the most skeptical residents into our biggest advocates." RLO Clare Lewis shares her experiences about the lives we transformed here, her efforts to go above and beyond led to the project being recognised at the 2019 Construction News awards, through winning the prestigious 'Community Engagement Project of the Year' award. The publication stated:
"On the face of it, Willmott Dixon's Gateshead Heights scheme was simple and impersonal. But the judges were blown away by the manner in which the contractor had turned it into a project that was all about people".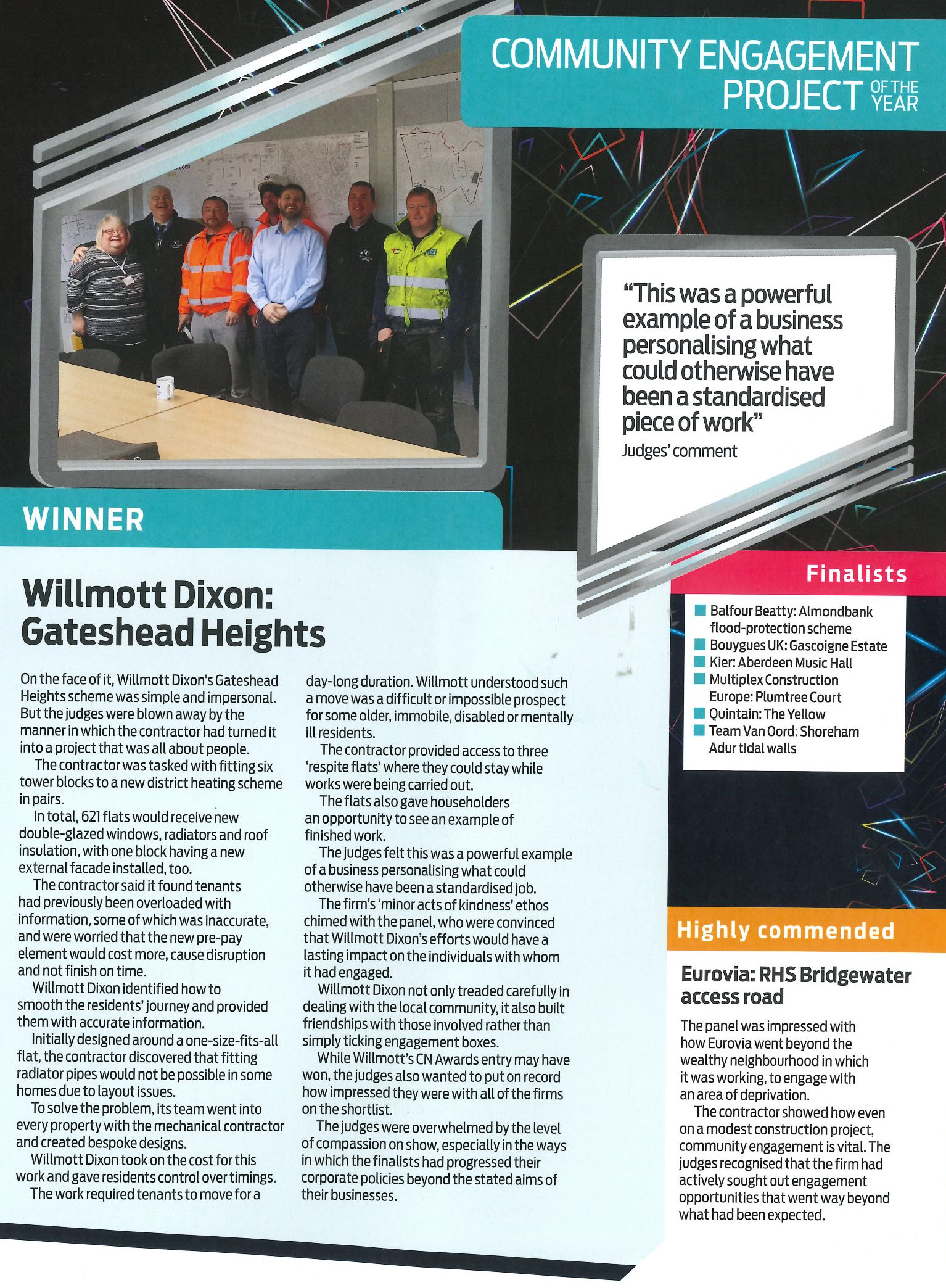 Construction News' writeup on Gateshead HEIGHTs, after winning the 2019 Community Engagement Project of the Year award.
Changing lives
The project was a great success, completing defect-free, one week early and on budget. Some of the comments from the residents included:
"Life-changing, I can now heat the whole flat rather than just a couple of rooms. I think it costs about 65p for two hours of heating and then I have to turn it off because the flat is lovely and warm."

"Whoever put this project together, especially getting the funding from Europe, is to be commended."
"I'm a pensioner and I think I'll save about £400 a year which will make a huge difference to me."
"Before the project, I went on price comparison websites and I couldn't get anything near 8p/kWh for Economy 7, so I think the tariff is very good value."
"The new windows are brilliant."
"Heating is first class."
"The new façade looks great."
Transferring good practice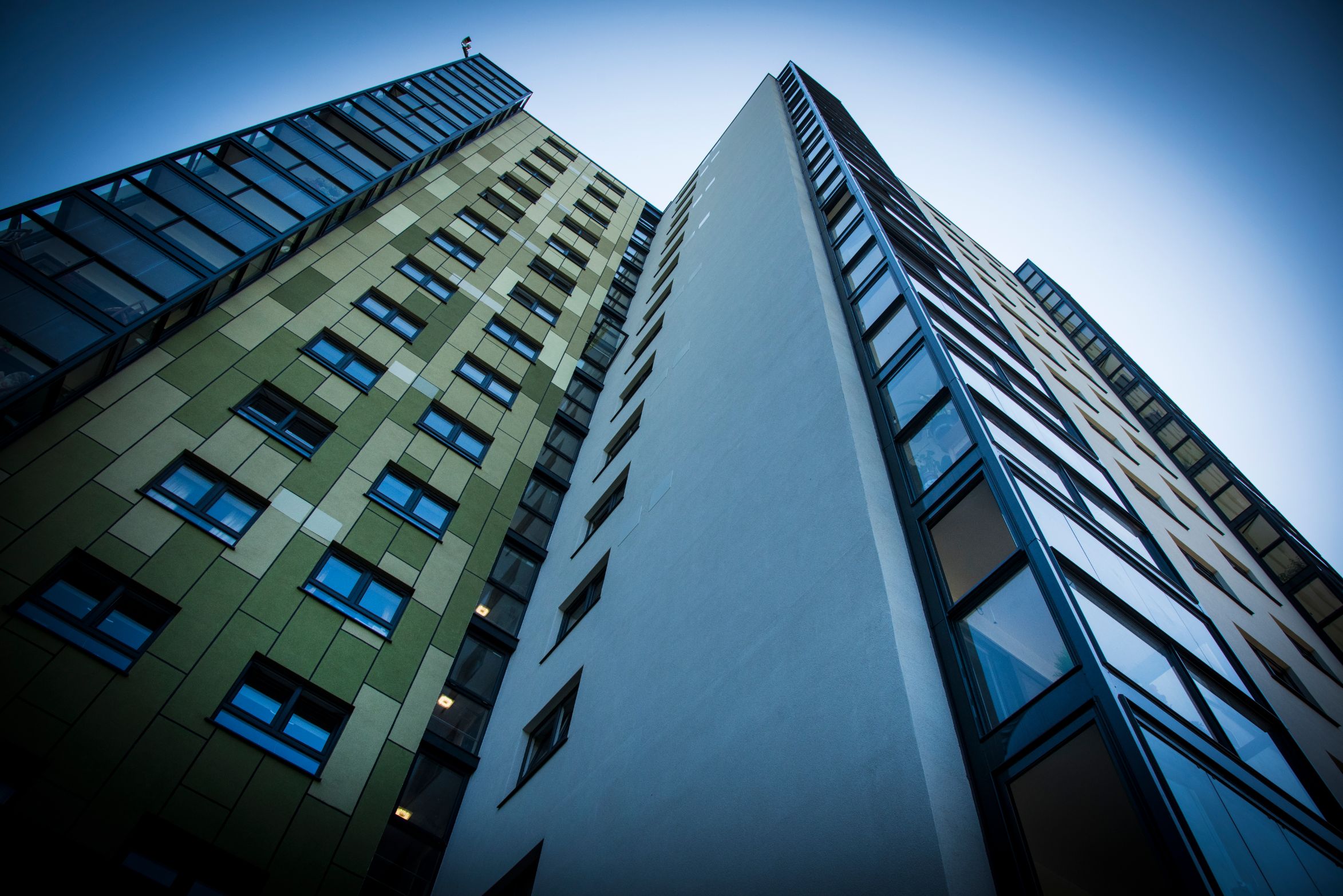 Graeme finishes by acknowledging the need to collaborate and transfer good practice from Gateshead HEIGHTs across our projects. "Whilst we are extremely proud of the community engagement and satisfaction we achieved during the recladding and refurbishments works at Gateshead HEIGHTs, we cannot and will not rest on our laurels, and must ensure the learnings are embedded into other projects that could benefit.
Internally we operate a best practice hub, allowing us to work collaboratively across all our regions, taking best practice into consideration for other projects. We will continue to build on our best practice and the sharing of ideas for the benefit of future projects."