The Marches, Wolverhampton
Creating 266 new homes in Wolverhampton
Our team in the Midlands are creating 266 new homes in Wolverhampton.
The £34 million project for WV Living, the local housing company for the City of Wolverhampton Council, will see us create a combination of one, two, three and four-bedroom homes – 67 of which will be affordable – on the site of the former Wednesfield High School on Lakefield Road.
Established in 2016 with a mission "to design and build homes you will love", this will be the largest of WV Living's first phase sites and plays a crucial role in their aspiration to build over 1,000 new homes over the next four years that assist with regeneration in Wolverhampton by providing good quality new homes.
Simon Liversage, director at Willmott Dixon, said:
"We have delivered over £200 million of projects in the Midlands in recent years and our team are looking forward to working with WV Living to develop houses and apartments that bring much-needed new places to live for the people of Wolverhampton. In the process we'll also focus on supporting regional companies and jobs with our 'local pound' commitment.
"WV Living's determination to utilise existing brownfield sites within the city plays a significant role in supporting the redevelopment of Wolverhampton, reclaiming and repurposing discussed sites such as this."
Kate Martin, director for housing, City of Wolverhampton Council, said:
"This is fantastic news for WV Living and for the city, with The Marches set to provide much-needed quality homes for people. WV Living is continuing to support the overall house building programme in the City of Wolverhampton and in appointing Willmott Dixon we will also see long-lasting benefits to the local community.
"Willmott Dixon's commitment to social value and sustainable futures as evidenced by their Queen's Awards for Enterprise wins in recent years is an asset and we are confident that the scheme will also boost local business and skills and add to the pace of regeneration in the city."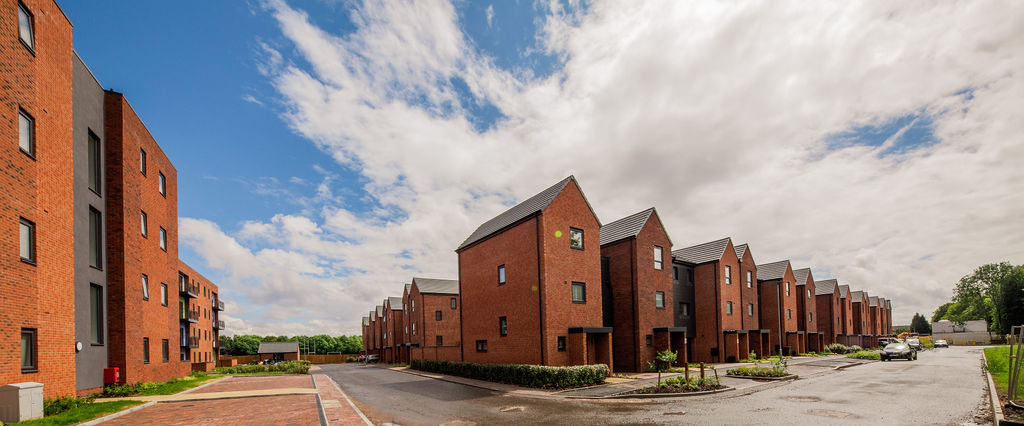 Photo of The Marches from July 2021
Construction Skills Training Hub

We believe we have a purpose beyond profit and that includes leaving a lasting positive legacy in the areas where we work. Over the duration of The Marches project we have committed to investing ten per cent back into the local community, equating to a monetary value of £3.5m, which will see us provide apprenticeships, work experience and NVQs to local people, as well as ensuring at least 80 per cent of local spend and labour is within ten miles of the site.
We have also set up the Construction Skills Training Hub onsite ran in partnership with the City of Wolverhampton College. Here, 45 per cent of those accessing training are from groups currently under-represented in the construction industry, including women and ethnic minorities.
The hub advertises live job vacancies, which local people can apply for and the aim is to ensure at least 50 per cent of those receiving training secure long-term employment.
Delivering virtual tours
To provide Covid-19 safe viewings, we created virtual tours of both the 'Langley' 4 Bedroom Townhouse and 'Hayes' 3 Bedroom Townhouse. This has allowed the sales process to progress while the UK follows lockdown protocols, read more here.
'Langley' – 4 Bedroom Townhouse
PROJECT HIGHLIGHTS
Combination of two, three and four bedroom homes
Providing much-needed, quality affordable housing
PROJECT DETAILS
CONTACT US
Chantry House, High Street, Coleshill, Birmingham
B46 3BP
Tel: 01675 467666
Fax: 01675 467655