Clayworks apartments and Hilton Garden Inn Hotel in Smithfield, Stoke-on-Trent
A transformational new quarter at the heart of the city
Our experts in high-rise city centre residential and hospitality delivered the Clayworks build-to-rent apartments and Hilton Garden Inn Hotel at the heart of the transformational Smithfield development in Stoke-on-Trent.
A transformational new quarter
Smithfield is at the heart of Stoke-on-Trent City Council's regeneration plan, which includes the council's own private housing company, Fortior, managing Clayworks.
The authority had an ambition to regenerate this underused part of the city to create a new and exciting business district for people to live, work and connect. Genr8 was selected to deliver this vision and Smithfield, a £200m mixed-use quarter was born.
The name pays homage to the original Smithfield bottle works on the site, giving a nod to the site's past but demonstrating dedication to its future. The addition of Hilton's award-winning upscale hotel brand provides a tremendous boost to the city's business and tourism industries.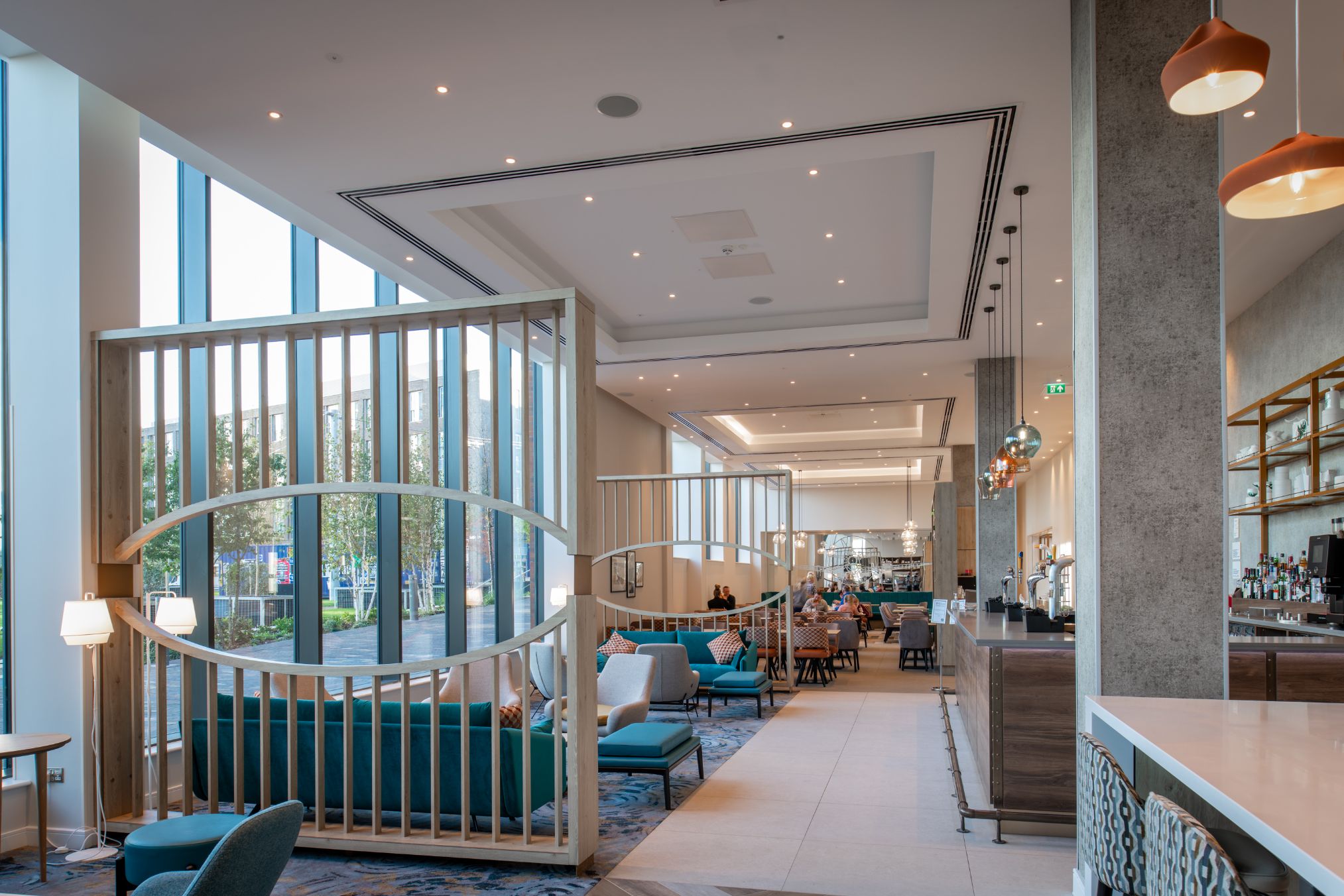 Hilton's award-winning hotel brand
New build to rent homes
Clayworks' 11-storey apartment block is the first development of its kind in Stoke-on-Trent and provides local people with a greater variety of rental options. Unlike some city-centre schemes, Clayworks places community at its heart, boasting large communal and social spaces within the lobby, co-working spaces, roof terrace and landscaped courtyard. The building also offers bookable function rooms with kitchen spaces, offering both a space for socialising and events, as well as a revenue stream for the building operator.
Built with style and practicality in mind, the buildings have commercial and leisure units at ground floor and lower ground levels.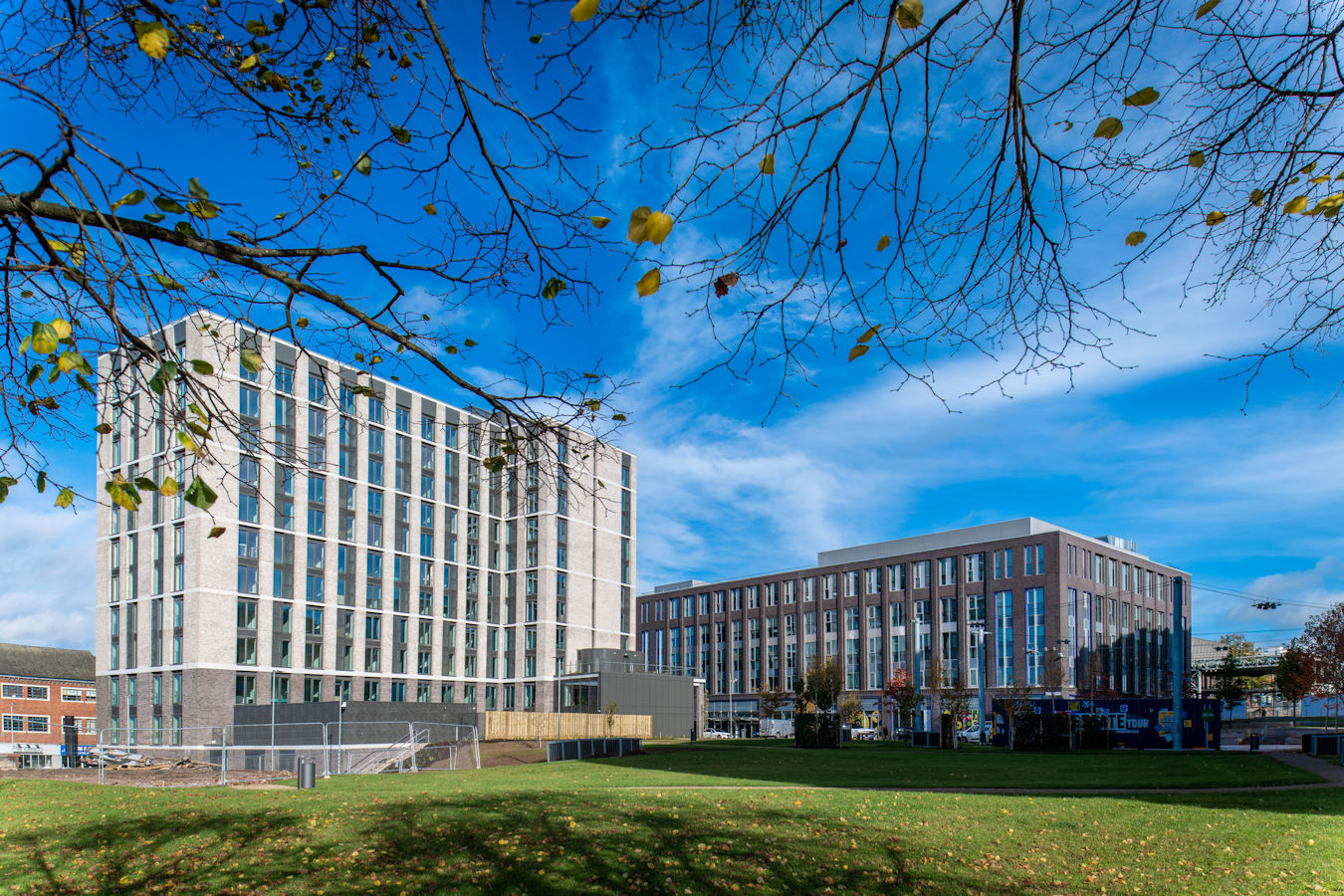 Clayworks, left, provides quality BtR homes in the heart of Smithfield
Acting swiftly to protect a critical project
The project is critical to the continued growth of the city, and in the summer of 2019, after the previously appointed contractor fell into administration, Genr8 moved swiftly to appoint our team to protect the delivery of the two developments.
Our team's approach ensured that the project was underway only 11 days later with a programme that would minimise any impact on project completion dates, finalised.
In partnership with Genr8, we worked alongside key members of the original site delivery team and retained the project's existing supply chain partners on both projects, maintaining jobs and ensuring continued smooth progress.
That success was made possible because of the strength of the relationship our teams have built up with Gern8, for who we are proud to have completed the high-profile and transformative £41m town centre regeneration, Rochdale Riverside, in April 2020.
Anthony Dillon, managing director of Willmott Dixon in the North, said:
"I'm hugely proud of how our dedicated team acted so decisively, alongside our partners at Genr8, to protect local jobs and businesses in finalising the programme of this flagship project for the city. It is a hugely-important catalyst to encourage new inward investment."
Richard Ingham, partner at Genr8, added:
"We were incredibly impressed by how professionally and efficiently Willmott Dixon progressed works at Smithfield. Our existing strong relationship with the team, and the company's high standard of work on Rochdale Riverside, meant they weere the natural choice to bring this phase of the project to completion. We had the right partner on board to bring our ambitious vision for Smithfield to life, which will help to continue the hugely successful regeneration of Stoke-on-Trent's city centre and galvanise the local economy."
PROJECT HIGHLIGHTS
An 11-storey building in Stoke city centre
Focus on community, style and practicality
Built to rent homes
Hilton Garden Inn Hotel will boost the region's business and tourism industries
PROJECT DETAILS
CONTACT US
Hollinwood Business Centre, Albert Mill, Albert Street, Hollinwood, Oldham, Lancashire
OL8 3QL
Tel: 0161 947 3960
Fax: 0161 947 3961