Sibson building for University of Kent
New central hub to make the university a world leader
The University of Kent invested in a new 'hub' to make it a world leader that attracts students and academics from around the world.
Creating the Sibson Building was another example of our track record for delivering campus upgrades in university environments, following similar facilities for universities that include Cambridge, Bournemouth, Birmingham City, West London and Brighton.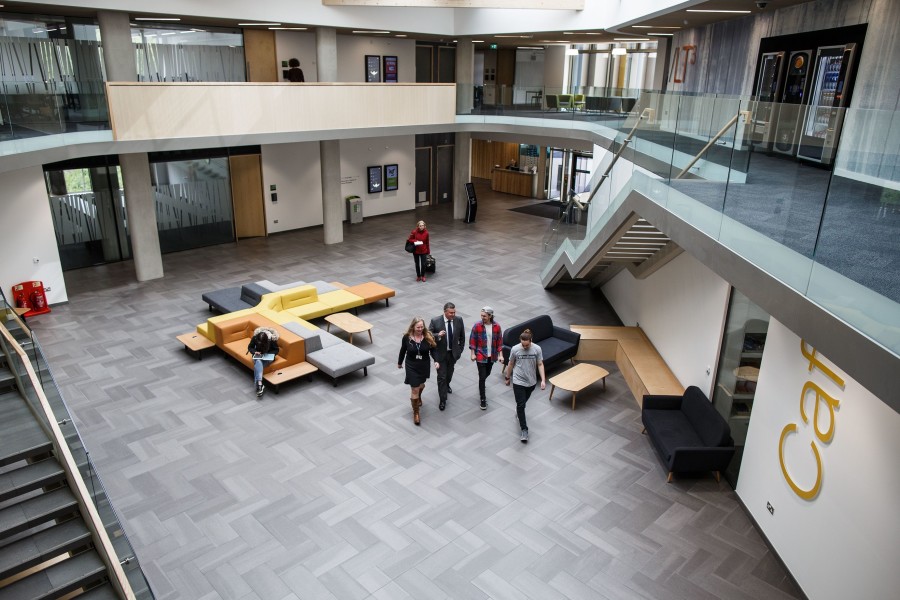 New centrepiece
The challenge was to provide a new five storey academic building on a split level site with 150 linear metres of ground retaining sacrificial sheet piles. It also had to include 150 offices, Seminar rooms, 3 lecture Theatres, a double height Atrium space and fully functioning Kitchen and dining area.
No problem!
We delivered a home to the Kent Business School and the School of Mathematics, Statistics & Actuarial Science. By bringing together academics, students, researchers and administrative staff from these schools into a modern new facility, the hub has given the university approximately 8,000m² of state-of-the-art space that will help attract the best people in the competitive higher education sector.
The Head of Estates for the University, Peter Czarnomski, stated:
"This is the best construction project I have EVER worked on!"
Check this fly through film!
Leaving a huge legacy
The facilities will allow the university to develop their current activities and strengthen their position in the higher education sector. The space includes 5,600m² of academic and research workspaces, administration and reception areas for the two schools and 2,350m² of teaching and learning spaces. It also includes three lecture theatres, seminar rooms and MBA and IT suites.
As we exceeded Kent's expectations, in terms of both quality and value for money, we have already been awarded the contract to build the University's new Economics Building.
Our customer was also delighted that the site was run efficiently and safely, and that we achieved our social and environmental goals, namely: 100% of the site's 1,156 square metres of waste diverted from landfill; 11 apprentice training weeks delivered on the project; £16.3m additional value to local community; and 87% of the days worked by local people. We also scored very highly in the Considerate Constructors Scheme (42 out of 50 on both visits, against the industry average of 35.4).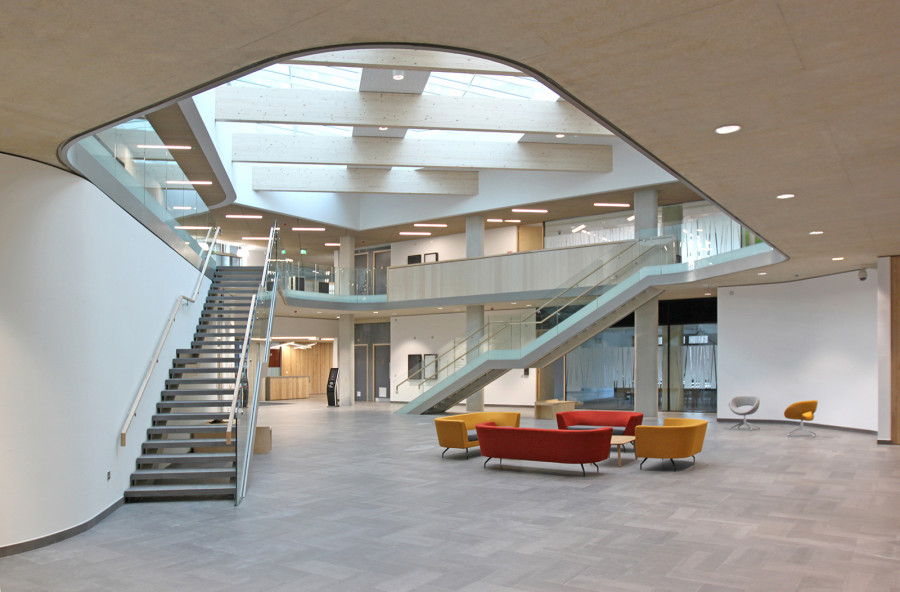 Skills plan
Willmott Dixon aim to provide 100 working weeks for apprentices, as well as six student placements, 300 workshops and 360 site visits during the construction phase. This is part of our community engagement programme with the university.
Roger Forsdyke, managing director for the Southern Home Counties:
"This hub will give each of the departments their own distinct learning area that will attract students and academics keen to develop their knowledge and research using these high-tech facilities. Importantly, we're bringing our experience of higher education and working in live environments on major hub projects to ensure we create a centrepiece that will provide a learning environment for many generations to come."
EXPLORE THE GROUND FLOOR IN 3D
EXPLORE THE FIRST FLOOR IN 3D
PROJECT HIGHLIGHTS
Central hub supports University of Kent's expansion

Facility brings together academics, students, researchers and administrative staff

Another example of working in a live campus environment
Hub for teaching, learning and working together strengthens university

PROJECT DETAILS
CONTACT US
The Heights, Building One
Brooklands
Weybridge
Surrey
KT13 0NY
Tel: 01932 584700