The company and partners of the project joined with the council on Friday 10 December to see council leader, Simon Robinson, lay the first part of the low-carbon fabric of the new two-storey leisure centre building.
The last external piece of a new carbon-efficient leisure centre building in Nottinghamshire has been put in place, marking a milestone moment for national contractor Willmott Dixon.
The leading construction firm was awarded £16m project earlier this year, courtesy of part funding from the European Regional Development Fund (ERDF), to develop Bingham Arena and Enterprise Centre in Nottinghamshire on behalf Rushcliffe Borough Council.
Willmott Dixon and other partners of the project joined with the council on Friday 10 December to see council leader, Simon Robinson, lay the final part in the fabric of the new two-storey leisure centre building.
This part of the site is now ready for a carbon efficient plant to be installed in the new year, which will then power its 25-metre, six-lane swimming pool with spectator seating and teaching pool.
The overall development will reduce carbon emissions by 78% compared to other leisure centres in the borough and by 82% for similar office developments.
Nick Heath, director of delivery at Willmott Dixon, said:
"I'm delighted to announce the next milestone in this important project. This marks a significant moment for this development, which will use state-of-the-art technology to help us meet our low carbon targets."
The firm's Energy Synergy service is being included in the project to address the performance gap. Information on how the building will be used can help to predict and model the operational energy for the buildings. This will account for regulated and unregulated energy to gain a more accurate prediction of the building's operational energy. This will therefore reduce the gap between predicted and actual energy use.
Nick added:
"With ambitions to secure a target BREEAM rating of Very Good, a low carbon technologies assessment has also been undertaken to ensure the chosen design considered the most suitable renewable energy source to reduce regulated carbon emissions.
"There will be photovoltaics (PV) on the roof of the office building and there are combined heat and power (CHP) engines being used to power the pool.
"As part of the Energy Synergy process, equipment will be monitored and altered once the buildings are in use, to be more energy efficient. There will also be sustainable transport solutions such as cycle facilities, EV charging points and the project's location allows use of the train station and local bus routes. We are also using a Myrtha pool, which is a steel-framed as opposed to concrete, which has low carbon benefits."
Once complete, the leisure centre will feature two swimming pools, a fitness gym, workout studios and adjacent community hall with staging and seating. The adjacent Bingham Enterprise Centre will provide 12 self-contained office lets for small and growing businesses over two floors that could create up to 90 jobs.
Willmott Dixon has also been focusing on the local pound. 80% of those employed on the site live within 20 miles and nearly 50% of the project's spend is through local businesses.
Council leader, Simon Robinson, said:
"It's fantastic to see a major project taking shape that will benefit Bingham and the wider community that has also prioritised the environmental aspects so well.
"I am delighted to have all our partners join us in delivering a greener and more efficient development, that remains on schedule and that will be enjoyed for generations to come."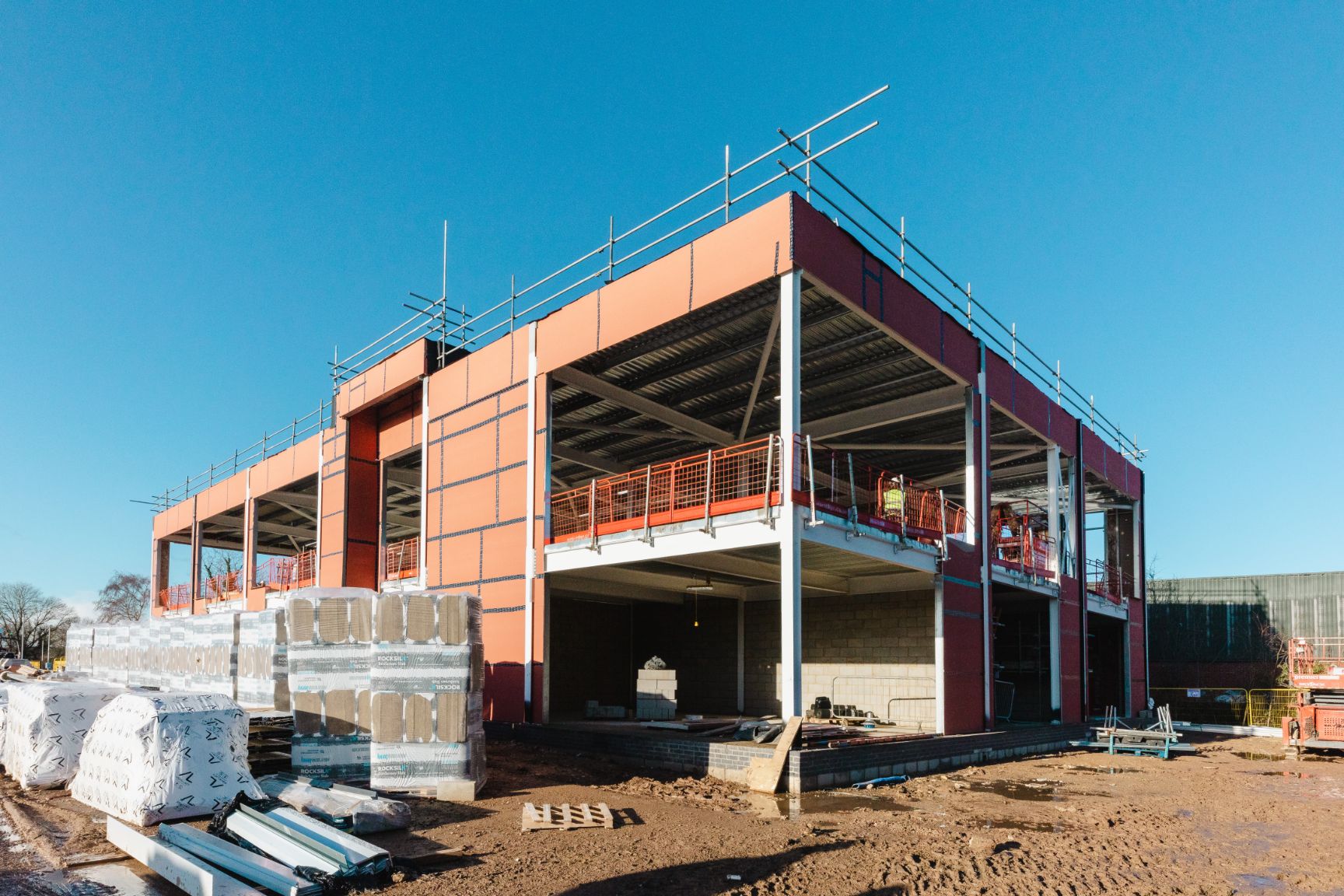 The project team includes project managers Henry Riley, architecture firm YMD Boon Architects, M&E engineers ESP and civil and structural engineers BSP Consulting, and was procured through Procure Partnerships.
The leisure centre and community hall will be managed by the council's existing leisure provider, Parkwood Leisure and subcontracted to Lex Leisure, which has managed the council leisure centres since 2007.
Conor Neild-Crabb, key account manager for Procure Partnerships, said:
"Bingham Arena and Enterprise Centre is a fantastic scheme providing local employment, first-class leisure facilities, and space for new local businesses to grow in a facility with outstanding environmental credentials. It really is an impressive scheme, delivering brilliant outcomes for Rushcliffe Borough Council through the Procure Partnerships."
Willmott Dixon is highly experienced in delivering leisure centre facilities having, recently completed on site at the award-winning £37m Sports and Wellness Hub at the University of Warwick; a development that has subsequently gone on to become the most energy-efficient leisure centre in the UK.
The Bingham Arena and Bingham Enterprise Centre project is expected to complete in May 2022.