Willmott Dixon has remained, what it believes to be, the only construction firm to be carbon neutral after again off-setting its emissions.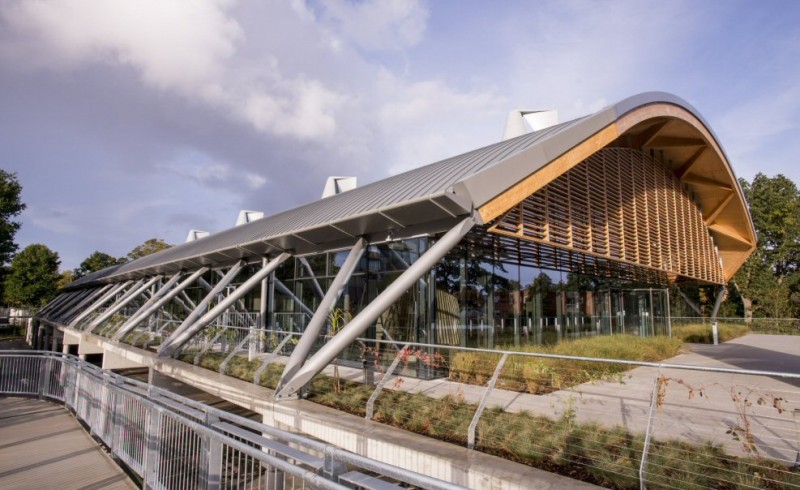 WWF's new low carbon emitting HQ in Woking
Since 2012, the company has reduced its carbon intensity – the amount of carbon emissions relative to turnover - by 6.1%. This has resulted from a range of initiatives that include better insulated site cabins, higher fuel efficiency specifications for hire plant and machinery, green bonuses for staff choosing lower emissions cars and better use of videoconferencing.
However with construction, retrofit and property maintenance being carbon-intensive activities, the company has not been able to eliminate all emissions from its operations. Therefore, it's worked with The CarbonNeutral Company network, which comprises over 300 companies taking action to reduce their environmental impacts, to invest in projects overseas to save carbon emissions equivalent to those emitted in 2013. Projects chosen reflect the company's values and align with the aims of the Willmott Dixon Foundation.
Willmott Dixon Support Services divisional chief executive Paul Smith, with Group responsibility for sustainable development, said: "This is a key statement that shows how important the low carbon agenda is to us; being carbon neutral allows us to demonstrate our commitment to taking absolute emissions to net zero.
"We'll keep reducing the carbon intensity of our operations year-on-year, although the reality is that in the foreseeable future we will not be able to eliminate all emissions, so our work with The CarbonNeutral Company network is very important. We want to mitigate our impact on the environment in every way, so are delighted to be investing in projects to reduce the emission of harmful greenhouse gases and create significant social and health benefits to people in other countries."
Willmott Dixon will continue to cut its carbon emissions still further. Rob Lambe, managing director of Re-Thinking, Willmott Dixon's sustainability arm, explains: "Climate change remains a huge challenge and our sector has a big role to play in driving down emissions. We have to have the expertise and know-how to show our clients that we practice what we preach through our sustained progress to drive down our carbon footprint and offsetting emissions we cannot avoid producing."
Jonathan Shopley, managing director, The CarbonNeutral Company, said: "The achievement of carbon neutrality is an essential part of the requirement to keep global temperature rise to 2oc or less, in line with the latest reports from the Intergovernmental Panel on Climate Change (IPCC). We are very pleased to see Willmott Dixon in the leading group of companies who are showing commitment to make this happen."