The sight of delivery drivers using a grass verge to gain access to a local shopping parade is now a thing of the past after Willmott Dixon Partnerships answered a plea for help by Frankley Parish Council.
For years, the shopping parade on Arden Road was blighted by vans taking a short cut over the grass verge to make their morning deliveries direct to shops, instead of using the parade's access road and car park.
Willmott Dixon Partnerships community resident liaison officer Richard Freeman explains, "This was particularly happening in the early morning, as it was quicker to drive over the verge and also meant they could get closer to the shop rather than use the car park. However, it was also very anti-social, as it ruined the natural vegetation and became an eye sore, as well as creating a danger to pedestrians walking on the footpaths."
Willmott Dixon responded to a plea from the Frankley Parish Council to stop this happening, which was now a big issue for local residents. The team decided the best solution would be to install trip rail fencing and an additional bollard.
Richard continued, "It only took a few hours to complete but the gratitude we received from local residents has been enormous. We also appreciate the assistance provided by Travis Perkins, who supplied the materials free of charge."
Councillor Eric Carter commented: "We are really pleased with the outcome following Willmott Dixon's work. We now no longer need to worry about the safety of the community on their own footpaths and the greenery is back to normal."
This is the latest community initiatives by Willmott Dixon Partnerships, which provides repairs and maintenance services to 60,000 properties owned by Birmingham City council in the north and south of the city.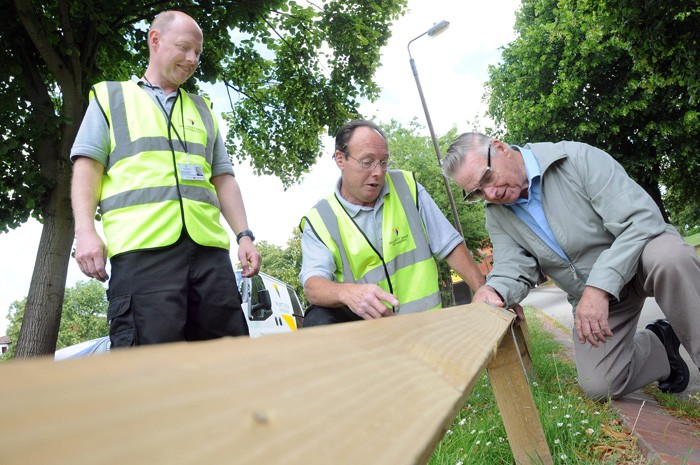 Picture caption: residents inspect the new fencing with engineers from Willmott Dixon Partnerships.
For further information, please contact:
Andrew Geldard, Group Communications, Willmott Dixon.
Tel: (01462) 671852
e-mail:andrew.geldard@willmottdixon.co.uk
Website: www.willmottdixon.co.uk
Willmott Dixon Partnerships in Birmingham
Willmott Dixon Partnerships is the repairs and maintenance specialist of Willmott Dixon Group, the UK's 3rd largest privately owned construction and support services Group.
It provides maintenance and void property services to Birmingham City Council owned properties in Edgbaston, Hall Green, Northfield, Selly Oak, Ladywood, Erdington, Peribar and Sutton Coldfield.