Sunesis solution enables first new primary school in Doncaster for a generation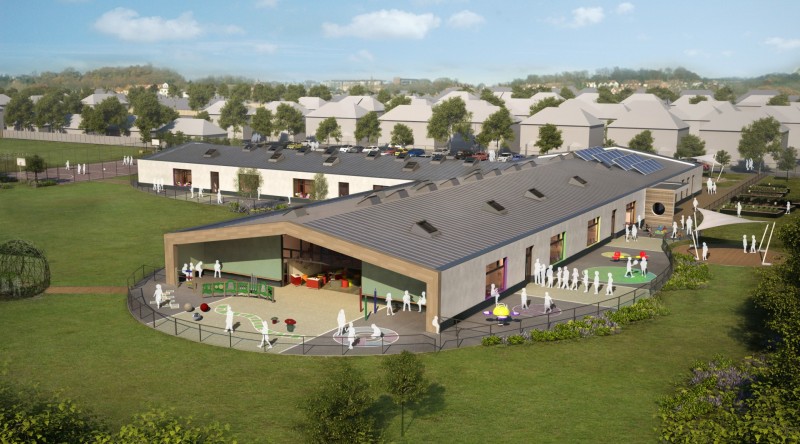 Doncaster Metropolitan Borough Council has chosen Willmott Dixon and Scape's Sunesis solution for its first new primary school in 30 years, with a £4.4million contract to deliver Carr Lodge Academy ready for September 2015.
Sunesis is a suite of standardised designs that dramatically reduce the cost and time it takes to build new schools without compromising on quality. Since being launched in 2011, 25 Sunesis schools have been ordered by councils across the country and take typically nine months to build, with Carr Lodge Academy the first Sunesis school in Doncaster.
The academy is using a Sunesis Keynes model and is being built on Grady Drive, Balby, for 420 primary school pupils and 50 nursery children. While other schools have been refurbished, this is unique in that no brand new primary schools have been built in Doncaster for a generation, with the value provided by Sunesis being a key factor in making it affordable. Sunesis schools are up to 30 per cent cheaper than bespoke designed schools.
Read more about Carr Lodge and see the live webcam.
Sunesis is a long-term, cost effective solution that is enabling dozens of schools to be built across the country to ease the demand for places. We are delighted to use a Sunesis Keynes model to create Car Lodge Academy in partnership with Doncaster Council; it will provide a modern, exceptional place to learn for many generations.




Anthony Dillon, managing director for the north
Richard Tuddenham, headteacher of Carr Lodge Academy, said: "An outstanding education is built on good foundations and that is what we aim to deliver. The design of the building looks magnificent and, when the first children walk through the doors in September 2015, it will be an extremely proud moment for us all."

Deputy Mayor of Doncaster Glyn Jones said: "I am pleased to celebrate a landmark moment in Doncaster – the first brand new primary school in the town for many years. Education is a very important issue to the council, and the great education children will receive at Carr Lodge will tie in with the other initiatives we have in Doncaster, including the building of the High Speed Rail College and other incentives to create future jobs and growth, in order to give young people lives full of opportunity."