Willmott Dixon workers have led a wall signing amongst school pupils to mark a key milestone for extension work at Old Bexley Primary School.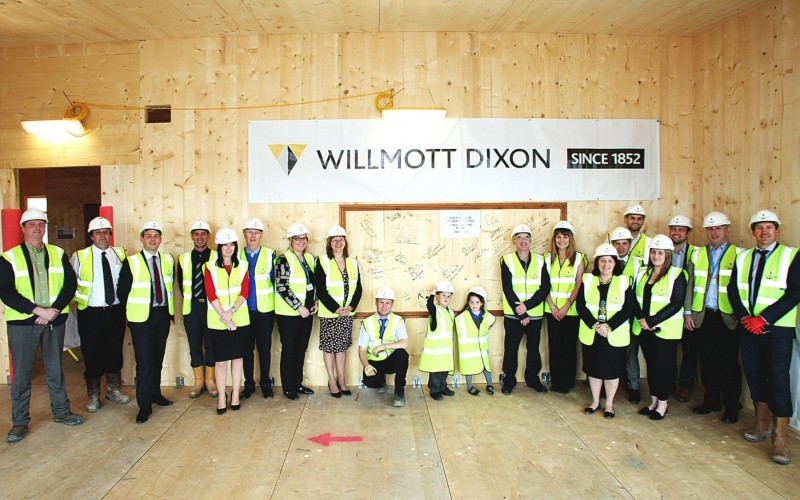 The team have been working over the past 10 months to complete the £3.1m single and double storey extensions which will greatly improve the teaching facilities available to the school.
Guests included Adam Worrall, Willmott Dixon's Director of Operations, Mrs Karen Lindridge, Head teacher at Old Bexley Primary School, and a number of staff, governors, pupils, parents and officers from the London Borough of Bexley.
Everyone in attendance signed the wall to signify the completion of the structural timber frame. The team at Willmott Dixon, which is leading the programme of works, will now move to complete the internal and landscaping works, before the school opens the completed extension in the new school year.
Speaking about the event, Karen Lindridge said: "We wanted to thank everyone involved in this project and a wall signing seemed an appropriate way of doing just that. Work has progressed quickly and with minimum disruption to our teaching staff and pupils, who have been present whilst the work has been ongoing. The team at Willmott Dixon have worked hard to get the extension completed in time for the 2014-15 school year and we are delighted with the outcome."
Leader of the London Borough of Bexley, Cllr Teresa O'Neill said; "I am delighted that the school have reached such a momentous stage in their works and in such good time. This was a great way to celebrate and recognise everyone's involvement. I hope the work continues at the same pace and I look forward to seeing the extension in use."
John Waterman, Managing Director for Willmott Dixon in the Southern Homes Counties said: "We're very pleased to have reached this significant milestone for such an important project in the local community. The new extension will provide a boost to the school's facilities and serve young people in the area for many years to come."