Willmott Dixon apprentices from across Rotherham joined forces and made a big step towards helping a UK charity as part of their celebrations for National Apprenticeship Week (March 3 – 7).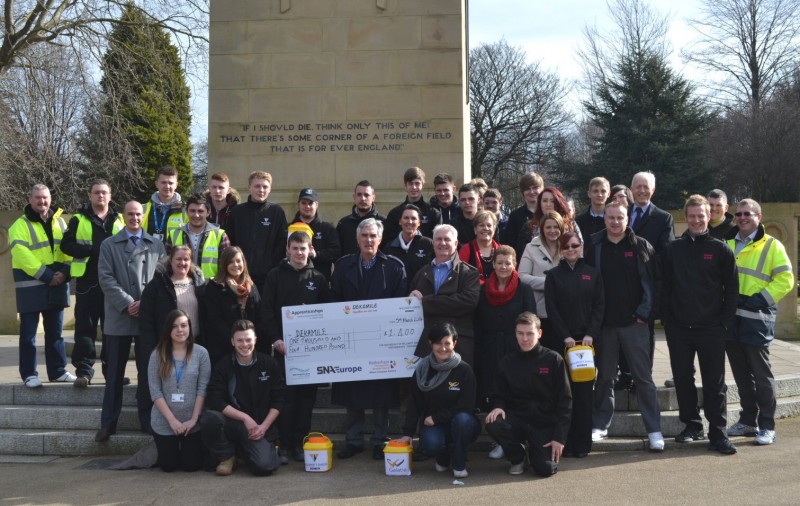 The team took part in Willmott Dixon Partnerships' Walk a mile for Dekamile' event at Clifton Park in Rotherham to raise money for the UK charity.
25 apprentices from Willmott Dixon Partnerships, Galatia (an Acis Willmott Dixon Partnership), Rotherham Metropolitan Borough Council, Rotherham College, SNA Europe, and Eaton's Cooper Lighting and Safety, did the sponsored mile walk and raised £1,400.
The walk was one of six events held across the UK by Willmott Dixon apprentices as part of a company-wide challenge to raise £12,000 this year to build a new skills academy in a village in Togo, West Africa. The academy will be based on the model of Willmott Dixon's 4Life Academy in Aston, Birmingham. It will provide members of the Togo community with construction skills and trade knowledge, to help support themselves for generations to come.
National Apprenticeship Week is being staged for the seventh year and is designed to celebrate apprenticeships and the positive impact they have on individuals, businesses and the economy.
Willmott Dixon's Customer and Community Officer, Michael Pearson, said: "We're very proud of our apprentices for working together to help raise as much money as possible for Dekamile. Their fundraising effort towards building a new academy in Togo just shows what great ambassadors they are for the construction industry."
Rod Unger is the founder of Dekamile. He said: "We're really grateful for Willmott Dixon's ongoing support for our charity appeal. The apprentice's donation and support to build a new academy is tremendous in helping us to achieve our aims."
Willmott Dixon Partnerships Managing Director, Mick Williamson said: "We were initially inspired to offer our support to Dekamile because every penny raised goes directly to the village, and the charity's aims to leave lasting legacies are in line with our own practice in the UK.
"This new academy will enable us to reach communities much further afield and spread our 'Skills 4 Life' ethos to Agome-sevah in Togo. Our apprentices are at the centre of what we are hoping to achieve with this project. We are aiming to equip the villagers with skills and knowledge to fully support themselves."
Charles Grayson, Senior Business Improvement Consultant at Rotherham Colllege, said: "It's been inspiring to be part of Willmott Dixon Partnerships' Walk-a-Mile for Dekamile Apprenticeship Challenge. Our apprentices have again exceeded expectations and really shown the commitment, aptitude and drive which they bring to local business'
Dekamile aims to improve the community facilities in Agome-sevah - a remote village alongside the river Mono on the border between Togo and Benin.
Willmott Dixon Partnerships is working with Rotherham Metropolitan Borough Council to deliver a repairs service to 12,000 council-owned properties in the areas of Wentworth South, Wentworth Valley, Rother Valley West and Rother Valley South.