A new primary school built to serve pupils across Maidstone has recognised a milestone in the construction of its state of the art facilities, at a special 'Topping-Out' ceremony.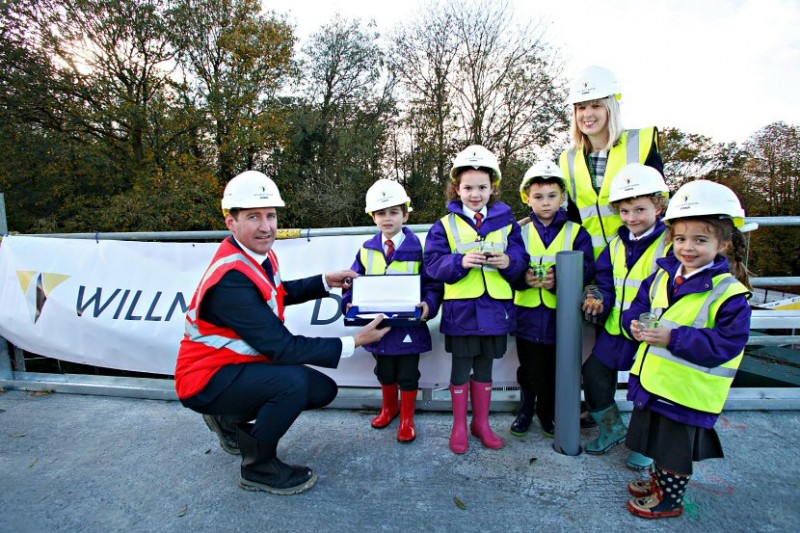 Tiger Primary School, part of Future Schools Trust, held the ceremony in conjunction with Willmott Dixon. The ceremony was held to celebrate the structural completion of the new school building.
Working on behalf of Future Schools Trust, Willmott Dixon hosted the celebration event to mark the school reaching the highest point of building works.
Willmott Dixon's work has involved constructing a new two-storey primary school within New Line Learning Academy's existing campus. Once open in 2015, the £3.8 million school will house 420 Key Stage 1 & 2 pupils from across the local area.

Emma Bryant, Principal at Tiger Primary School, said: "We're extremely pleased with the progress so far for our brand new, state of the art building. This ceremony has been a chance for us all to acknowledge what a vital addition the building will be to our school facilities. It's fantastic to have pupils and key representatives from a range of stakeholders here to celebrate what will be an important development within the local."

Roger Forsdyke, Willmott Dixon deputy managing director for its local Cobham office, said: "We're very pleased to have reached this significant milestone for such an important project in the local Kent community. The new school will provide a boost to the region's education offering and serve young people in the area for many years to come. "

Future Schools Trust aims to ensure all its learners are supported to reach their academic potential. Tiger Primary was the first in the area to be set up under the Government's Free School initiative. Offering a significantly different curriculum, extended school hours and an education platform that promotes both academic and social development, Tiger represents a big step forward in primary education.

Emma Bryant added: "We are thrilled with the work that Willmott Dixon has undertaken and look forward to our students occupying the new building in April. The new facility for Tiger Primary will boost our offering in Maidstone. I am delighted that, through this expansion, we are continuing to increase great educational opportunities to our children near to where they live."