The leader of Birmingham City Council Sir Albert Bore has hailed Willmott Dixon's approach to local apprentices as a model he wants other companies in Birmingham to follow.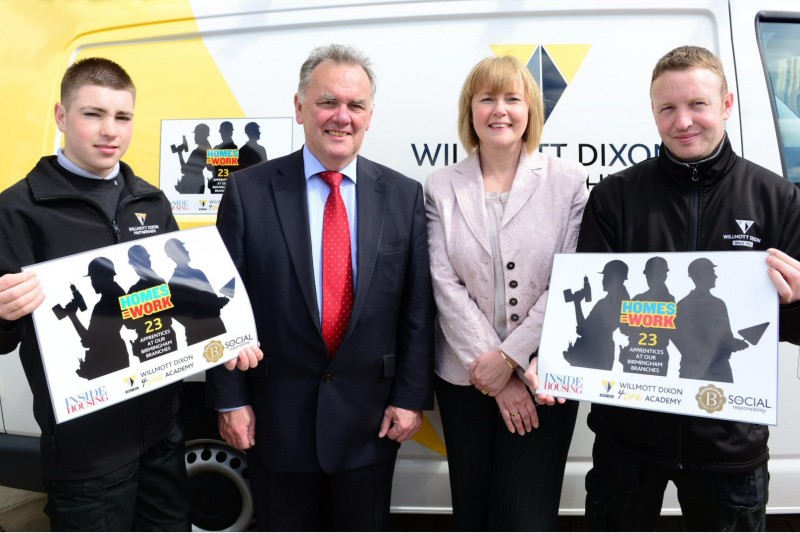 Speaking as the company unveiled plans to take on 10 new apprentices in Birmingham this year, Sir Albert Bore said, "Equipping our next generation with skills that are highly sought after in the workplace is essential for Birmingham's ability to compete on a global stage and attract the investment we need for future growth. I want to see more employers like Willmott Dixon taking the initiative to invest in apprenticeships that will give people from our city the life-long careers that will support our region's prosperity."
Sir Albert met several current apprentices outside the Council House as Willmott Dixon also launched signage it will display on its fleet of vans to highlight the contribution building trade apprenticeships make towards creating jobs and economic growth. The Homes=Work signage, part of a campaign by weekly business magazine Inside Housing to highlight the role of housing work in creating apprenticeships, shows the number of apprentices employed by Willmott Dixon at its Birmingham branches, with the new 2014 intake set to replace those apprentices graduating later this year with NVQs.
With the signage seen by thousands of people each day on vans across the city, it also includes the council's Business Charter for Social Responsibility logo, in which Willmott Dixon is an early signatory.
Sir Albert continued, "I'm glad to see the charter featured as we want more companies to become signatories to show their commitment to being responsible employers in Birmingham; it's going to become essential to all companies that want to do business with Birmingham City Council."
The move comes just a few weeks after Willmott Dixon joined a select group of companies in winning a Queen's Award for Enterprise for Sustainable Development, with its focus on community investment singled out for praise by judges.
The company, which provides repairs and maintenance services to 60,000 properties owned by Birmingham City Council, has made investment in skills a central theme in its Transforming Communities approach. Last year the company committed £1 million to create the 4Life Academy in Perry Bar, which has trained over 4,000 people so far, and has trained over 50 apprentices from Birmingham since 2008 – most of which have gone on to gain full time employment at the company.
This year, Willmott Dixon is advertising via its website (see the apprentice section) for 10 apprentices to work in Birmingham and train towards NVQ qualifications in building maintenance, plumbing, bricking and carpentry. The company is running an assessment day in early June to meet potential recruits, with the final 10 being chosen later in the summer for a three year course where they will combine hands-on work experience with weekly college study.
Willmott Dixon director of operations for Birmingham Pauline Chatt says, "Today's launch of our 2014 apprentice recruitment drive and branding on vans is a visible statement to show our commitment to apprentices in Birmingham and also to the council's Business Charter for Social Responsibility. Our work with Birmingham is creating skills that lead to life-long jobs, something that will leave an excellent legacy across the city."