Tarleton Academy
Adding to our ultra-sustainable portfolio with a net zero carbon in operation academy in Preston
We added to our growing portfolio of net zero carbon in operation school projects with an ultra-sustainable learning environment for 750 pupils at Tarleton Academy in Preston.
Procured using the Department for Education (DfE) construction framework, the new Tarleton Academy is one of the DfE's flagship pilot projects and the first academy in the UK to be net zero carbon in operation.
It was built on land adjacent to the existing school, which was demolished when the new building opened in 2023. Facilities include 36 classrooms as well as a range of sports facilities such as a 20m swimming pool for use by the school and local community, plus a new fitness suite and multi-use games area.
Net zero
Confirmed as the first academy in the UK to be net zero carbon in operation, the building has an enhanced thermal building envelope, including increased air-tightness, triple glazing and reduced thermal bridging. The various massing, orientation, ventilation and shading strategies were tested in pre-construction via an iterative modelling process rather than just modelling for compliance. The pool uses micro-filtration rather than sand which reduces the pumping load and saves energy.
It has renewable energy generation comprising both ground source and air source heat pumps. Furthermore, the roof features an array of 1,500 sq m photovoltaic (PV) solar panels, harnessing renewable energy and offsetting all energy used on site.
Measuring energy performance
Tarleton Academy further benefits from our EnergySynergyTM process. This sees a team of zero carbon specialists compare actual energy performance for a period of 2-3 years after handover with energy performance targeted at the design stage, ensuring there is no difference in operational use against that predicted when designed.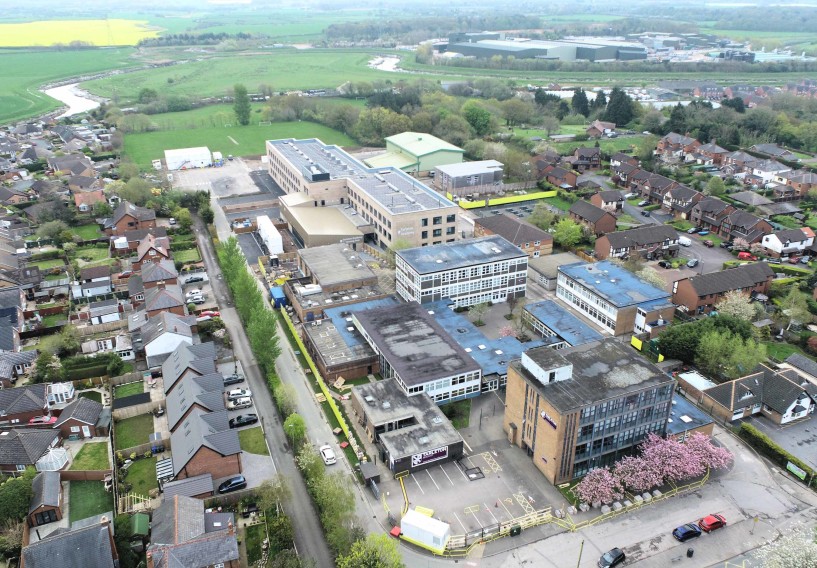 The new Tarleton Academy was built adjacent to the existing facility (foreground) which was demolished following completion
Anthony Dillon, managing director for Willmott Dixon in the North, said:
"Tarleton Academy is a world class learning environment, net zero carbon in operation, and benefited from our extensive EnergySynergyTM performance monitoring process to reduce costs."
Tarleton Academy is our latest ultra-sustainable education project. It follows the award-winning £38m Harris Academy Sutton, the UK's largest Passivhaus accredited secondary school. We also delivered Hackbridge Primary School, the UK's first Passivhaus 'Plus' education facility, which consumes only 75% of the 100% renewable energy it generates, selling the remainder back to the grid.
We are currently on site with a £29m net-zero carbon school build at Silverwood School's Rowde campus in North Wiltshire, extending the existing campus to provide a high-quality environment for 350 SEND pupils by September 2023.
PROJECT HIGHLIGHTS
750 pupil spaces, over 36 classrooms.
First academy in the UK to be net zero carbon in operation
Net zero carbon, enhanced air tightness and triple glazed windows.
Array of solar panels for renewable energy to offset energy use on site.
PROJECT DETAILS
CONTACT US
Hollinwood Business Centre, Albert Mill, Albert Street, Hollinwood, Oldham, Lancashire
OL8 3QL
Tel: 0161 947 3960
Fax: 0161 947 3961