Maywood extra care home, Wombourne
52-bed extra care scheme for the elderly and people with learning difficulties, including demolition of an existing building
The project involved the demolition of an existing building, and design and construction of a new facility with 52 self-contained apartments comprising:

33 two-bed apartments
19 one-bed apartments
1 en-suite guest room
1 staff overnight en-suite room
The Maywood development incorporates spacious communal areas, community space, indoor and outdoor gymnasium, community dining and coffee facilities, rooftop garden, accommodation for staff and an integrated care service.
The design gives careful consideration to use of materials, site context, natural daylight, topography and retention of existing landscape features.
Jean Teichmann, Head of Development for Wrekin Housing Trust:
"Willmott Dixon is an excellent contractor to work with. They are very collaborative, communicate well and put the client first. They have provided us with a very high quality product and brought added value through a number of routes, including their investment in social value."
The development by Shire Living - a joint venture by Wrekin Housing Trust and Choices Housing - includes a south-facing roof terrace, multipurpose rooms, assisted bathing, a pamper bathroom, and a landscaped garden with water feature.

A resident's family member said:
"Not only is my mother really happy in her new home and has a new lease of life, but she has got her daughter back, and I have my mother back. We are no longer carer and patient, but have time to sit and talk to each other as the friends we are."
Community
Willmott Dixon worked closely with local schools, Jobcentre Plus and training organisations throughout the project to provide work experience placements for over 60 local young people.
There was also a high proportion of local labour of 70% within 20 miles. We achieved a local spend of nearly 50% within 20 miles, over 75% within 40 miles, and 94% within 60 miles of the development.
Group chief executive Rick Willmott presents a boutique to a resident at Maywood.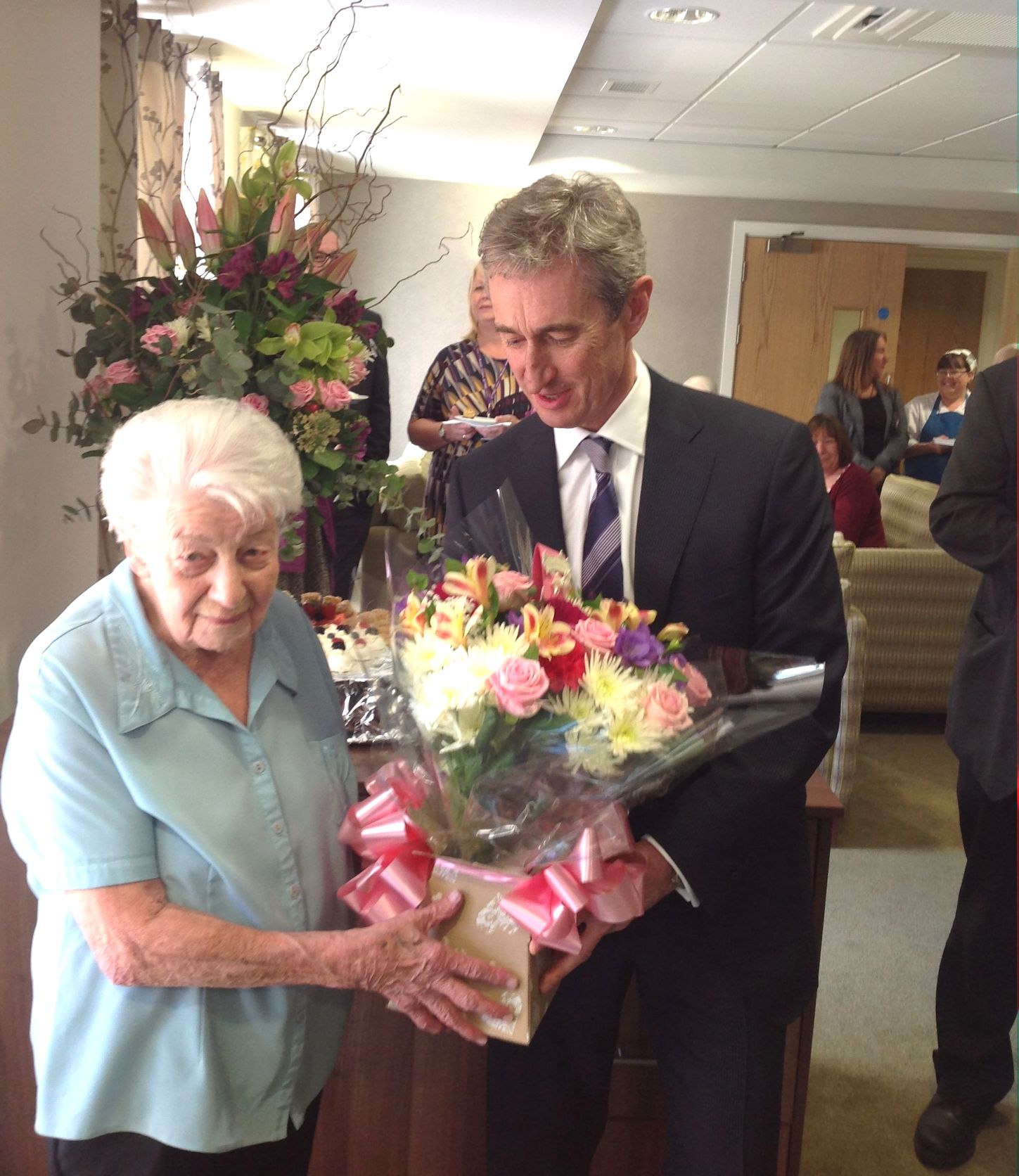 PROJECT HIGHLIGHTS
Willmott Dixon was construction partner to Wrekin Housing Trust
Delivered 52-bed extra care scheme for people aged 55 years or older
Major care home scheme in Wolverhampton

PROJECT DETAILS