Lincolnshire SEND school programme
Creating 'all-through, all-needs' SEND schools across the county
We've partnered with Lincolnshire County Council to help them deliver upon their £86m Special Education Needs and Disabilities (SEND) school investment programme.
The programme was, in part, prompted by the Government's challenge for councils to ensure their SEND provision was properly supporting school-aged children in the area, along with the Government's pledge to provide an additional investment of £700m.
In answer to this, Lincolnshire County Council recognised that the best way to provide best-in-class education to SEND children was to make all of their SEND schools 'all-through all-needs', making them the first county to do so. This means that children no longer have to travel to a school that meets their specialist requirements, instead, every school will be able to cater for every child's needs.
Over the last few years, we have supported Lincolnshire County Council in delivering upon this trailblazing project and are continuing to do so.
Cllr Mrs Patricia Bradwell OBE, executive member for children's services, said:
"We want to ensure that all children can access high-quality education, as near to their family and local community as possible. To help achieve that, we're investing £86m in improving our special schools over the next few years.
"Our ambitious programme will mean more pupils with SEND can attend a local school rather than having to travel large distances for their education, which will be of great benefit to both the children and their families."
Read our 'Building for All' whitepaper here
Specialist facilities
Across the projects, we have created a range of spaces that cater to the specialist needs of the pupils, ensuring the schools are able to provide best-in-class 'all-through all-needs' education.
Internal spaces include:
Classrooms
Specialist subject spaces (including food technology, science, IT, and design and technology)
Social recreation spaces
Hygiene suites
Purpose-build WC provisions
Dining halls
Nurse and physio spaces
Calm rooms,
Staff facilities
Minor refurbishments to existing buildings
External spaces include:
Carpark extensions
A designated drop off area
Remodelling a grass play area
A cycle track
Sensory and horticultural zones
Complex stakeholder management
A key part of the project has been managing complex stakeholder structures. For each school, the needs of the council, academy trust and end-users (the school, staff and pupils) have been balanced by our team.
In some cases, this has involved our team coming up with multiple solutions and ideas that take into account all requirements, allowing the best course of action to be selected.
Engaging and inspiring students
So far, we have delivered over £2.9m social ROI through a range of activities.
Each of the schools have remained operational while the extensions have been built. To help engage the children with the ongoing construction work, our site teams put together 'story sacks' containing a construction-related book, activities and toys. Across the festive period, pupils could also spot a naughty elf moving around site as they walked past.
We have also created and delivered a sustainability-focussed enrichment programme that has been tailored for SEND pupils. The programme gives the students an insight into the construction industry including the different jobs available and how we are working to tackle challenges around sustainability. At the end of the programme, the students received a Bronze Certificate from the Industrial Cadets.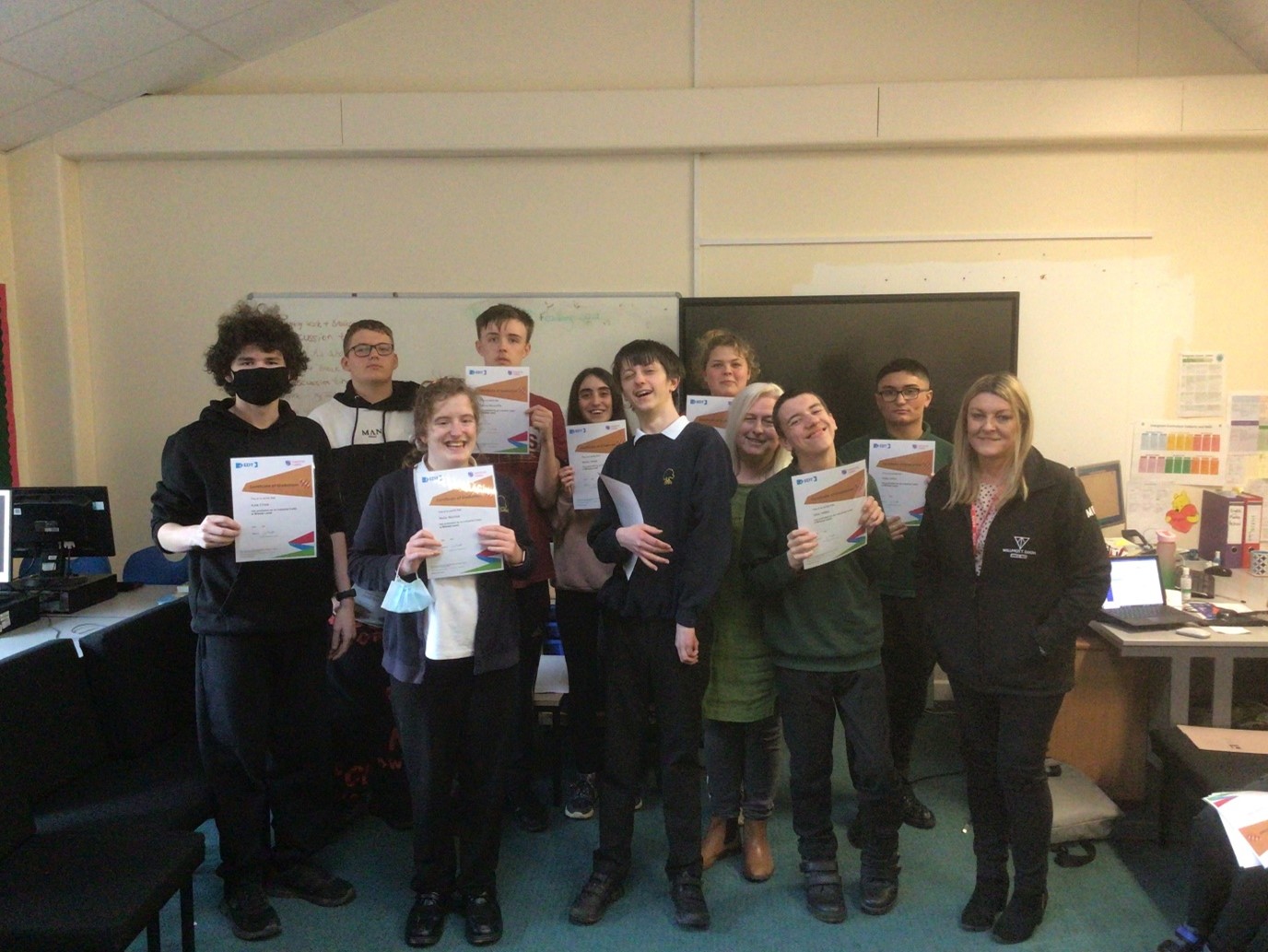 Our senior social value manager, Marie Wilkes, with SEND students who have completed the Enrichment Programme
More about some of the schools
Willoughby SEND School - a

£6m project
Our team created a new modular building that houses classroom spaces and hygiene suites, along with a dining hall, nurse and physio spaces. We also completed external works including a car park extension and the remodelling of a grass play area.
The school extension has also provided Willoughby School with the ability to offer increased provision for PMLD classrooms (Profound and Multiple Learning Disability), in addition to specialist subject spaces including food technology, science, and design and technology.
Eresby SEND School - a £6m project
We have extended the school with the addition of a modular building that provides new classroom spaces, a hall for rebound therapy, hygiene suite facilities, calm rooms, physio space, improved staff facilities, and a dedicated IT suite and science lab that are suitable for all needs.
We have also overhauled the outside space by extending the car park, creating a designated drop off area, and creating a cycle track and sensory and horticultural zones.
The Priory SEND School - a £7m project
The work we are completing at The Priory will enable the school to transition from an 11-19 age ambulant school to an all-through, all-needs facility.
We are creating additional spaces on-site in a new modular building that will include nine new classrooms, as well as a new social recreation space, life skills room, increased WC provision, meeting spaces and ancillary staff facilities.
We are also making minor refurbishments to the existing school building which will include a new plant room and adjacent staff spaces.
St Bernards SEND School - an £8m project
This project in Louth will see the creation of a new teaching block as well as the extension and refurbishment of the existing facility to allow the school to offer 'all through, all needs' facilities to local students.
St Bernard's new teaching block will provide additional classrooms with increased PMLD (Profound and Multiple Learning Disabilities) support to expand the school's offering – including a dedicated therapy area, main hall with combined dining and PE space, art space, new life skills and recreation spaces, staff areas and office space.
PROJECT HIGHLIGHTS
Turning existing SEND schools into 'all-through all-needs' provision across the county
Providing inclusive spaces for students to thrive
PROJECT DETAILS
CONTACT US
Ground Floor, Lock House, Castle Meadow Road, Nottingham
NG2 1AG
Tel: 0115 977 1322
Fax: 0115 979 7886