Fusion, Bournemouth University
Iconic, zinc-clad university building, with BIM used for design and construction
"The Fusion Building is now a landmark in Bournemouth. Not only will it attract new students to the area but it will facilitate more collaboration with local businesses, which will continue to deliver benefit to the local economy."
Suzanne Moroney, Director of ICE South East England.
Fusion is Bournemouth University's new flagship academic building and focal point - a glass-fronted inspirational building that's the new centrepiece for the campus.
Staff and students had their first glimpse inside on 6 June 2016, where they could see the 27 new seminar rooms, three lecture theatres, research space and a 24 station PC laboratory. Another striking feature is a roof-top glass dome roof!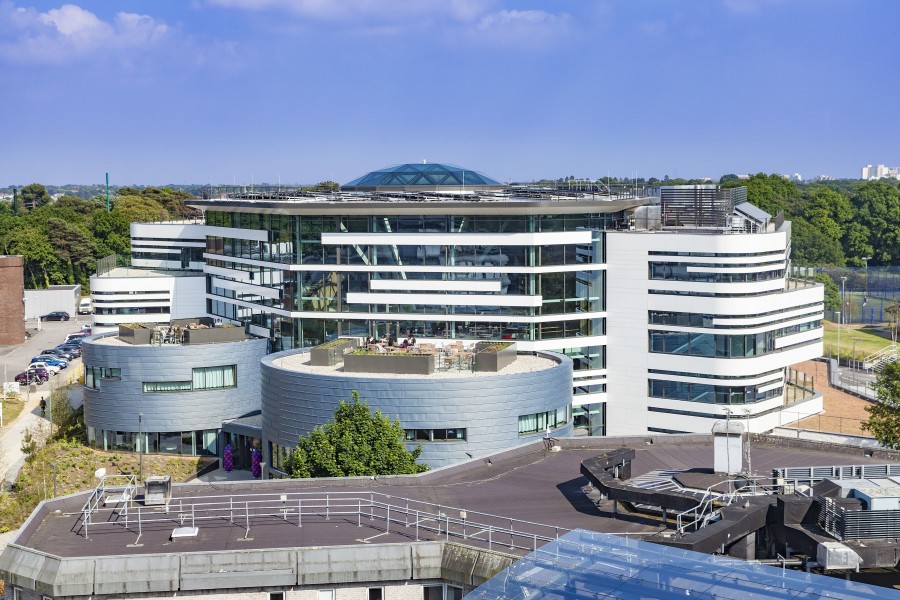 Fusion was constructed around a central atrium to provide flexible seminar/lecture rooms that are also open to local residents and businesses.
Opening formally in September, Fusion demonstrates BU's commitment to enhancing the estate and creating a modern facility to benefit BU's community. Following the Student Centre, it demonstrates how the university's evolving into a modern, greener and more user-friendly campus, underling its ambition to become a UK leader.
The university appointed Willmott Dixon for the following reasons:
extensive university track-record
know-how for live environment working
social investment programme for community
local team with impeccable construction credentials
Grand scale
The four storey Fusion brings to nearly £40m the investment in the campus. Like the Student Centre, it was procured via Scape and local spend was key with 62% of the budget spent on firms within a 40-mile radius of the campus.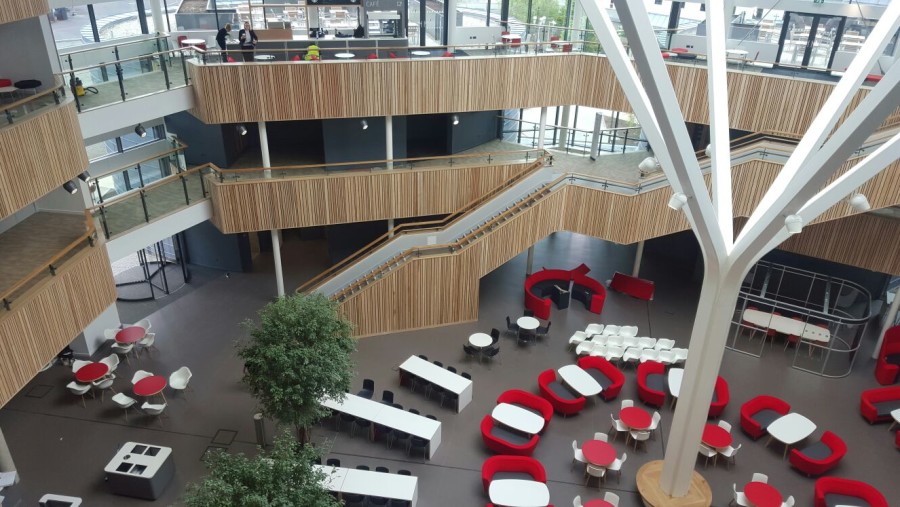 Talking about the university's future now Fusion was complete, Vice-Chancellor Professor John Vinney:
"After two years of building work – and many more years' worth of planning – I'm absolutely delighted that the Fusion Building is open. The building is right at the heart of our vision and will be a live, shared space used by everybody in very creative and innovative ways.

It's another significant milestone in the major improvements we're making to our campuses in Poole and Bournemouth. It will provide state of the art academic space and along with other facilities, such as our new Student Centre, is part of an investment programme that is transforming the student learning experience at Bournemouth University."
Thinking big
To create Fusion, £22 million was invested and it was partially funded through a £5 million Higher Education Funding Council for England (HEFCE) STEM Award.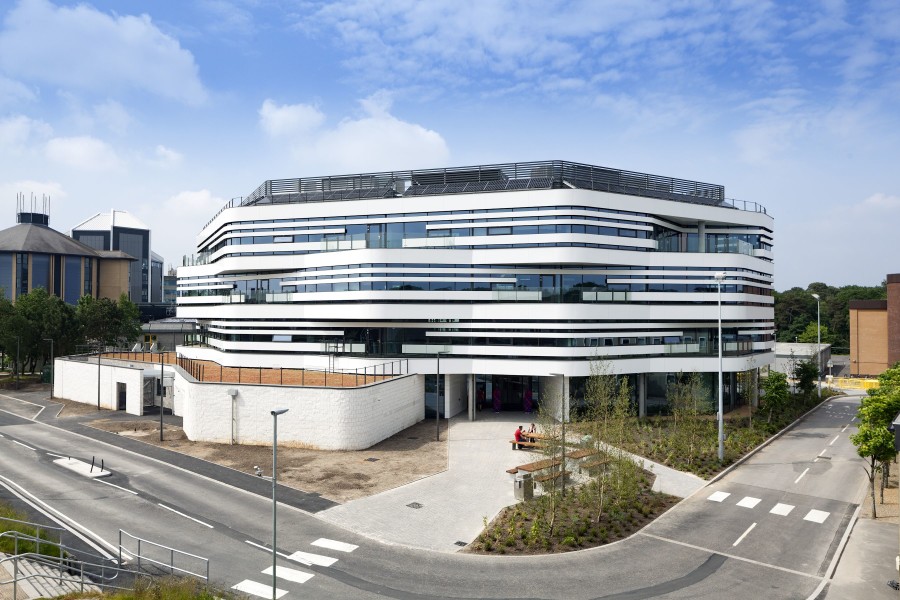 Fusion allows BU to continue its vision to create a modern, state-of-the-art university with world class academic buildings and outstanding facilities for staff and students and follows the success of the Student Centre which opened last spring to much acclaim.
Sustainability
This was BREEAM excellent, with a number of green credentials enabling the building to achieve this.
SUBU President Chloe Schendel-Wilson:
"I think the Fusion Building will be incredible for Bournemouth University, its staff and students. The whole campus is starting to transform and the improved facilities will be brilliant for the student experience."
Use of BIM
To ensure a successful completionm we used BIM (Level 2) to design, plan and manage the project. This includes:
Clash detection
3D model design up to level of detail 400
4D simulation developed pre contract
Information exchanges, with COBie (Construction Operations Building Information Exchange) data format (using 4BIM application from 4Projects)
Task management (using Priority 1 mobile application)
Soft landings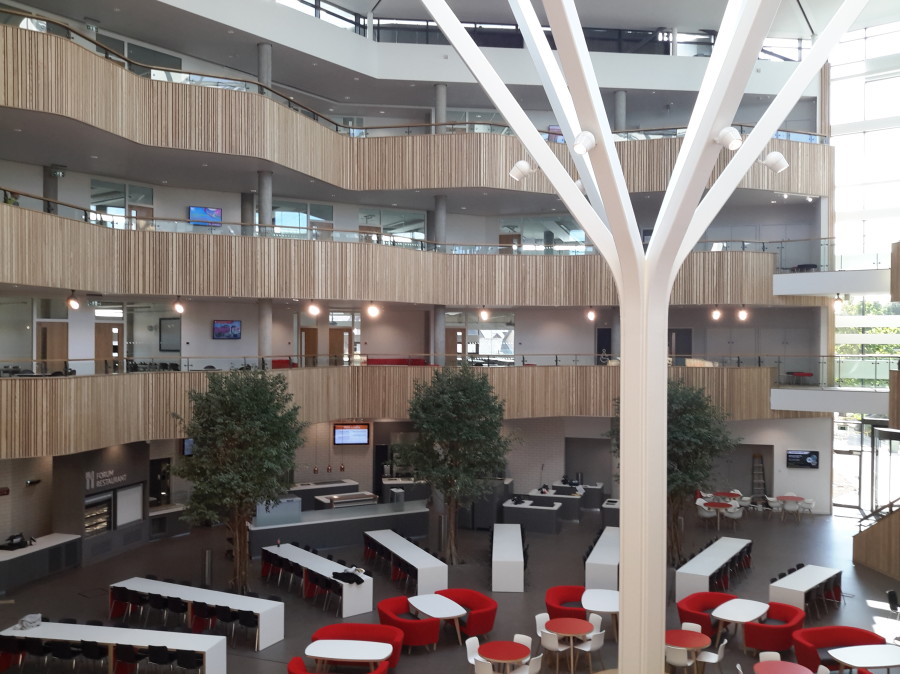 PROJECT HIGHLIGHTS
Bournemouth University's new flagship building
Second major project for Bournemouth, following Student Centre
Glass-fronted centerpiece will house research and education facilities
Use of BIM Level 2 to design, plan and manage the project
Iconic design with zinc cladding
BREEAM Excellent
PROJECT DETAILS
CONTACT US
Eden House, 82 Macrae Road, Eden Office Park, Pill, Bristol 
BS20 0DD
Tel: 01179 349 214
Fax: 01179 277 565