22-storey tower in the heart of Paddington Basin
---
HIGHLIGHTS
High-rise residential tower in Paddington
Includes school, church, retail and key worker homes
Combines construction and residential skills
Live webcam stream (see above)
---
Our construction team has joined forces with our residential specialists to deliver affordable homes and a new school in the heart of Westminster.
In the centre of the Paddington basin regeneration, we're creating a 22 storey residential tower and seven-storey secondary school for boys for Westminster City Council. This comes with associated sports facilities on the roof and in the basement.
Called Dudley House, they are 197 homes available for intermediate rent which will be available to people living or working in Westminster and provide a mix of one and two bedroom living.
The school will be a permanent new home for Marylebone Boys' School, which is currently in a temporary home in Brent.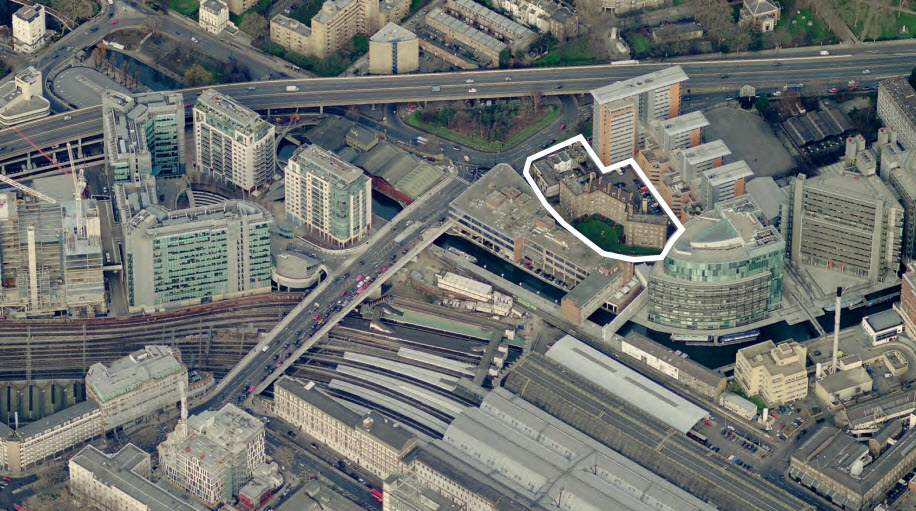 Footprint of Dudley House site in Paddington
The school's current intake at its new home will start at 600 pupils, with an eventual population of 840, including a mixed sixth-form. The first pupils arrive in September 2018 to their new, permanent home.
Many uses
This is not your standard mixed-use development! Located close to Paddington Station, this scheme also includes a church along with the school, which is a self-contained part of the development.
To cap it off, we are also building key-worker accommodation sandwiched in-between the 22-storey homes development and the school, which is for local healthcare workers. There are also retail facilities on the ground floor, along with leisure facilities for community use.
Key to this has been the close relationships with stakeholders, especially the school and council highways team, to ensure good access and that we create exactly what all parties need. Our Considerate Constructors Scheme score averages 44 out of 50.
Slip-form
We are using slip form concrete for the for speed it allows us to build the cores, which can be built without the floor plates being completed first. It also means to lifts are operational early for easy movement up and down the 22-storey scheme quickly from an early stage.
BIM
To ensure we provide excellent clash detention for a scheme this big, we are using BIM level two across the site.
Joint skills
Surrounded by homes and offices, logistics is a big challenge. We have to plan carefully for the delivery of materials, removal of plant and ensure we don't disrupt the local residents. We also work closely with other contractors on nearby schemes, to sharing loading and access areas.
This mega scheme is an illustration of our ability to combine construction and housing skills to create a large mixed-used scheme. We aim to achieve BREEAM 'very good' to underline the energy and cost effectiveness of the homes and school.
Talking about the building process, design manager Trish Lippyatt explains: "We wanted a lightweight method and proposed brick cladding but the planners wanted an even more lightweight one, so we went for Terracotta cladding."
Working ona tight city centre site
Operations manager Gerry Canavan:
"From our point of view, the biggest challenge is the logistics and working from a tight city centre site. Getting materials on site is like feeding a beast. For the exterior, we are using a mast system which means no scaffold. There's virtually no wet trades apart from some screeding."
Chris Tredget, managing director of Willmott Dixon in Hitchin said,
"We are delighted to be playing our part in the regeneration of Paddington Basin. This combines our skills to provide sustainable homes that keep costs down for residents and providing a new home for Marylebone Boys School with a first class learning environment for the students."
Contact Us

Willmott Dixon House, 80 Wilbury Way, Hitchin, Herts

SG4 0TP

Tel: 01462 442200

Fax: 01462 442204