Birchin Way Custody Suite
First new generation custody suite delivered using our CODE system
Birchin Way Custody facility is the first to be delivered using our CODE pre-designed concept which we believe is the next generation for custodial facilities.
This proved a valuable option for Humberside Police's plans to modernise facilities. The force initially looked at renovating an existing property but concluded that would be too expensive. Instead, it chose the better value CODE solution to replace suites in Scunthorpe and Grimsby with one large high-tech secure environment fit for the demands of 21st century policing.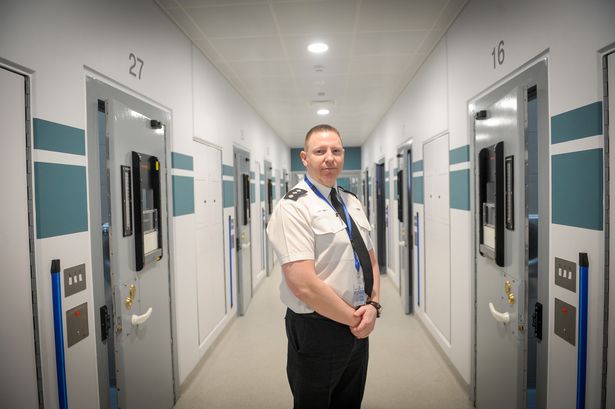 Chief Inspector Andy Maultby at the official opening of the Humberside Police custody suite on Birchin Way in Grimsby (image: Jon Corken/Grimsby Live)
Birchin Way is a 36-cell suite featuring a large Corian charge desk with five booking-in points, 12 interview and consultation rooms, external exercise yards, large property store, offices and break out area.
Each of the 36-cells has a bench-style bed with mattress, a toilet, hand washing and drying facilities and a mixture of natural and artificial light. There is a designated wing marked in orange for more vulnerable prisoners and a total of 170 police officers work at the facility.
New use of brownfield land
The 24,000 square metre building is on a brownfield site previously utilised by a large paper mill that was demolished some years before, with the land being used by North East Lincolnshire council as a disposal location for inert materials generated from offsite.
It became the location for Humberside Police Force's next generation suite, with the force opting for a Bravo version of the CODE (Custody, Options, Designed & Engineered) design. CODE has three options to choose from; Alpha (up to 28 cells), Bravo (up to 36 cells) and Charlie (above 36 cells).
Opened in Spring 2019, it heralded the start of a new era of policing and keeping communities safe. Superintendent Jo Roe:
"The suite is specially designed to be more accessible for detainees, many of which are vulnerable, with modern cell accommodation and on-site medical facilities. The corridors are wider and the cells are larger with high ceilings and natural light coming in, making sure that we can accommodate all needs. The facility is also safer and better for our staff and officers, with CCTV throughout and special technology enabling them to contact colleagues quickly should they need assistance."
Supt Roe added:
"This enables us to book multiple detainees in at once. It will make it quicker and easier for our officers, reducing waiting times and allowing them to get back out onto the streets. Birchin Way will also house some of our specialist teams on the south bank including the Major Crime Team, Property Store and Prisoner Processing Team. Having them based here will help to cut down on their travel time, allowing them to offer the best possible service to our south bank communities."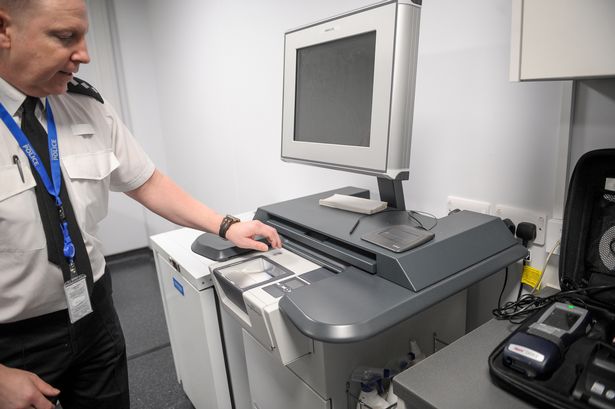 The biometrics room unveiled at the Humberside Police custody suite on Birchin Way in Grimsby (Image: Jon Corken/Grimsby Live)
Community focus
We wanted to gain a better understanding of the needs of the local community, so identified a number of key projects that we could get involved in and contribute to making a positive impact and leave a lasting legacy.
We visited the local Women's Aid shop, which helps victims of domestic violence. We identified that the store would gain greater traffic from the local populace and would be more aesthetically pleasing and welcoming if we decorated the external façade. By attracting more shoppers, they could increase sales and offer more support for women experiencing difficulties within the home.
Whilst there, we also undertook some internal electrical works which were causing operational issues for the staff of the store.
We also identified through consultation with the Police force and local residents group that a local estate (West Marsh) had a high level of crime and unemployment. We wanted to understand what we could do to assist the vulnerable children in the area and learnt of a local bus which visited every Thursday to give young people the chance to talk to someone and get a hot, nutritious meal. To help them, we persuaded the local Asda to make a monthly donation of fresh fruit and vegetables to the youth bus.
Blue-light track-record
We have an extensive track record building custody suites. We recently created new facilities for South Yorkshire Police, South Wales Police and West Midlands Police, and is on-site delivering Lancashire Constabulary's new headquarters in Blackpool for its West Division.
This is the first of its new CODE range to be built and promises to revolutionise policing as the custody suites are pre-designed to suit different Police force budgets and requirements.
CODE models have been designed in partnership with NORR Architects, supply chain partners, the Home Office and over 20 different police forces to tackle issues such as minimising the risk of detainee injury, increasing security of evidence and providing a better working environment that is more efficient and sustainable.
PROJECT HIGHLIGHTS
First custody suite to use CODE
Meant the force could afford to build new
Replaces two suites in Scunthorpe and Grimsby
Force can put more people together under one roof
PROJECT DETAILS
CONTACT US
Willmott Dixon House, Cliffe Park, Bruntcliffe Road, Morley, Leeds, West Yorkshire
LS27 0RY
Tel: 0113 238 3283
Fax: 0113 238 0286