The future of construction?
Design manager Chris Townsend talks about his experience trialling the EksoVest and how it could signal the advent of robot technology in construction….
I'm excited to be trialling an emerging technology that could one day change the industry.
I first found out about Eksoskeletons when I was in the USA. I knew straightaway this was something that could revolutionise how people work on construction sites by reducing strain and exertion associated with unavoidable manual tasks. I wanted to see how this could work for Willmott Dixon so used our Eureka new ideas fund to purchase an EksoVest from Ekso Bionics in California to trial.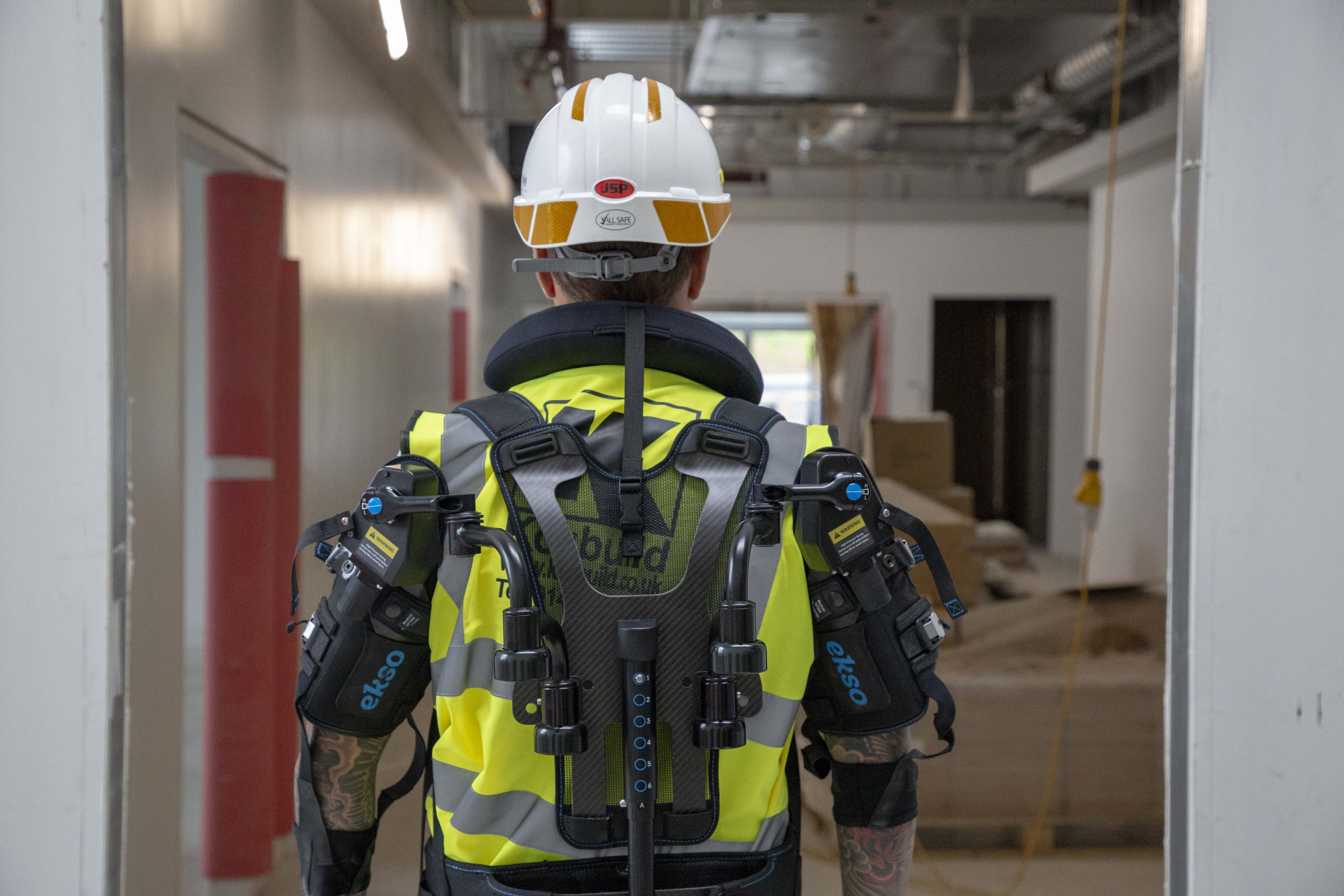 How does it work?
The EksoVest is optimised to support weight on the arms when working overhead, safely transferring loads associated with these tasks through a 'secondary' skeletal system down to the upper legs.
It's already used by the Ford Motor Company who, following their trials, has rolled the vests out to 15 of its manufacturing plants across the world to help protect their teams from strains associated with specific tasks. Willmott Dixon could be next!
The vest works off a spring-based assistance system that when activated will provide 5-15lbs of lift assistance per arm; it's relatively simple technology used in a smart way.
Contrary to popular belief, this isn't a robot, despite the cyborg type appearance when worn by users! It is purely human controlled and contains absolutely no electronics although it could signify the advent of advanced robot technology in construction and a new and long overdue era in its methods and practices.
Embracing innovation
We are constantly looking at how our industry can adapt to new challenges and harness the best technology to increase productivity and safety. This includes greater focus on behaviours.
New technologies with robotics will play a fundamental part in this as we strive to be an industry regarded as every bit as forward thinking and progressive as the automotive and manufacturing industries.
Looking to the future
We will know soon enough whether the advent of robotics will change construction.
It has certainly been effective in other sectors, and I'm not one of those with the ubiquitous 'Rise of the Machines' fear!
EksoVest is a form of robotics (in the loosest sense) that works with humans rather than replacing them. It augments with their natural physical ability to take stresses and strains associated with unavoidable manual tasks away from the key elements of the body. The theory being that in the short term they feel less exerted at the end of the day whilst in the long term it may be able to extend their working life, something that is important when industry retention figures are declining.
Robots elsewhere?
It's difficult to say what the future of robotics in construction will be. There are already examples of brick laying robots and mechanised manual handling suits (evoking visions of the exo-suit in Aliens) on sites in the US. The shift is already happening.
While it's exciting to see sci-fi becoming a reality when being utilised in this way, we must remember that the vest's primary function is to reduce human risk and protect worker welfare rather than replace people.
In the future, if roles are lost to robots then new ones should be created as a direct result. For instance, the loss of a physical brick laying job could be replaced by that of a 'brick laying robot engineer', this may also have the added benefit of helping to attract new, tech savvy, entrants into construction.
Perhaps within 100 years you'll see a fully autonomous construction site; essentially one that is operated entirely via robots with the human interface typically limited to remote input and management. While that may be initially met with caution and scepticism, we do need to be prepared to embrace this level of change so that robotics are regarded not as a threat but as something that is positive, ultimately leading to a more resilient, efficient and safer industry renowned for embracing cutting-edge technology.