One year of success
It's a big Happy Birthday to the University of Warwick's Sports and Wellness Hub
The Sports and Wellness Hub is celebrating its first anniversary; Peter Owen, managing director in the Midlands, reflects on the impact this iconic facility has had for students, staff and local communities.
What a first year it's been for the Sports and Wellness Hub with 500,000 visitors using its facilities; a huge response to the University of Warwick's investment in sports, well-being and fitnesss.
This £36 million facility has transformed sport, not only for those on campus, but for thousands in the local community who now use its many features. Its combination of technical innovation and smart technology has delivered a place that is transforming lives.
Designed to inspire
The 16,684 sq. ft hub was designed to inspire and motivate everyone to lead more active and healthy lifestyles. It's standout features and accessibility has attracted many users, including hosting the UK Corporate Games in 2019 and becoming the home training venue to Wasps Netball Super League team.
It has also captivated other likeminded sport and leisure institutions across the UK – hosting showcase events that play a pivotal part in encouraging a healthier, happier and more active nation.
Healthier life choices
The Hub's 'something for everyone' ethos has welcomed an amazing 535,500+ visitors to engage in activities that include those shown below: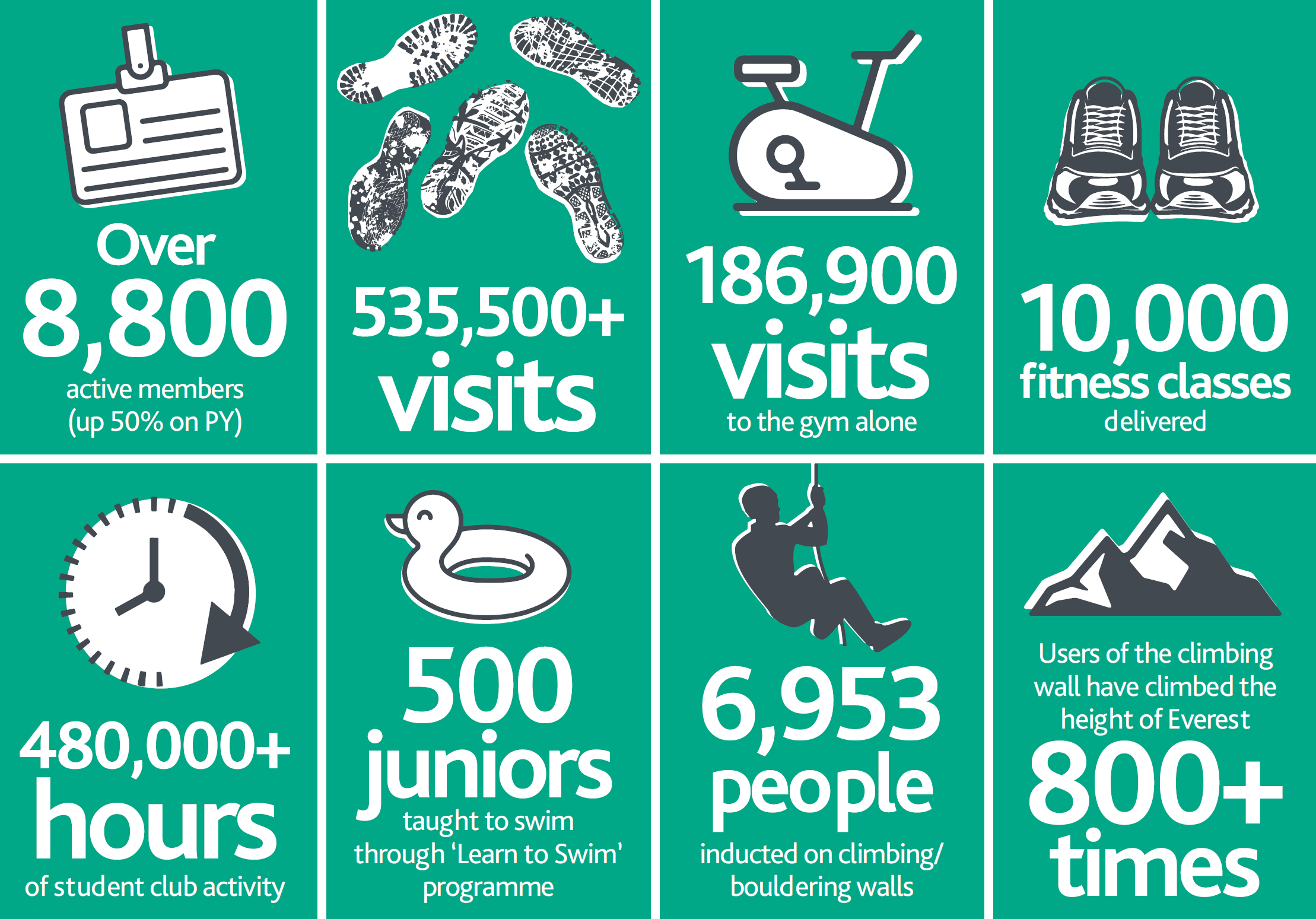 Sustainable impact has also been key, with our in-house energy specialists devising on ways that made the construction process more sustainable, while ensuring once operational the building would be as energy efficient as possible.
It doesn't stop now it's open. Our team are working with the University to identify where savings of up to £20k per annum can be made with just marginal changes and improvements, such as reducing small power usage, automatic lighting strategies and reducing water wastage.
Lisa Dodd-Mayne, Director of Sports and Active Communities, University of Warwick said: "This building is an extraordinary building that we hoped would change people's lives. We are actually seeing that happen now with a significant amount of our users reporting a positive change in their fitness, activity levels and mental wellbeing. Our job now is to ensure our programming continues to evolve and be innovative as we move into our second year."
Stephen Jepson, Director of Hadron Consulting: "Their previous facilities were very small, old, dark and cramped – just not enjoyable spaces. To see people come in here and their smiles and enthusiasm and the numbers of people who are now active, that weren't active before is phenomenal."
An iconic sporting facility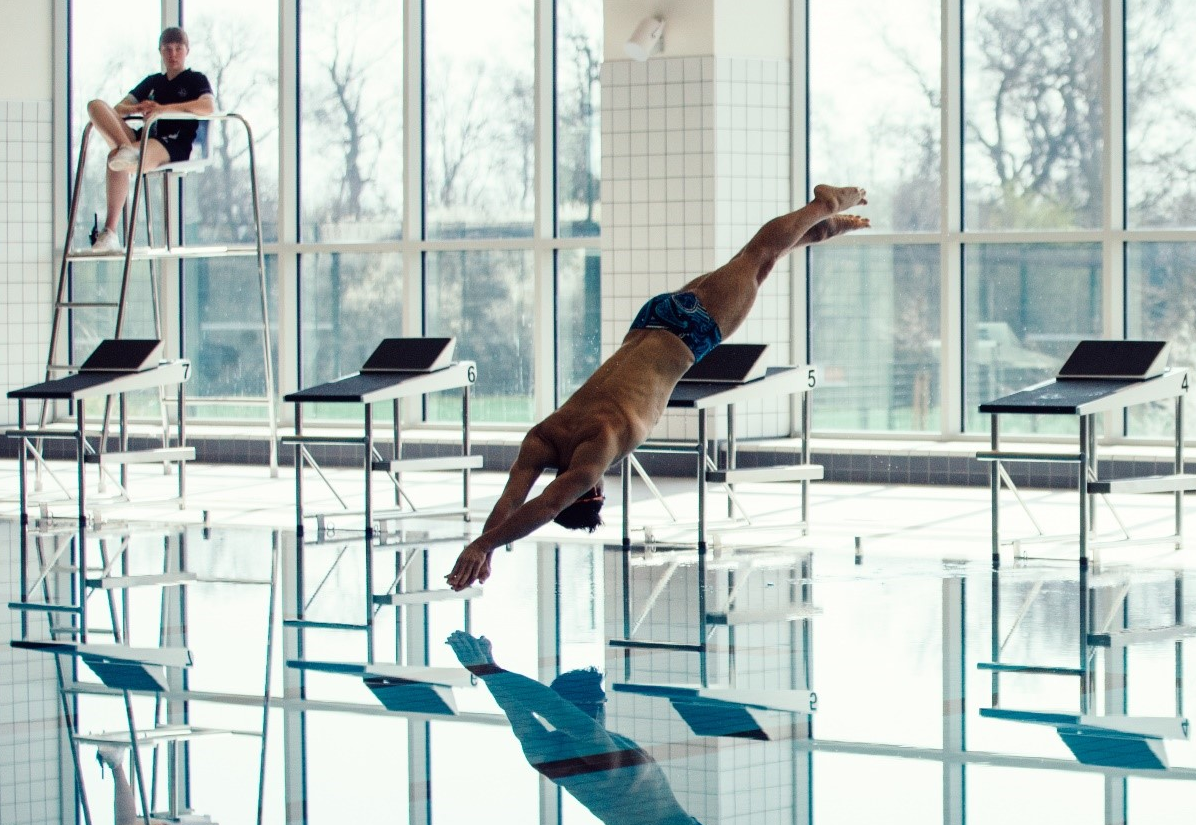 Above all else, this is just a stunning world class facility.
Thanks to smart building technology, the coolant technology provides the right temperature for any given sports, while dynamic lighting is automatically adjusted in certain rooms at certain times of the day to create the optimal ambience.
The swimming pool features a boom – a floor that can be raised or lowered to accommodate competitions or general use, at the touch of a bottom – while digital technology in the rowing rooms provides users with a sense of rowing outdoors.
Alongside the technological innovations, the hub was designed to accommodate a vast array of sports and uses. The main arena is a multi-functional space with high ceilings that offer a feeling of breathable space; the 15m-high climbing wall provides 144 different routes; and the gym is the largest in the higher education sector with 230 stations.
Set in a combination of hard and soft landscaping, the hub features natural ventilation and views of the surrounding woodland in all directions, with other facilities including a fitness and martial arts studio as well as squash courts.
Externally, the hub boasts five-a-side sports pitches, netball courts and car parking.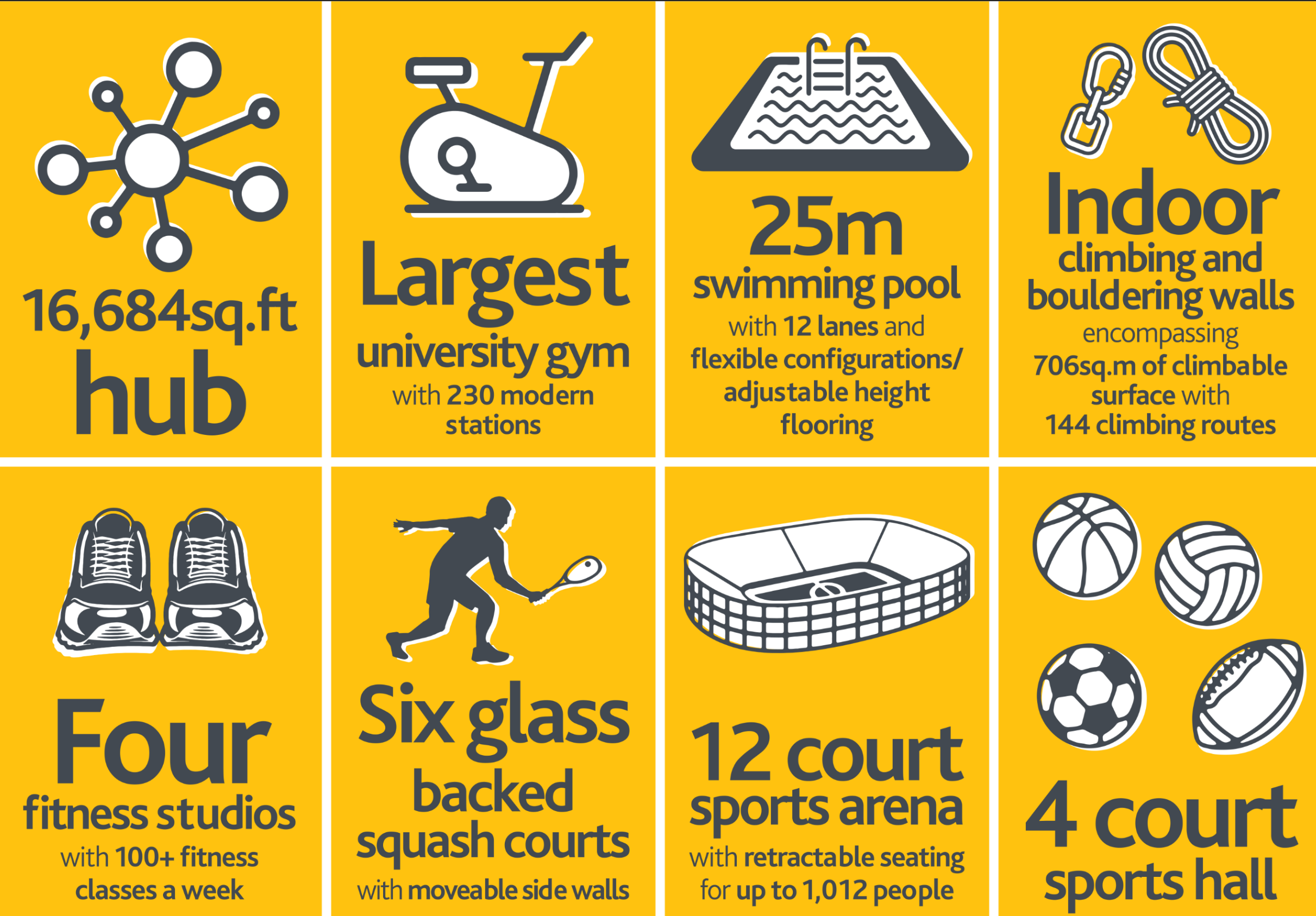 We have been delighted to be part of this project and continue our excellent collaborative relationship with the University of Warwick. Following on from the Sports and Wellness Hub, we are currently building the Warwick Arts Centre on their campus, which is due to open in 2021. But for now, happy one-year anniversary to this truly iconic project! Together "We are One!"