How construction gave me a new purpose 
To mark 'NO MORE week', we hear from assistant building manager Sophia Barnes on how a career in construction gave her a new start in life
When Sophia Barnes started a trainee challenge for her company, Willmott Dixon, at a women's domestic violence centre in the Midlands, it brought back memories of her own abuse at the hands of a previous partner. Now the project is finished, Sophia has encouraged a local college to provide DIY courses to the women at the refuge – and encouraged Willmott Dixon to include the identification of domestic violence in its company-wide wellbeing policy.
"Going into the construction industry saved my life," says Sophia emphatically. "No doubt about it. It enabled me to move on after leaving a violent relationship and gave me to have a future."
It was back in 2007, after months of physical and mental abuse, that Sophia finally thought enough is enough. Until that point, her then partner had focused his abusive attention on her. But one day, when he turned his attention to their almost one-year-old baby daughter, Sophia said 'no more'. She called the police and he left the family home. She and her daughter haven't seen him since.
Sophia was determined to move on. She had already started a six-week DIY and construction course before making the decision to leave the relationship.
"The course gave me the push I needed to end the relationship – and the strength. I loved it and then quickly signed up to do a joinery course at a local college," she says. "I was late on my first day – and I bumped into a man called Alex who was on my course and also running late. I am now married to him!
"From there, I went on to work at Lincoln Cathedral on a heritage traineeship. Alex and I had already set up our own painting and decorating business. But I wanted more and joined Willmott Dixon in 2019 as a trainee build manager on their four-year trainee programme.
"This job and the construction industry has changed my life."
"This job and the construction industry has changed my life. I am a different person now. It's made me stronger, given me immense confidence. Having been at such a low point where I felt vulnerable, I have entirely changed my life for the better."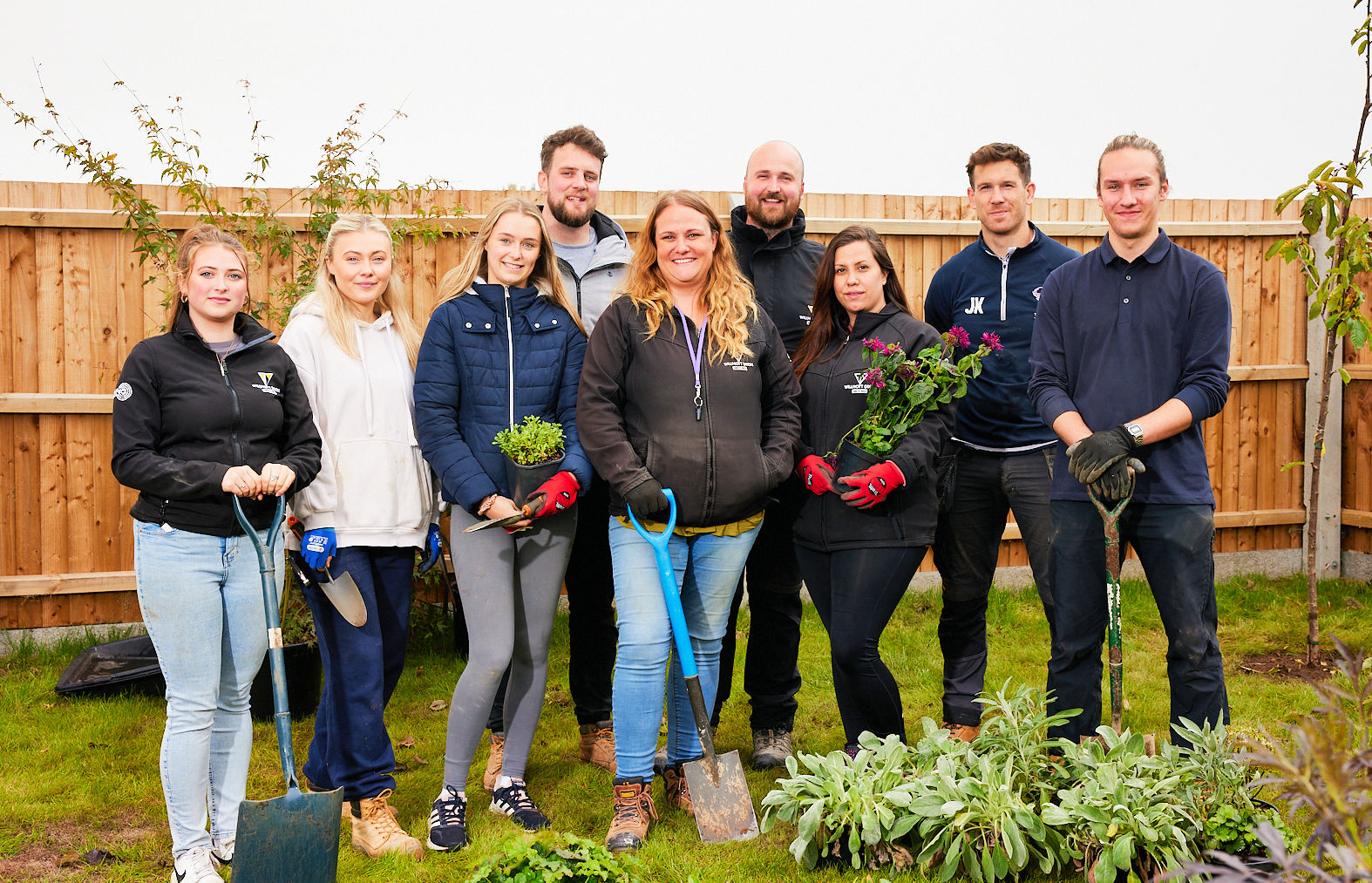 Sophia with her team doing a trainee challenge at a domestic refuge in domestic violence
When Willmott Dixon launched its annual challenge for trainees to find a building project where they could do something good for society, Sophia didn't have to think twice. She contacted a local domestic violence refuge for around 12 families in Lincolnshire and offered her help.
Sophia says: "I contacted the refuge thinking they would like help with the facility itself, assuming it wasn't in great shape. A lot of them rely on private funding, as they don't get grants from government. I imagined they'd want interiors work and new bathrooms, but they were desperate to improve their outdoor space.
"So, working with my colleagues at Willmott Dixon, we launched a garden project, raising money and approaching our supply chain partners for their involvement."
Lawless Civils and Atic Group were two supply chain partners keen to get involved. They completed the timber areas, plus 26 metres of raised planters including two vegetable beds and two flower beds. They also did the planting and created a large sandpit for children at the refuge.
More volunteers from Willmott Dixon signed up to help and got the garden in shape. And now the refuge has an amazing outdoor space to help families in crisis find peace, tranquillity and enjoy precious time together.
Hear from the refuge and Willmott Dixon volunteers about the garden makeover project
But the garden was just the start of it. Sophia wanted to help more. She could see how having her own set of tools, along with educational support, helped get her started.
So she approached a local college to provide basic DIY courses blended with maths and English for the women at the refuge – helping them find confidence in themselves, and preparing them for life on their own.
"This for me is the legacy piece," says Sophia. "I know these are the tools that will help these women get ready for the next stage of their lives once they leave the refuge and set up home on their own. This is the part that excites me, and this week the college agreed to partner with the refuge to do this. I couldn't be happier."
Not only that but Sophia has encouraged her employer to include information about domestic abuse in Willmott Dixon's company-wide wellbeing policy document that goes to its 2,000-plus employees. The section on domestic violence will help its people identify when colleagues are suffering or are in danger because of violent or manipulative partners – as well as providing advice, signposting support available from different organisations.
"I am so pleased and proud that Willmott Dixon is including it in its wellbeing policy. It will help managers recognise the signs and respond accordingly. For me, it shows that Willmott Dixon is a great company to work for because they are better prepared to deal with this important issue.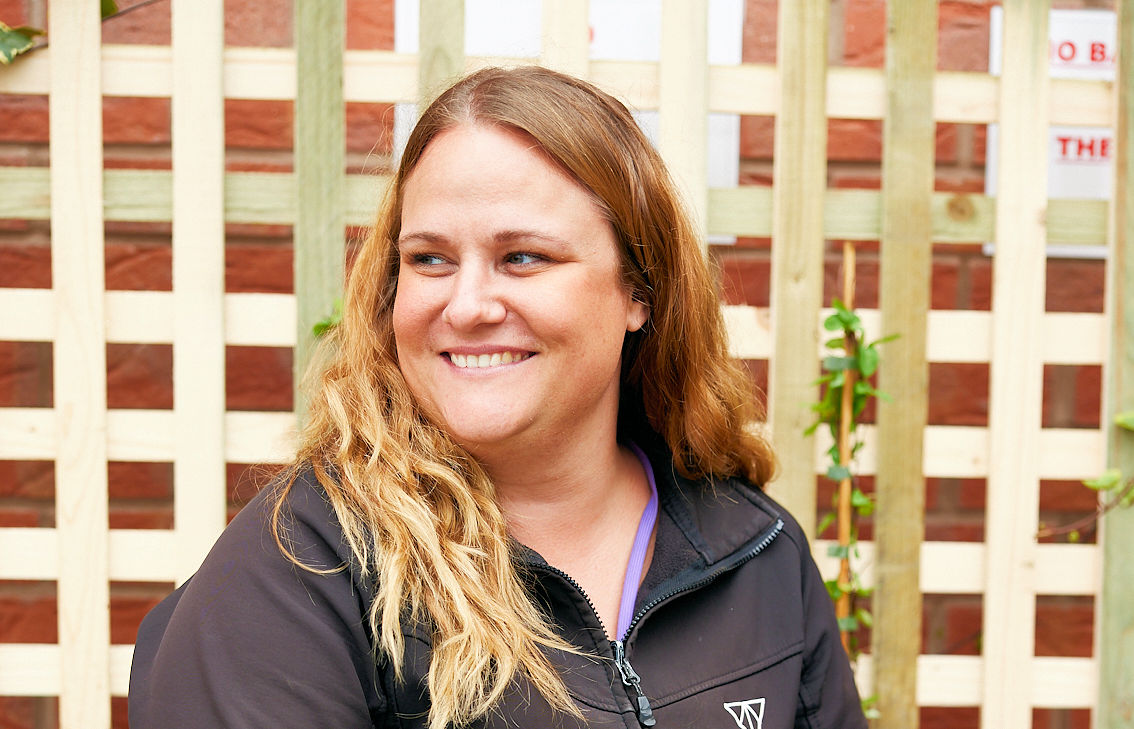 Sophie Barnes, above, "Making this an internal process was a big thing for me. I believe Willmott Dixon is one of the first contractors to have this in its policy. For me, it is great knowing that you could potentially help a lot of people – colleagues, friends, family – by introducing this in the wellbeing policy, is just fantastic."
Working on the domestic abuse refuge project has brought so much more than just a great garden for service users, says Sophia. "Domestic violence is something I have experienced. I didn't go to a refuge when I left my partner, but I so easily could have.
Now 35 and with another young daughter, Sophia graduated from the management trainee programme in September. With two more years to go in her five-year degree, Sophia is excited about her future as a project manager.
"In the early days, doing my six-week DIY course, it was a focus, and something to better both my life and my daughter's. It made me feel stronger – even though I wasn't. Construction helped me. It's an industry that took me in and allowed me to be what I wanted to be."