Elevating schemes with modern methods of construction
Dan explains how MMC is being used to maximise time savings, cost efficacy, quality and sustainability.
In Birmingham, we have been working to maximise the time savings, cost efficacy, quality and sustainability benefits of modern methods of construction (MMC) during the build of two plots worth £78m, as part of the wider £500m Perry Barr Residential Scheme.
Dan Doyle, operations director, explains how collaboration has enabled our team to utilise innovative building methods to bring a wide range of benefits to the build.
"The Construction Playbook has put standardisation and the use of modern methods of construction at the heart of public sector building programmes, enabling us to build 'better, greener and smarter', and that's exactly what we've done on this scheme. The benefits of using MMC during a project of this scale are unmatched.
"By using offsite manufactured components and directly installing or assembling them onsite, we've been able to provide greater programme certainty, speed up construction, effectively social distance on site, raise the quality of our build, and implement greater sustainability practices. At a time when the industry is struggling with material and resource shortages, our decision to offsite manufacture key critical trades has protected our projects from delay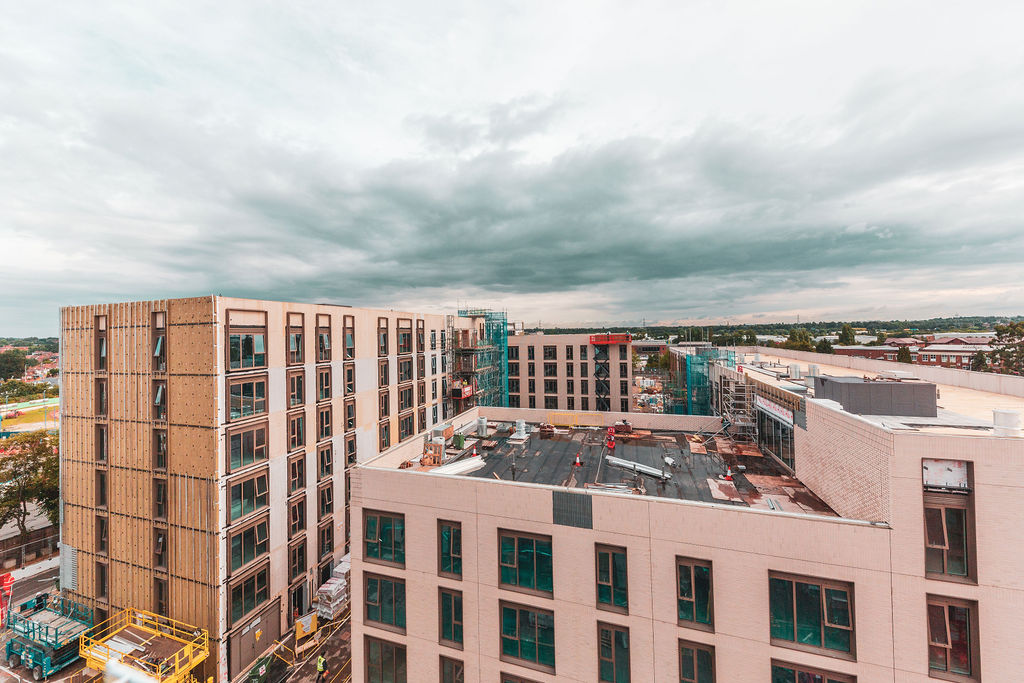 The Development
"Our plots on the development, which was commissioned by Lendlease on behalf of Birmingham City Council, will create 430 apartments in two dual four to six-storey blocks on the site of the former Birmingham City University campus. The apartment blocks will make up a crucial part of the Perry Barr Residential Scheme's plan to deliver 1,400 much-needed homes for north-west Birmingham, with homes being occupied in 2023.
Modern vs Traditional
"During the construction of the superstructure for the 430 apartments, our average number of workers on site was 40. If you compare this to a traditional build frame, based on a similar sized scheme, you would be looking at 100 to 120 workers. So, this equates to roughly 60% better resource efficiency and huge cost saving advantages.
"Speed is another undeniable benefit to MMC, increasing time efficiency by 30%. In one day, we installed approximately 30 finished bathroom pods across our two plots, which would traditionally involve a number of trades across several weeks. By using bathroom pods we were able to maximise work offsite, transferring the fitout of bathrooms into a factory setting, allowing us to offer much greater certainty of completion on time, budget and consistency of quality.
"The design strategy utilises lightweight steel framing and Corium brick cladding, providing a 70% lighter construction than traditional methods and significant savings on foundations and temporary access requirements – both of which further demonstrate our use of MMC to support with time and cost efficiencies for our customer. To drive greater quality and efficiency in construction, we need to standardise as many elements as possible, especially during large scale residential projects like this one.
Covid and Low Carbon
"The benefits of MMC don't stop there. The recyclable materials used have helped to reduce the project's carbon footprint and extend the lifetime of resources, aligning with our ambitious 'Now or Never' sustainability strategy and future ways of working.
"The offsite building of the bathroom pods supported the compliance of Covid-19 safety guidance on-site, which was a challenge we could not have predicted but have tackled extremely well. Having fewer workers on site also provides environmental benefits – reducing machinery use, daily commutes and logistical challenges that come with manufacturing on a live site. Wastage is also reduced while manufacturing in a controlled setting, increasing the efficiency and sustainability of the build.
"As an industry that is currently battling to reduce its carbon footprint, these benefits will start to pave the way for a huge change in the sector's future sustainability mission."
Leaving a Lasting Legacy
"Not only are we providing the customer with added value, as part of our commitment to leaving a lasting legacy we are also adding value to the local community. We are working in collaboration with Lendlease and other contractors on the scheme to contribute towards delivering a wide range of community and economic activities that will benefit local people both during the development and in the future.
"These benefits include supporting community projects and engaging with local schools, as well as the creation of 400 new jobs - 50 of which will be apprenticeships.
"Contractors operating on the Perry Barr Residential Scheme will also be working in collaboration to support 1,000 pre-employment training places and contributing towards hosting 10,500 work experience hours during the development.
"This support of the local community will also see us working in collaboration with Birmingham City Council's employment access team to promote jobs and training opportunities through a variety of initiatives including the Construction Skills Hub and the Women in Construction programme."