Careers lessons with a difference
Marie Wilkes, community manager in the Midlands, talks about the award-winning enrichment programme she designed to encourage careers in construction…
Careers lessons should be filled with sparks; the kind of sparks that create magical moments of inspiration, of excitement and of possibilities. Those lightbulb moments that fill pupils with ideas and avenues, as well as opening doors to alternative paths to their future careers.
Over the years I know this has not always been the case, with most of the traditional careers support lacking any real diversity, dynamic or stimulus and failing to provide pupils with the ability to think out of the box and consider careers they may never have before.
That's why after seeing evidence that shows that pupils who recalled four or more employer-contact activities at school were five times less likely to be NEET and earn 16% more than those who didn't – I wanted to make a difference.
It all started in 2016 when we built University of Birmingham School. As normal during our construction projects, our people had presented at school assemblies and joined design technology and physics lessons to help the pupils understand what it means to work in construction. It was during this time I realised that we both shared a commitment to open their eyes to the world and really transform lives.
This was where the enrichment programme was born! Over a five-week period, pupils took part in a multitude of activities that introduce them to the real-world opportunities available, broadening their horizons and developing their character virtues.
The programme
I designed the programme in such a way that it gives pupils the opportunity for small group engagement directly with a range of Willmott Dixon professionals across various job functions; counting towards this all-important concept of 'employer-contact activities'. It covers the eight Gatsby Benchmarks of good career guidance and pupils taking part in the programme acquire and develop a range of skills and competencies including creativity, innovation, problem-solving, teamwork, communication, careers awareness and much more! The way I designed it meant it covered various classroom-based activities and topics, including construction careers, digital technology and STEM. Pupils also got to visit a Willmott Dixon construction site and build a suspension bridge with the Institute of Civil Engineers.
Skills that make a difference
The enrichment programme has gone from strength to strength over the last couple of years, and for the past two it has been accredited by the Industrial Cadets, a scheme inspired and endorsed by HRH Prince Charles, Prince of Wales. This means all pupils who complete the programme now receive certification of recognition, setting them aside from their peers and giving them an experience that will help them in further or higher education applications, job interviews and other career related experiences.
Not only that, but over the last six months the programme has been recognised for its excellence externally. Picking up gold in the Birmingham Post Business Awards in September as well as being announced as a finalist in the Midlands Business Awards and the Birmingham Awards just this month.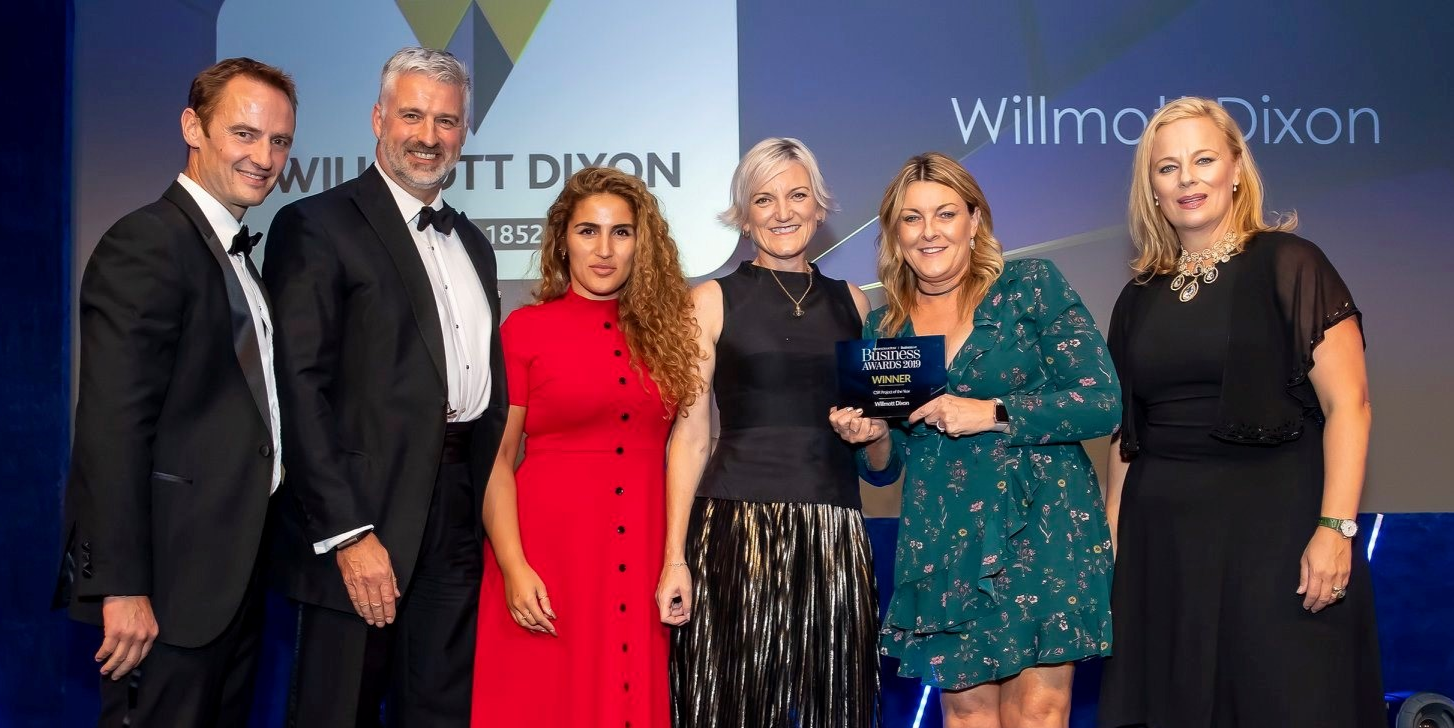 Above: Marie, along with colleagues and representatives from University of Birmingham School, collect the programme's award at the Birmingham Post Business Awards.
Our 'why'
Rebecca Tigue, Head of School at University of Birmingham School said something not long ago that has stuck with me: "Natural leaders emerge from really unexpected places" and this really reflects 'our why' as a business. We continue to not only focus on the spaces we provide for our customers but also those who use them and the lives we touch during and after the build; this is our legacy and it drives us in everything we do.
I look forward to the next year to come and the "sparks" that will be created as I plan to lead the enrichment programme with our teams in 16 new schools and colleges across the Midlands.
If you can change a classroom, you can change a community, and if you can change enough communities, you can change the world!