Being out of my comfort zone
Hana talks about how her involvement in EG's Future Female Leaders programme
When I was invited to take up this opportunity, to be part of the Estates Gazette REWIRE Future Female Leaders programme, I felt very fortunate to be considered and excited about the possibilities.
However, it didn't take long after reading the programme content for the excitement to turn into panic, allowing my mind to be flooded with fears – I definitely felt outside of my comfort zone before I had even begun…..too late, I had already agreed to take part!
And I'm so pleased that I did…
EG's 'REWIRE FFL' programme was conceived by the editor Sam McClary to encourage positive change in the industry across a number of key issues – with diversity being top of the agenda.
Having identified a significant underrepresentation of women presenting at events, having the confidence to be visible, amplify their voices and speak publicly with self-assurance, EG recognised that this was clearly a huge barrier to progression for women and decided to do something about it, together with public speaking training company – 'Ginger'.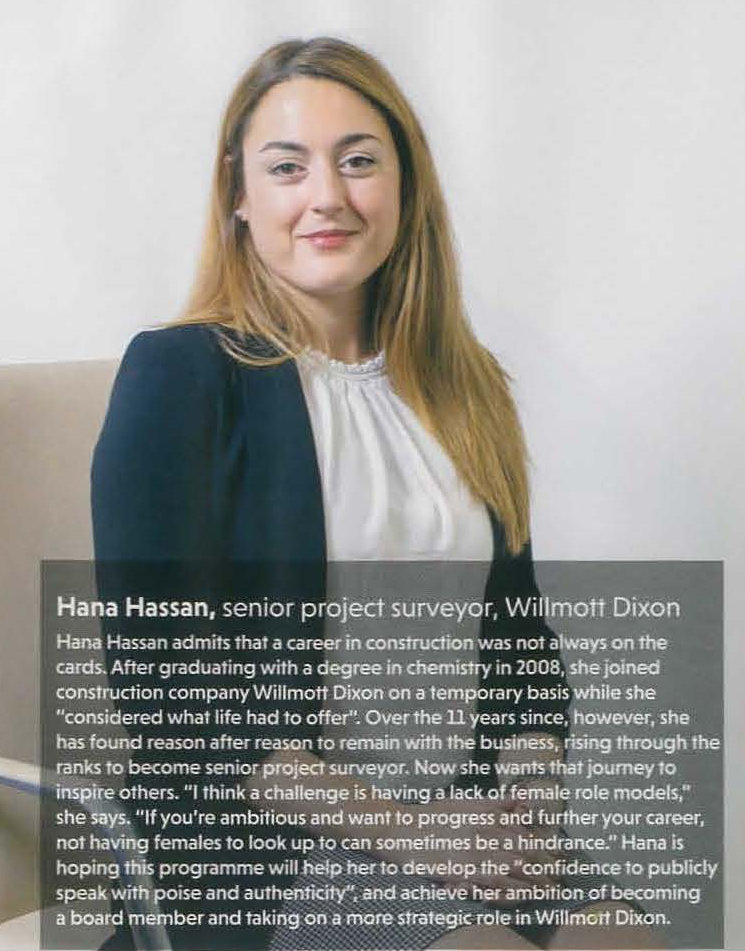 Intensive programme
A four month programme was launched, designed to develop the skills of 12 women from the built environment sector, ending in a public showcase of TED-style talks, providing the ability to not just to present future thinking ideas, but also gain an understanding of how to break down many of the barriers within businesses, teams and the traditional board room.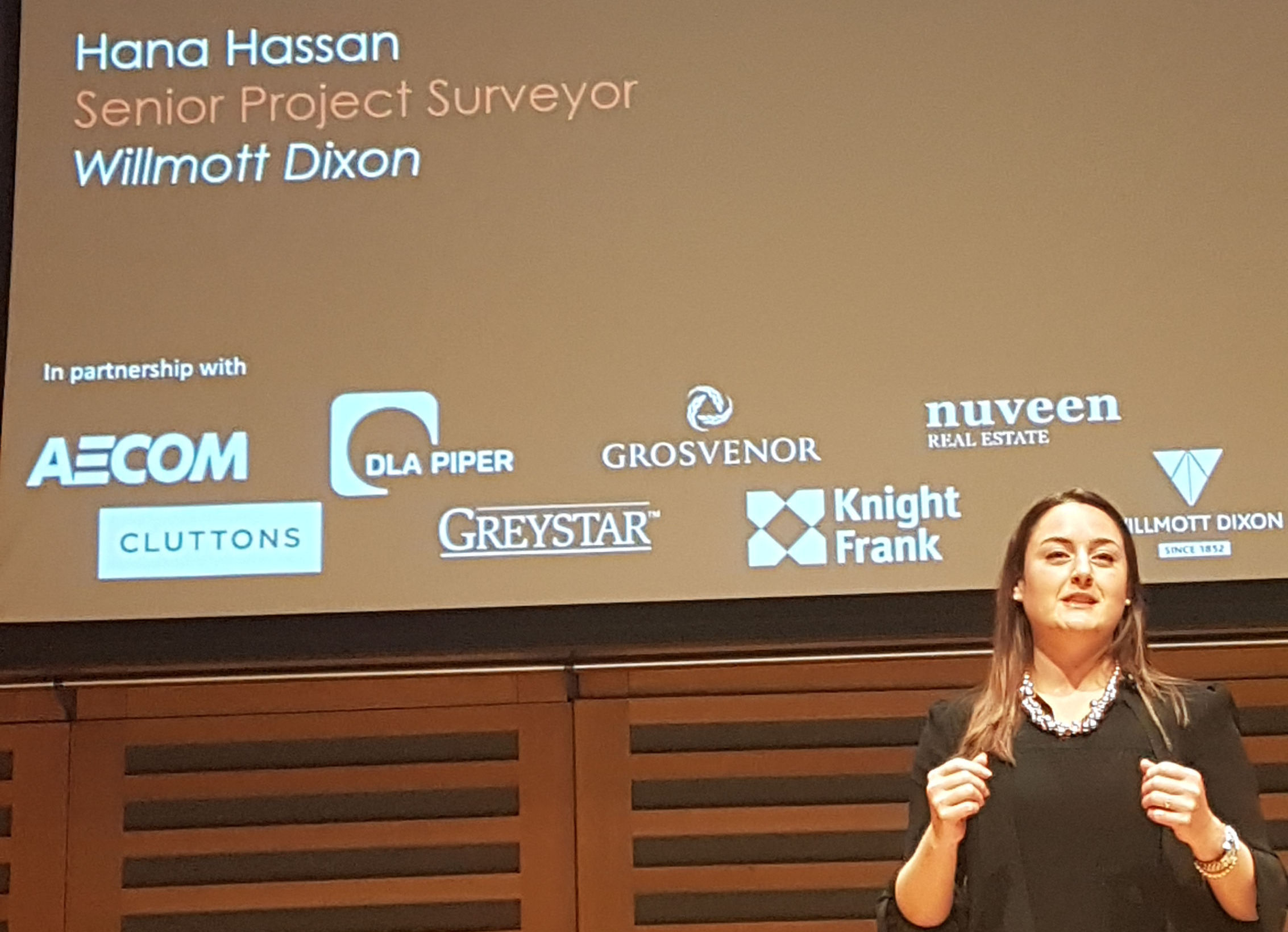 Hana delivers her talk on changing industry perceptions
This programme delivered so much more than I naively anticipated it to. I started the journey hoping to learn how to crystallise my thoughts into succinct ideas and to learn some techniques for speaking to a large audience without letting anxiety set in. But something bigger happened – I met and spent some much valued time with 11 inspiring women with amazing stories and an infectious passion for making our industry the best place to be. It was reassuring to spend time with other women from across our industry that had unique perspectives but whom I shared a lot of common ground with.
And as for the public speaking – it turns out it's a lot more than just learning a script off by heart! Our coaches from Ginger taught us how to bring a story to life, how to be engaging and thought provoking and how to inspire a 'call to action'.
Dealing with my anxieties
I took on this challenge with some unnecessary concerns – I worried that what I felt passionately about wasn't worth sharing, and that I wasn't senior enough to try and inspire change. Throughout the journey I must have written and ripped up about 50 scripts. My biggest mistake was feeling passionate about a topic, having strong views and opinions, but letting those ideas be totally discredited by researching online. The more research I did, the more conflicting views I found and the less confidence I had – error! I had to constantly remind myself that my views were valid, even if someone else disagreed. Challenging the dominant thought is the strongest way to bring about change, so I'm committed to doing this going forward.
At the end of the intensive training I was able to walk onto stage facing hundreds of people with a new found confidence to deliver my presentation with passion. We are all fed lots of 'standard' techniques which Ginger quickly dispelled – they focussed on ensuring we were all 'ourselves' on stage, and made sure we were okay with that. Feeling vulnerable and exposed was part of this journey, it wasn't about saying something that necessarily appealed to the masses and pleased everyone in the auditorium. Naturally we were taught the fundamental laws of public speaking that we had to obey (excessive powerpoint slides = illegal, keeping good eye contact = essential) but the overriding rule we were taught was to foster our unique and authentic selves – enabling us to have gravitas on stage and to help gain the trust of our audience by connecting with them on a more personal level.
What I learnt
Without a shadow of a doubt, the most important lesson I learnt and the wisdom that should be shared is to embrace being outside of your comfort zone – it's been said a million times before but it really is the only way to grow and realise what you're capable of.
When you step outside the confines of your own mind and internalised (and probably unfounded!) fears, you start to realise your potential. This goes hand in hand with grasping any opportunity with both hands because you never know where it can lead. The women I met throughout the course of this programme will undoubtedly remain close friends and I'm excited to see what we can achieve together on the journey to make this industry a more diverse, attractive and rewarding place to belong.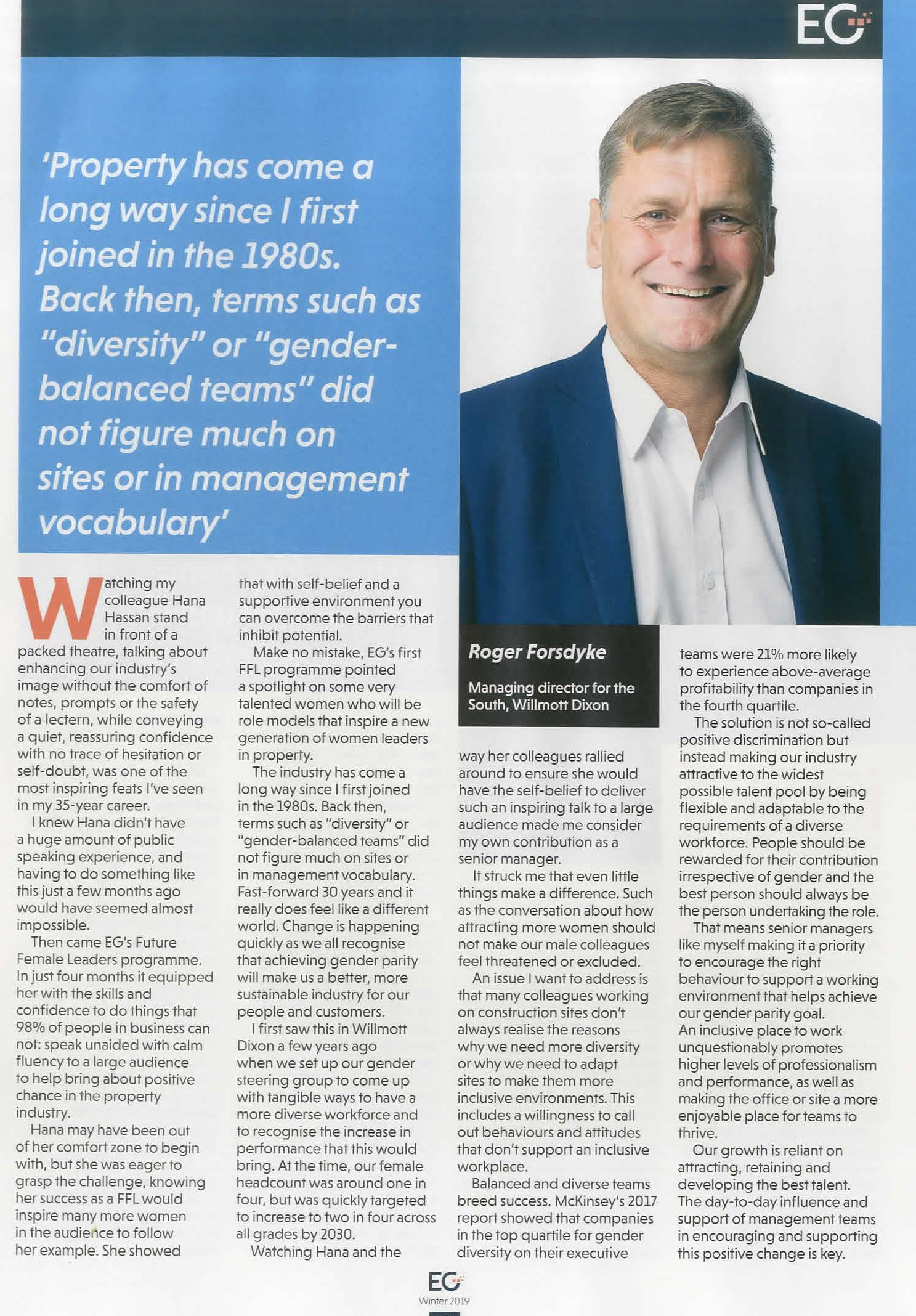 Hana below with her colleagues after her talk