A transformative career in sustainability
Francesca Wilkinson shares how a transformative step for the business also transformed her final months as a management trainee
6 October 2020
The last few months have been transformative in my career – and for more reasons than one. Perhaps the most obvious is living through the craziness of this global pandemic. The other is leading the Energy SynergyTM process for our completed project at the University of Warwick Sports & Wellness Hub - a defining time in my career.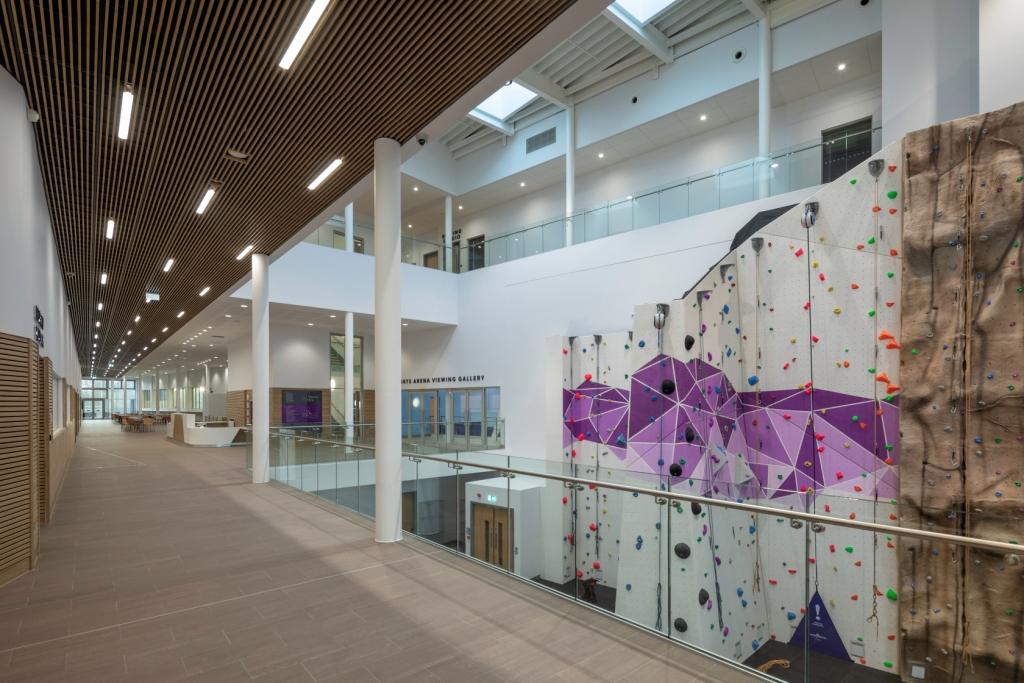 After handing over in April 2019, we have worked with the University of Warwick to deliver over £40k of in use energy costs at their Sports & Wellness Hub through our extensive Energy SynergyTM process
In simple terms, Energy SynergyTM is the way we predict and monitor energy consumption from our buildings. By using TM54 modelling, occupancy data, and having in-depth conversations with our end users as to how they are going to use the building, we're able to create a very realistic energy prediction. My role has been to work with our customer and partners at the Sports Hub to monitor its operational usage and, where actual results haven't matched the predicted, I've investigated why and suggested improvements. As a result, in the past year I've helped deliver energy savings of £40,236 and a carbon saving of 98,520 kgCO2e for the University – something I'm really proud of.
I began my career at Willmott Dixon as a sustainability data analysis intern before progressing onto the management trainee scheme in 2018. This month, I was excited to graduate from the programme and was pleased to be promoted to assistant environmental manager in the Midlands.
No sugar-coated thinking – it's now or never
I've always been one to challenge the status quo and I think it's an important attribute for anyone working in a sustainability role. Globally, we're facing a climate emergency and to fix this we need to all challenge the status quo and play a part to avoid this catastrophic climate change. The hard truth is that construction has been one of the biggest carbon emitting industries for centuries. So now, more than ever, it's important that we keep pushing forward and take responsibility for not just the way we build but how our buildings perform during use.
A large part of our 2030 sustainability strategy Now or Never is centred around just this – and shares our plans to lead the way in closing the performance gap to help meet the UK's Net Zero ambitions. The Energy SynergyTM process is our way of helping to achieve this. When I heard it was being piloted at the Sports Hub, I just wanted to be part of its success.
My personal journey
As Energy SynergyTM has developed and established itself, I've also been doing just that alongside it.
I had the opportunity to work on the Sports Hub scheme, bringing my own perspective and being given the trust and responsibility, even as a management trainee, to implement change and drive the business forward. That's what has been so great about my time on the Willmott Dixon management trainee programme – if you have an idea, a plan on how to deliver it, and can outline the value it will add, you're treated and trusted just as anyone else would be. The fact you're a management trainee never holds you back – I was given the space to really get my teeth stuck into the opportunities that Energy SynergyTM has brought about.
My confidence has grown as I've experienced so many pivotal learning milestones. When I first began working on the scheme, I relied on our Group Sustainability team's expertise. Now here I am almost two years later having implemented it at the Sports Hub and with plans in place to do the same at University of Birmingham's School of Engineering and University of Warwick's Interdisciplinary Biomedical Research Building projects.
I made a commitment to the business and myself. I've learnt from my both my successes and mistakes, leant on those around me when I haven't had all the answers – and perhaps most insightfully learnt to accept I'm not expected nor need to know absolutely everything. That's what is so exciting about sustainability and construction – it's a constant opportunity to learn because it is so interdisciplinary.
Future focus
Going forward Energy SynergyTM is going to be a key element on every single one of our major projects in 2021.
Energy SynergyTM will, without a doubt, be a catalyst for change in our industry. Already, we're seeing more and more customers not only prioritising building performance but whole lifecycle impact when they procure new projects.
It's so rewarding to see how initiatives such as Energy SynergyTM are changing our customers' approaches and I'm excited by its possibilities and the impact it will have on the industry – I believe it's only the start of the journey. We're getting into the nuts and bolts of what drives our customers allowing us to inspire them to consider both a holistic and commercial vision. There are so many ways we can make a difference and each of our jobs has so much potential to have a positive impact – now is the time to act.
It is now no longer enough to finish a project and walk away. We have an opportunity to educate, inspire and support our customers to uphold a much greater, more impactful, social and environmental conscience.
As I graduate from the management trainee scheme this month – at the same time as we launch Now or Never - I'm proud to have played a part in a transformational step forward for our business. One that has been as equally transformational for my own my career.