Delivering critical London projects during Covid-19
Matt Adams explains how our team and supply chain partners have adapted to Covid-19 safe working practices in a highly urban environment.
19 May 2020
Situated at the heart of Hampstead is a project that will play a key role in finding vaccines of the future. Matt Adams, our senior operations manager, explains how the site quickly adapted to observe social distancing so building continued safely during Covid-19.
We are three quarters of the way through our 129-week programme to build the UCL Institute for Immunity and Transplantation – or Pears building as it's called. Located next to the Royal Free Hospital and funded by the Royal Free Charity, the building will be used by leading scientists, academic clinicians and clinical trials specialists to fight cancer and other diseases through developing revolutionary treatments and therapies for patients.
If already open, this facility would be at the forefront of Covid-19 vaccination research, so it is crucial that construction work continues.
Once complete, the seven-story building will serve three purposes. The main element is a series of containment level 2 laboratories and one containment level 3 laboratory over three storeys. Beneath that are two stories of car parks, while the top two floors will be used as patient accommodation, owned by the Royal Free Charity to provide low cost lettings for patients and visitors.
To get it over the line during the pandemic, Matt's team quickly adjusted the operation to incorporate social distancing and safe working measures. They also had to consider steps to reduce strain on London's public transport network.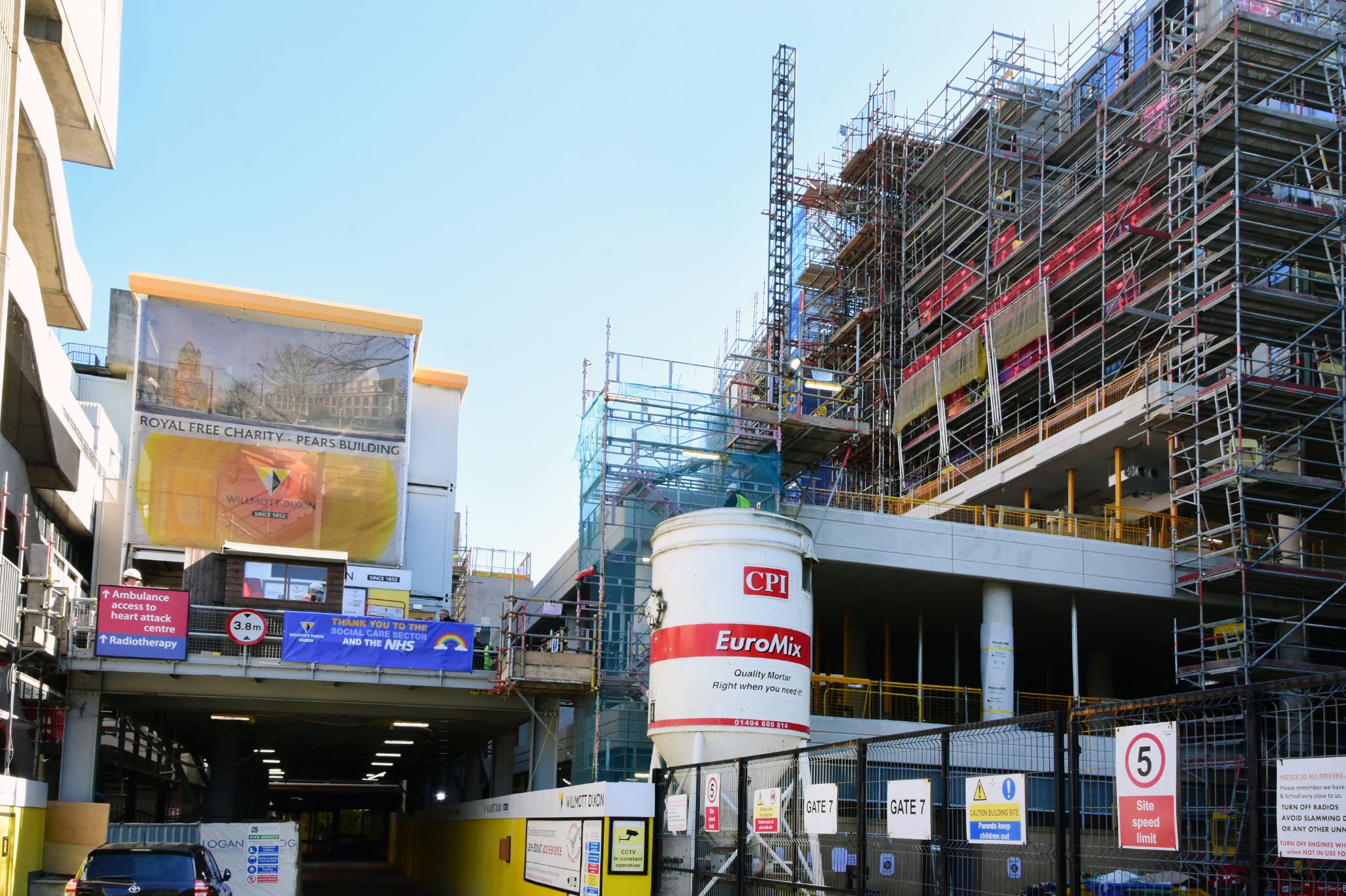 The site in May 2020
First steps
Explaining the initial steps taken after Covid-19 lockdown measures were announced by the Government on the 23rd March, Matt says:
"London has unfortunately been at the epicentre of the UK's coronavirus outbreak; we had to act with the upmost consideration and empathy when considering our options. Our first priority was to consider the site's status and how the Construction Leadership Council's Site Operating Procedures (SOP) could be safely implemented.
We held meetings both internally and with the Royal Free Charity to discuss options. Looking at the guidance, we felt we could quickly embed the required range of social distancing measures at the site to allow work to continue. Given the life-saving future importance of Pears, the Royal Free Charity were very supportive of our decision to continue through implementing safe working arrangements.
Review of roles
Roles that can be performed from home have been relocated, giving the site team extra space for social distancing
To begin, we reviewed the team's roles, leaving on site only those who cannot perform their roles from home. This led to commercial and design roles being reallocated to home working environments – something that freed up space in our site office to arrange desks so each could be spaced more than two metres apart at any one place.
Our next step was to review the site's layout, looking at where bottlenecks could occur and implementing measures to mitigate this. We implemented a series of one-way systems and marked out 2m spacings at the entrance and throughout the site to avoid close contact. Guidelines were laid out for busy areas, a maximum of one person allowed in each toilet block at a time, and five in the drying room, with 2m distancing a necessity. Hand sanitiser was made available at entrance and exits, within the site cabins and at key points throughout the interior, it is regularly monitored to ensure stocks remain high.
In our canteen, we staggered break and lunch times to prevent overcrowding. We also removed seats from tables to maintain social distancing, for the sake of cleanliness, microwaves and kettles were removed and our people and supply chain partners were encouraged to bring their own food. To create further space for our people and supply chain partners to take their breaks while abiding by social distancing, we reconfigured the project's plan to delay works on three large rooms, using them as further breakout space. The completion of these three rooms will be accelerated later in the programme.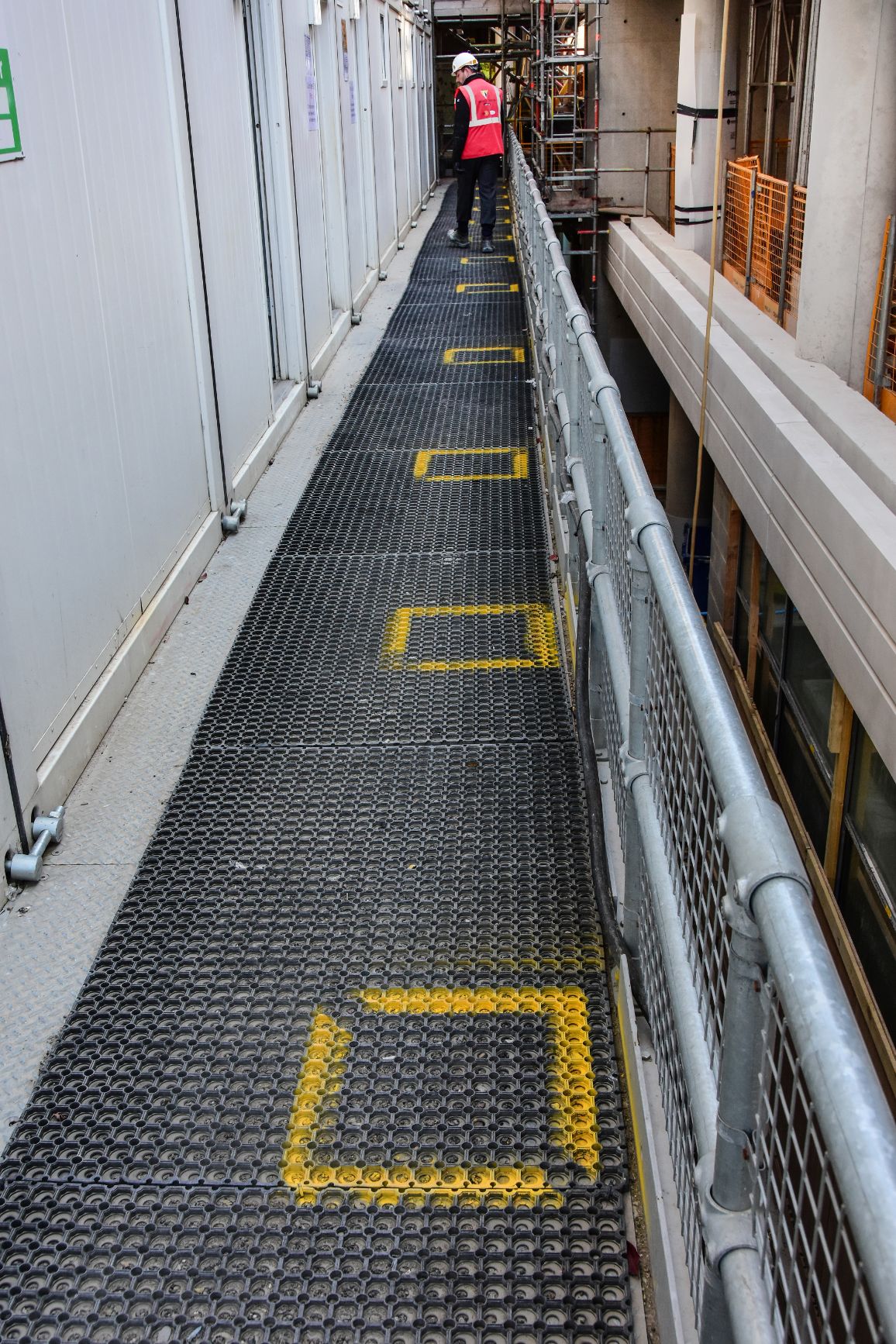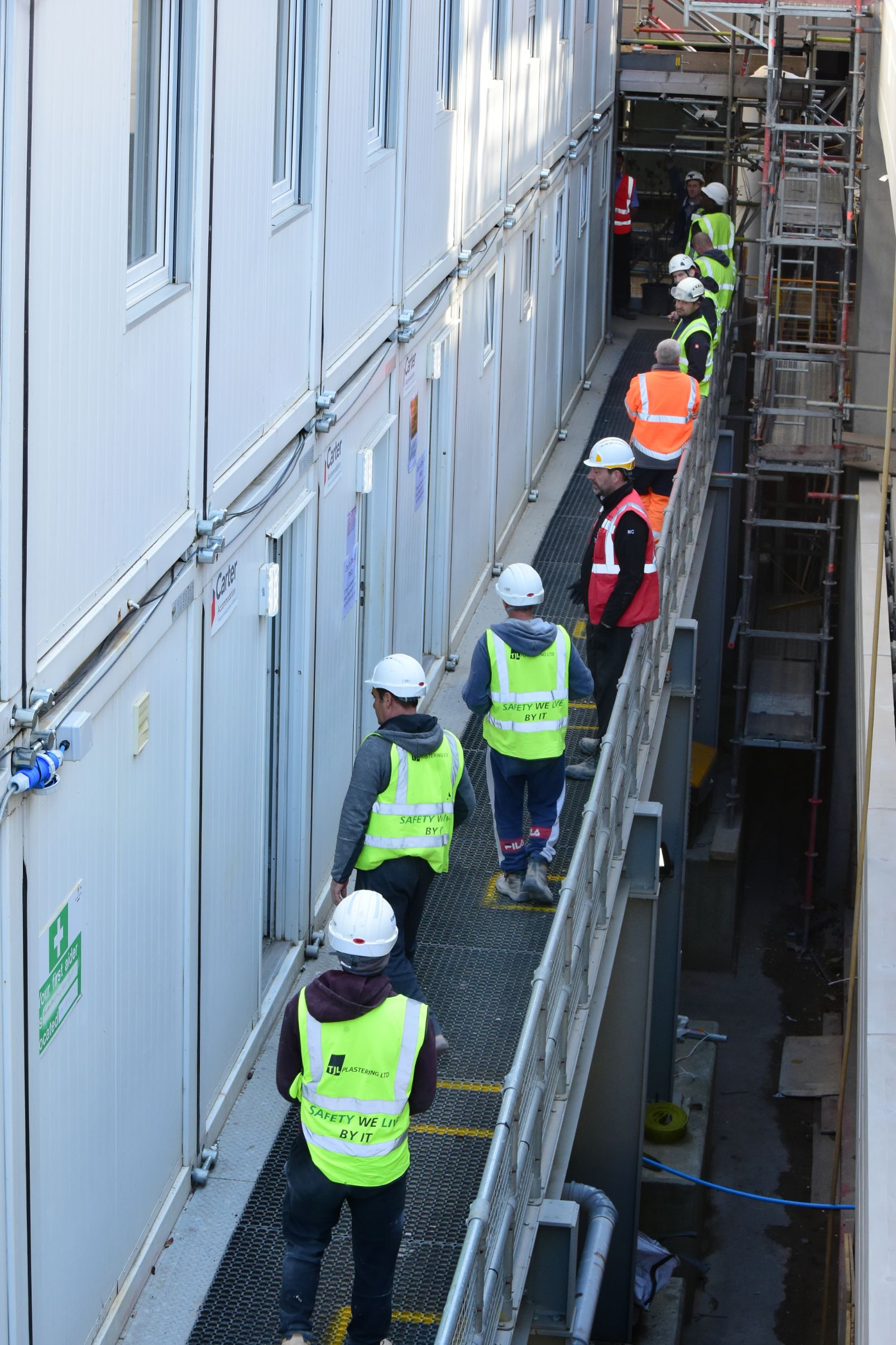 Walkways have been marked to avoid close contact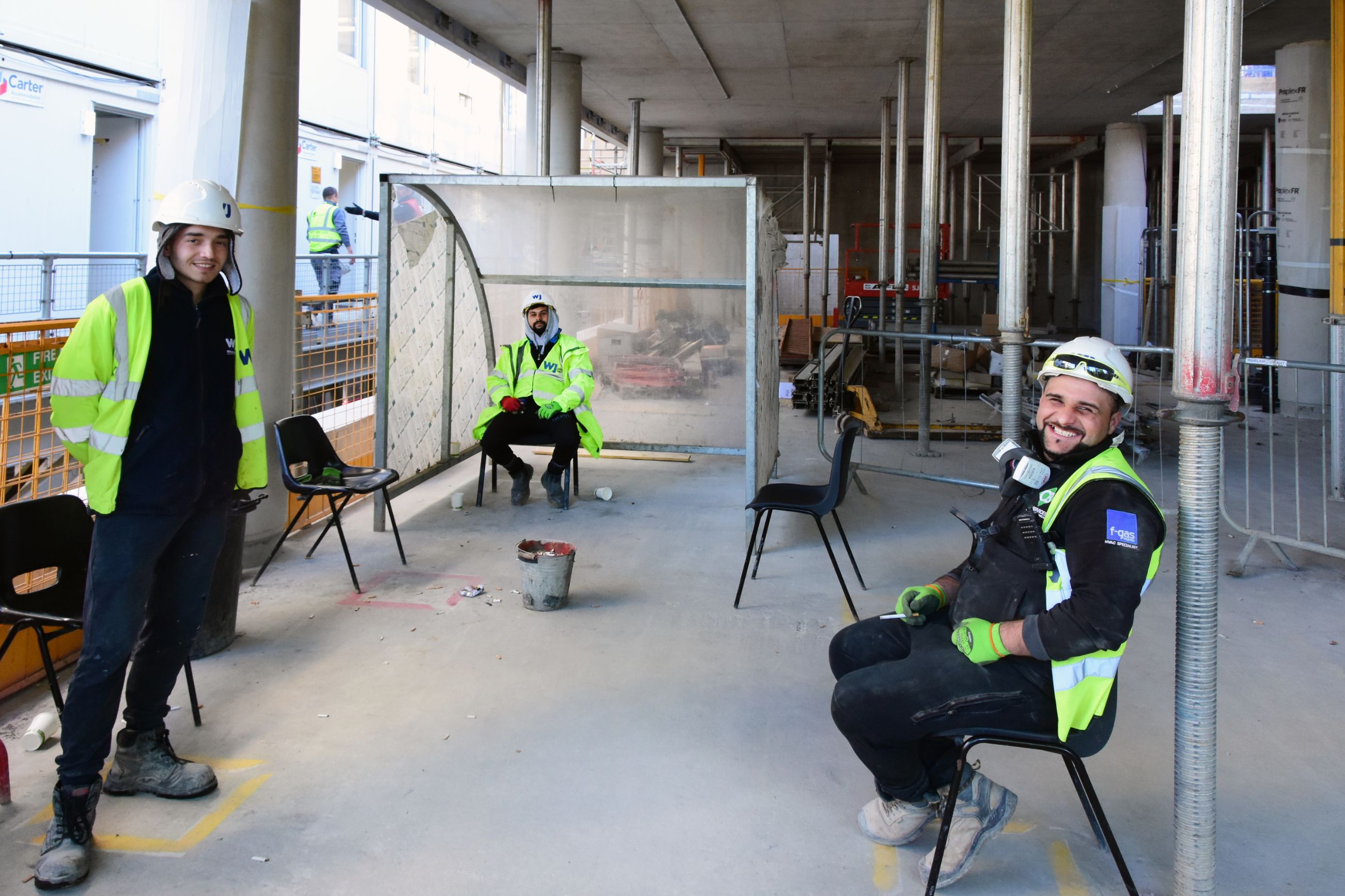 Social distancing spacing has been marked in the canteen, break areas and smoking facilities
Easing transport pressure
As the project is in a highly urbanised area, taking pressure off local transport systems has been a key priority. With many local carparks suspending parking charges and the London Congestion Charge being suspended, we have encouraged the team to drive to site where possible, or take other independent means of transport, such as walking or cycling. We have also adjusted the site's operating hours to 7am-4pm to reduce our usage of public transport at peak times. All external visits have been cancelled, unless absolutely necessary.
Also, each person has been provided with a letter explaining their line of work and why they are commuting to work, in the event of being questioned by law enforcement. We have also included guidance on our operation at the site's gates, keeping residents up to date with our latest developments and why the site remains open.
Communicate to update
Following the stringent lockdown measures, it was critical to ensure strong communication to our people and supply chain partners. We had to communicate clearly the message that we were staying open and doing this included merging wording from Willmott Dixon's overall position statement with local directives for the project.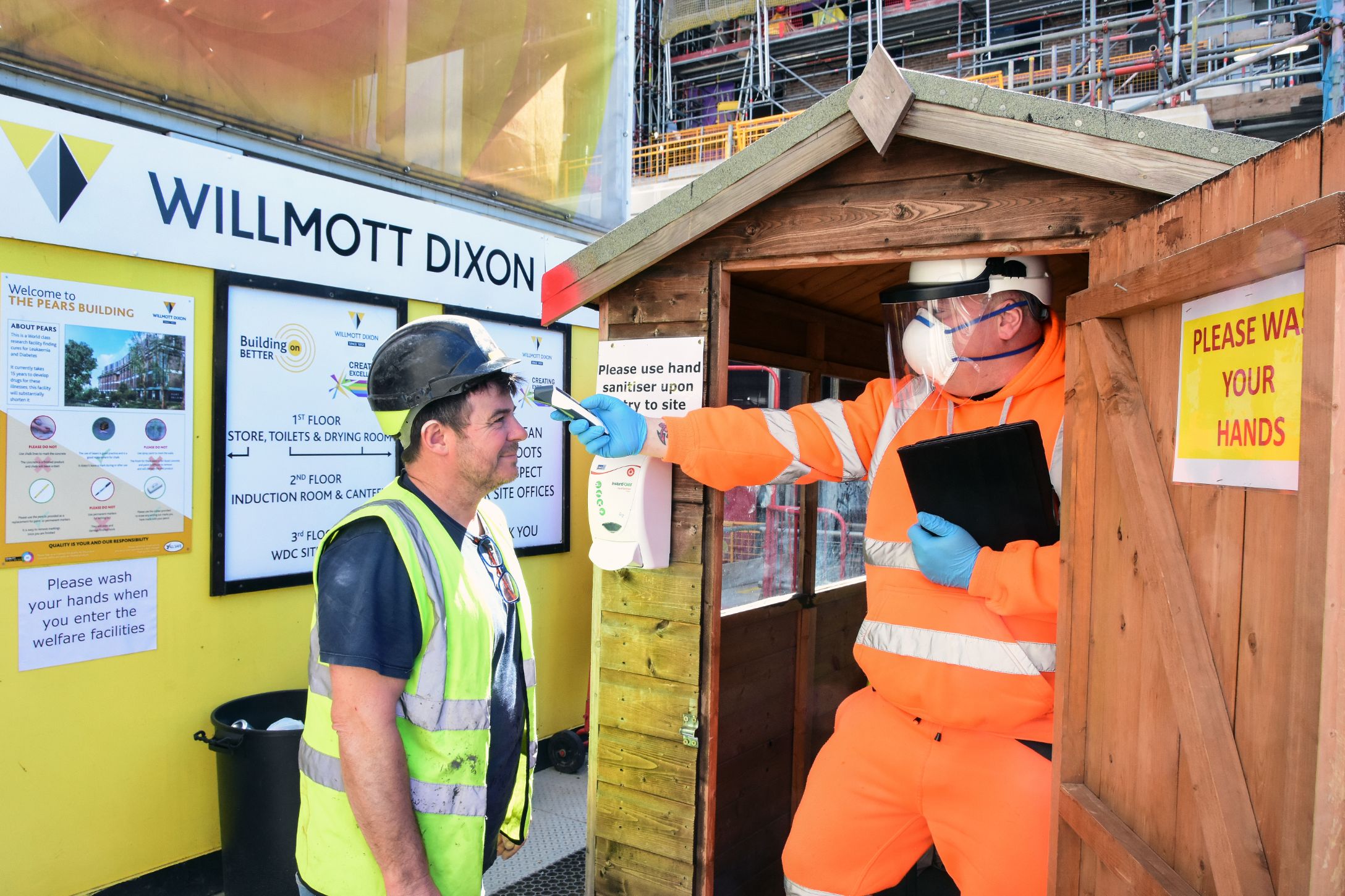 Temperature checks are required on arrival
Each morning we hold 'toolbox talks' to keep track of the project's progress, and issue information about the latest SOP's advice and guidance. These meetings are held in airy open spaces, allowing for spacing of more than two metres between attendees. Further to this, we do temperature checks for everyone on arrival each morning and if anyone shows symptoms of coronavirus or needs to self-isolate, they do so; it is critical they abide by this directive.
Leading by example
One of the key challenges we have had to overcome is the availability of our supply chain partners, who are empowered to make their own decisions about continuing to operate. Given the location of the project, and the scrutiny over key workers in London, it wasn't a surprise that operatives on site reduced by more than 50% within days after the increased Covid-19 control measures.
This reduction allowed us to quickly make changes to implement social distancing procedures. We then communicated the site changes to our supply chain partners and invited them each to visit the site, asking them to arrive unannounced. Taking this action made sure our supply chain partners saw the site as live, rather than looking like we were putting on a show. This has been well received and we are nearing full capacity," Matt explained.
One supply chain partner, Neil Harrison, pre-construction director at BriggsAmasco commented
"

the Willmott Dixon response to Covid-19 at the Pears Building has been first class, we are very impressed."
Further to this, we have had many supply chain partners comment this is the safest site they have ever been on.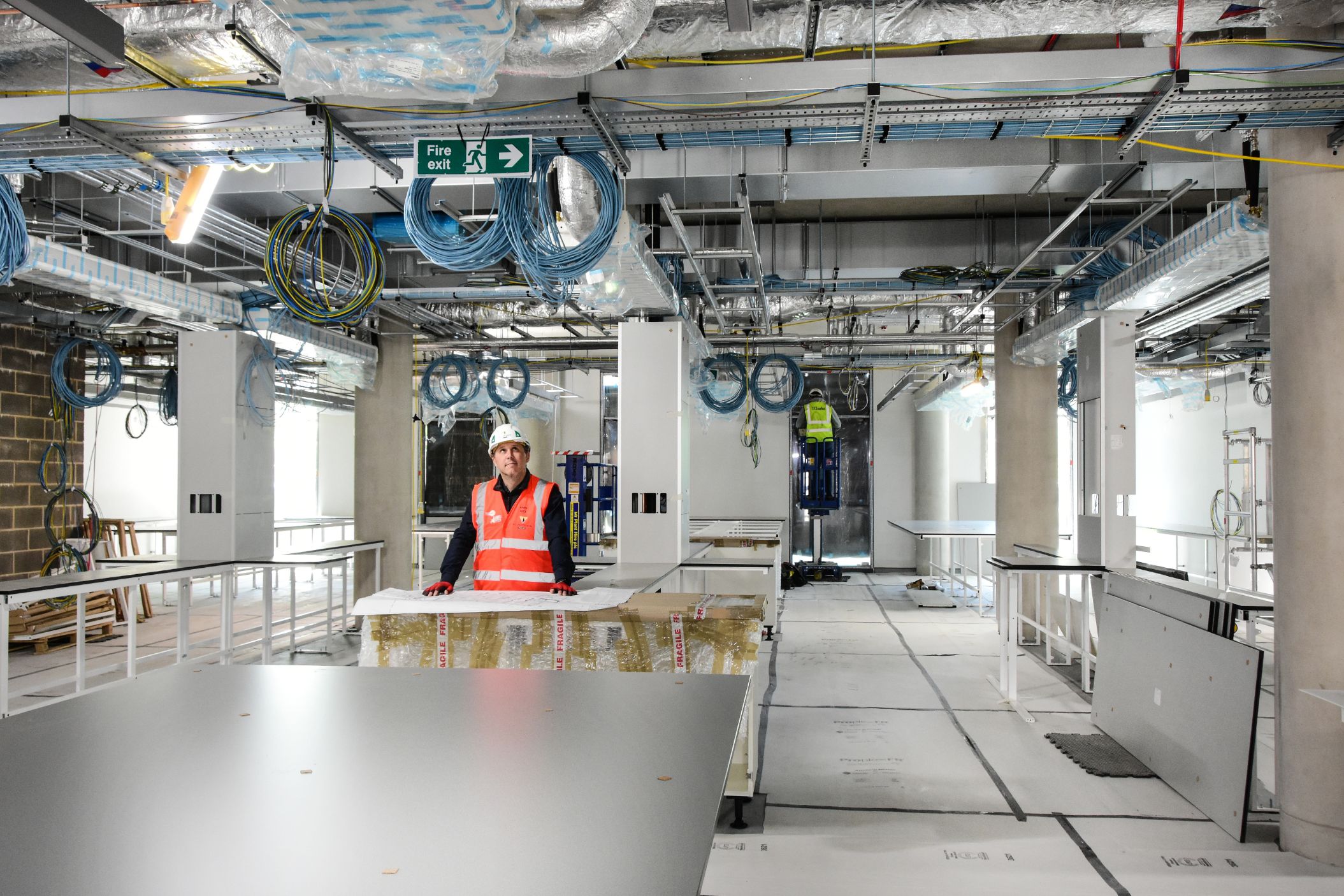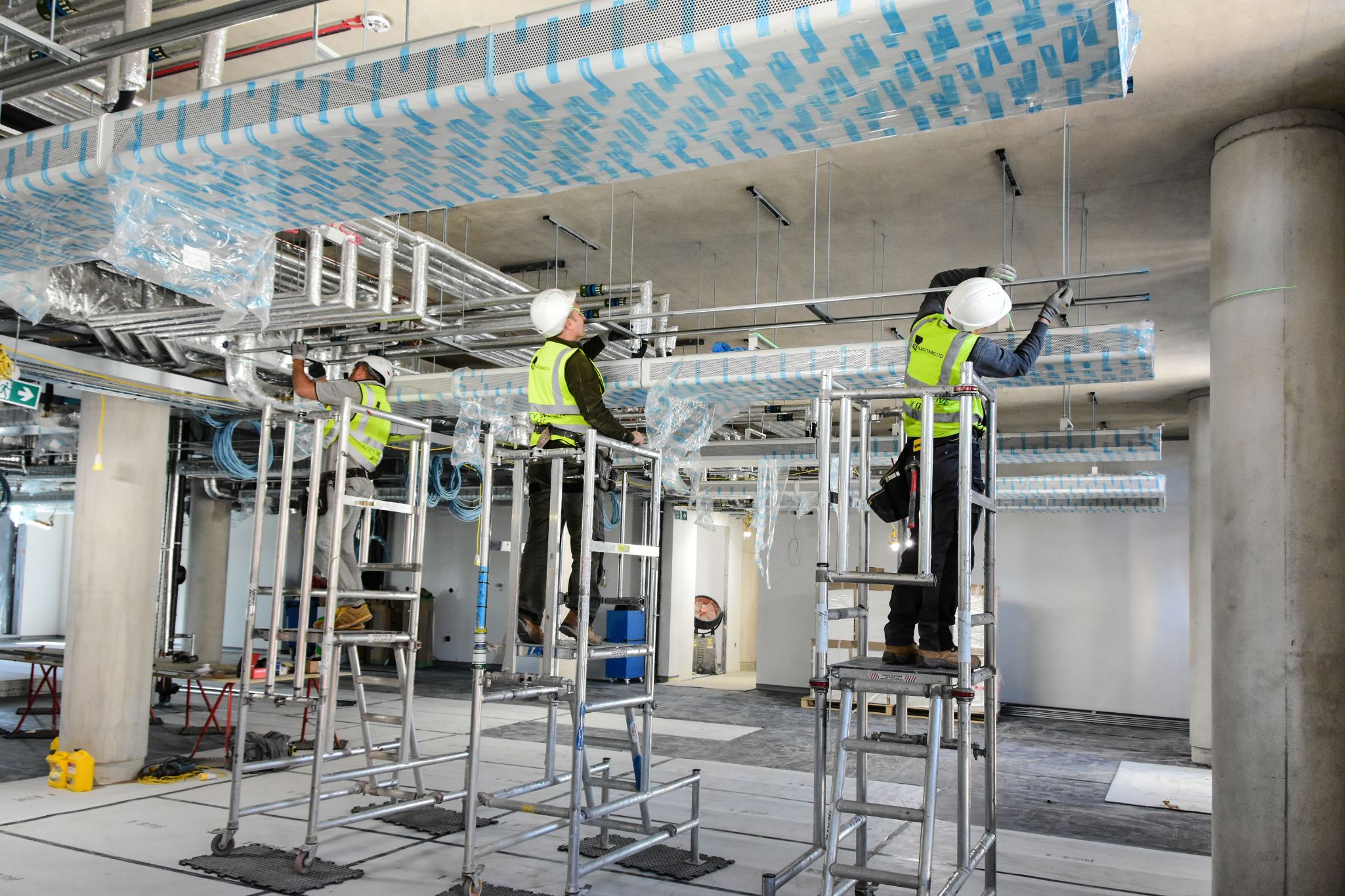 Progress continues while abiding by social distancing requirements
Keeping the customer updated
Ensuring the Royal Free Charity is kept updated with progress remains critical. Progress is shown remotely using a GoPro, then a follow-up meeting using Microsoft Teams. This approach keeps visits to a minimum and ensures social distancing is embedded.
Speaking about the project's continuation during Covid-19, Peter Owens, Property Director at the Royal Free Charity commented:
"The health, safety and wellbeing of people are the primary objectives of the charity. We have listened to the latest Government advice and their willingness for construction to continue, where social distancing practices can be implemented, and have been impressed by the range of measures Willmott Dixon have initiated. We are pleased the continued building works has allowed many companies and sole traders to remain operational and generate income during these unprecedented times."
Embedding fundraising into progress
Matt continues, "as well as the build, we are also working closely with Royal Free Charity to raise money. In September, some of our people, supply chain partners and representatives from the Royal Free Charity completed a gruelling London to Paris bike ride together, raising over £13,000 for the charity. We also have a pool table on site, charging 50p a game with all proceeds going to the charity. We have raised a few thousand pounds so far, obviously this has stopped due to the required social distancing measures; however, we are pleased with the achievement.
Finally, I would like to thank our people, supply chain partners and the Royal Free Charity for their commitment and enthusiasm to working safely and allowing work to continue at the Pears building in a Covid-19 environment. We all know how important this building will be once open and we remain driven to complete as soon as we can, without compromising on safety."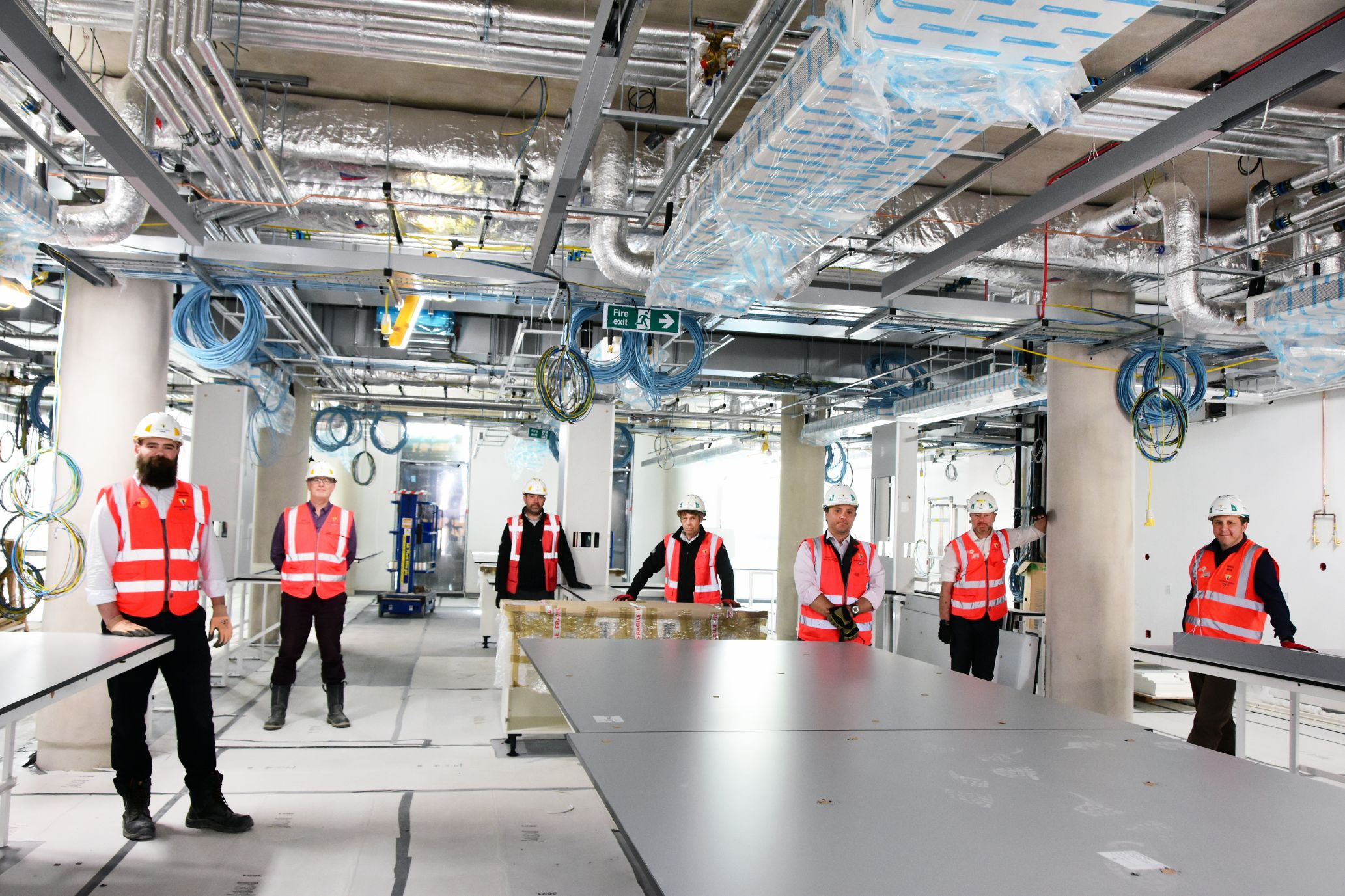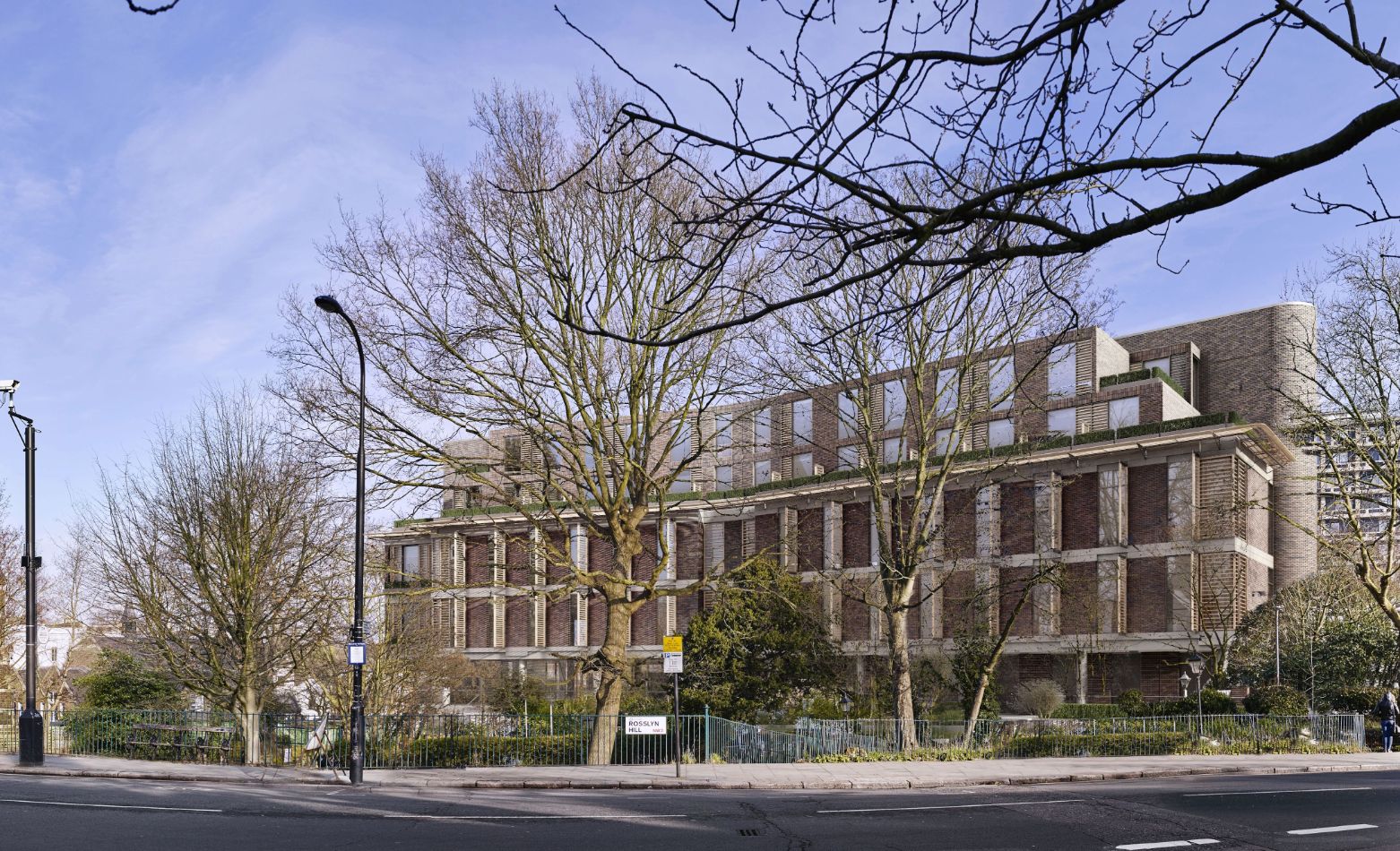 An artist's impression of the completed building