The Willmott Dixon Foundation is our vehicle to add social value in our communities. It defines and measures our impact in contributing to wider society beyond our day-to-day activities. We help communities thrive using our skills, experience and know-how to make a tangible difference.
Read our review here Foundation Review - 2016.

The difference we are making

We invest £2.5m but we know that the real value is in the impact of our community investment activities on individual activities on individual and communities. See our poster The difference we are making.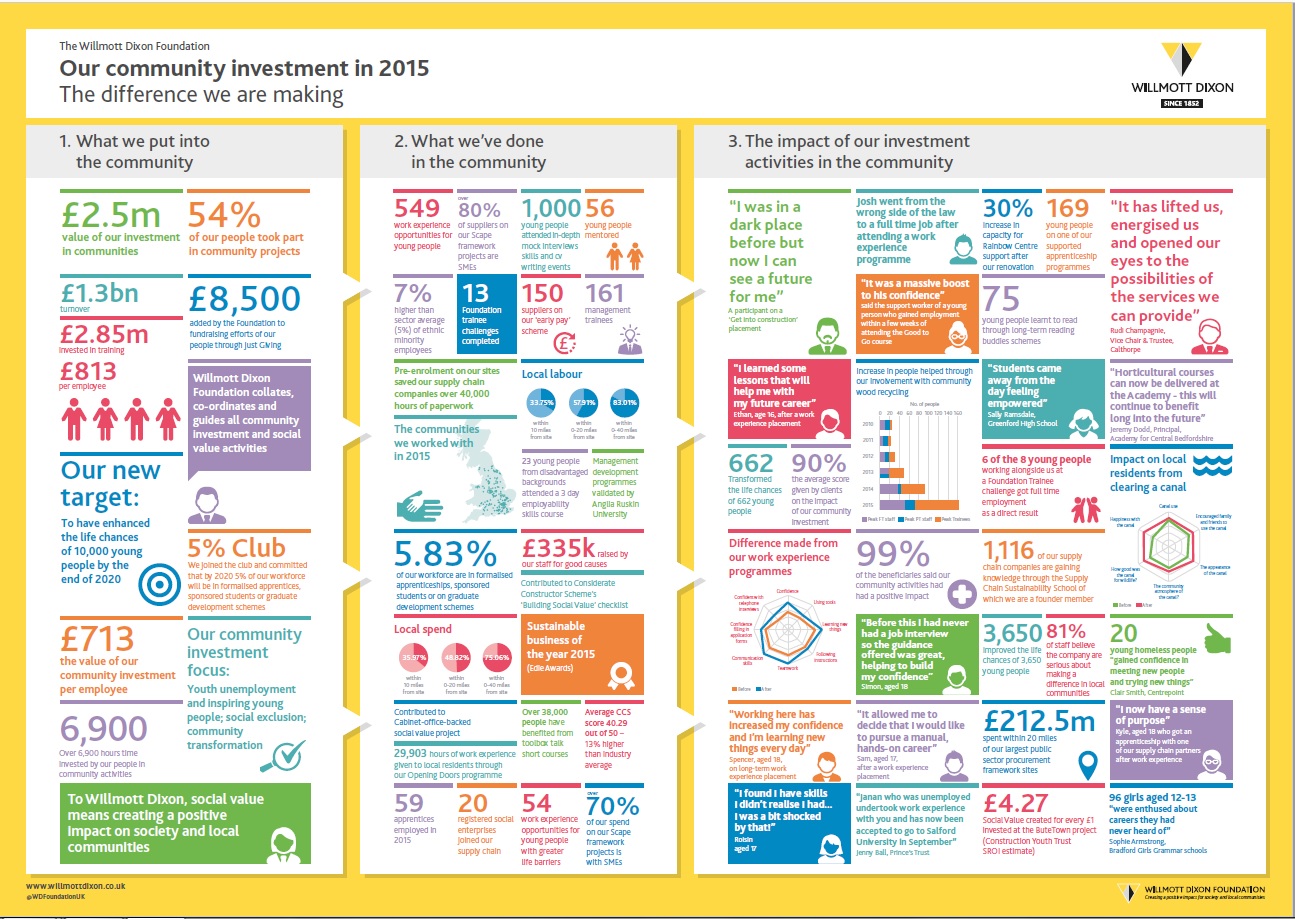 We've more than achieved our Young People Target!

Watch our '10,000 young lives improved by 2020' video here.
We want to positively contribute to society's long-term well-being!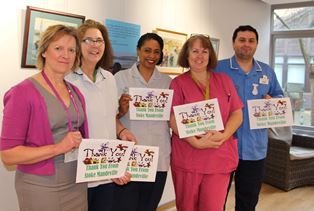 Group Chief Executive Rick Willmott:

"Being a large company means we have the scale to create a huge and lasting positive impact on our society. This is not only done through what we build and maintain; it's achieved through the fantastic efforts of our people who make a major contribution to enhancing their local communities."
Key facts for our 2015 community investment activities:
1293 young people for whom we gave work experience opportunity (of which 317 were with us for over 6 weeks and 147 were from very disadvantaged backgrounds).

1948 young people who attended in-depth interview skills and CV writing events which included mock interviews and detailed feedback.

251 young people who were mentored by one of our people.

75 young people who we helped to learn to read through long-term reading buddies scheme (6 of them at age 16 just before their GCSEs).

And some of the individuals we have been able to help include:
Mark, a local young resident, who was taken on as an apprentice. He has had to overcome many barriers in his life and is a carer for his mother.

Ellie, a single mum, who was struggling to find employment before she won an apprenticeship with Willmott Dixon. Although it's not easy juggling a full-time job with caring for her daughter, Ellie says that if she hadn't won the apprenticeship she would be doing unskilled work instead.

Kyle, whose work experience with us led to an apprenticeship with one of our supply chain partners, giving him a sense of purpose and a new confidence.

Josh, who was offered full-time employment with a supply chain partner after attending a traineeship programme we ran with the Sheffield Youth Justice Service and South Yorkshire Police for young people previously on the wrong side of the criminal justice system.
Our achievements earned Business in the Community's prestigious CommunityMark and as a leader in the field of social value, we contribute to forums that shape Government policy and strategy (we were recently mentioned as an example of good practice in government's Review of the Social Value Act).
Social and community investment and engagement is locked into our corporate DNA! The Foundation allows us to focus the impact of the time and money to helping achieve improvements to society's well-being.
Social Value
Read our publication on social value here. Adding social value is something we believe passionately in we regularly take part in forums and round-table events on the subject. This publication captures some of our contributions to these debates, drawing on examples from our company's activities.