Earth Day: let's embrace renewable energy in our homes
Cathy reflects on the difference renewable energy in our homes has on the environment.
22 April 2021
Today is Earth Day, an occasion marked across the world to raise awareness about climate change and the positive actions we can make to preserve and restore our shared home for future generations.
While we can be proud of big industry initiatives, such as the Contractors Declare agreement, signed up to by many of our industry peers including Willmott Dixon, we can all make individual changes to help protect the planet.
One of the easiest ways for us all to improve sustainability in our home is through switching to a renewable energy supplier. A survey by Which? magazine on worker habits over the past 12 months showed that over half (56%) said they were heating their homes more often or for longer, 47% used more water, 40% were doing more cooking at home and 39% were using TVs, game consoles and laptops more. All this means bigger utility bills - and more carbon emissions.
The table below shows the latest Government data on where the majority of UK fuel is sourced from:
UK Standard fuel mix
| | |
| --- | --- |
| Energy Source | % |
| Coal | 3.9 |
| Natural Gas | 39.4 |
| Nuclear | 16.6 |
| Renewables | 37.9 |
| Other | 2.2 |
Whilst it's great that we've achieved 38% renewables, as a country we are targeting to reduce carbon emissions by 78% by 2035 and become net zero carbon by 2050 – which means our reducing reliance on fossil fuels.
To ensure low carbon sources make up an increasing percentage of our national grid, we need to push up demand.
What are the benefits of a green tariff?
Choosing a green tariff shows demand is there. It sends a message to your supplier and the wider industry that you wish to support renewable energy generation. And the increasing numbers of green tariffs available shows the industry is listening. This is a valuable contribution, whichever green tariff you choose.
A green tariff means that some or all of the electricity you buy is 'matched' by purchases of renewable energy that your energy supplier makes on your behalf. These could come from a variety of sources such as wind farms and hydroelectric power stations.
What green tariff should I go for?
Which? and The Energy Saving Trust provide more information on different green tariffs. And you can use Big Clean Switch to help you find a new provider. While green tariffs may be more expensive, there are providers who are comparable. But it's worth using these websites to check just how green your supplier is.
The "top-tier" suppliers either have their own renewable generation or buy renewable (green) electricity directly from generators, such as UK wind or solar farms. This provides a clear benefit to the UK renewable industry because it provides a source of income to invest in new renewables.
Other electricity suppliers will source their renewable electricity from a mix of sources – some directly from generators and some from the wholesale market. The higher proportion that is sourced directly – the greater the support for renewable generation.
It's also worth checking whether you tariff is renewable (e.g. wind, solar etc.) or low carbon (which can include nuclear energy).
What is Willmott Dixon doing to support renewables?
Through our 2030 'Now or Never' sustainability strategy, we have set some of the most challenging science based environmental targets in the sector. We already procure all of our energy from 100% natural renewable tariffs, with our energy bills going towards supporting renewable power. Our broker, Planet First, which is also a social enterprise, helps us procure these supplies.
Looking longer term, within the 'Better Planet' theme of our strategy, we pledge that within the next decade, will have no direct emissions from our day-to-day operations by eliminating fossil fuel use in our offices and on our sites. This includes moving to a 100% electric fleet and continuing to only procure certified natural renewable energy.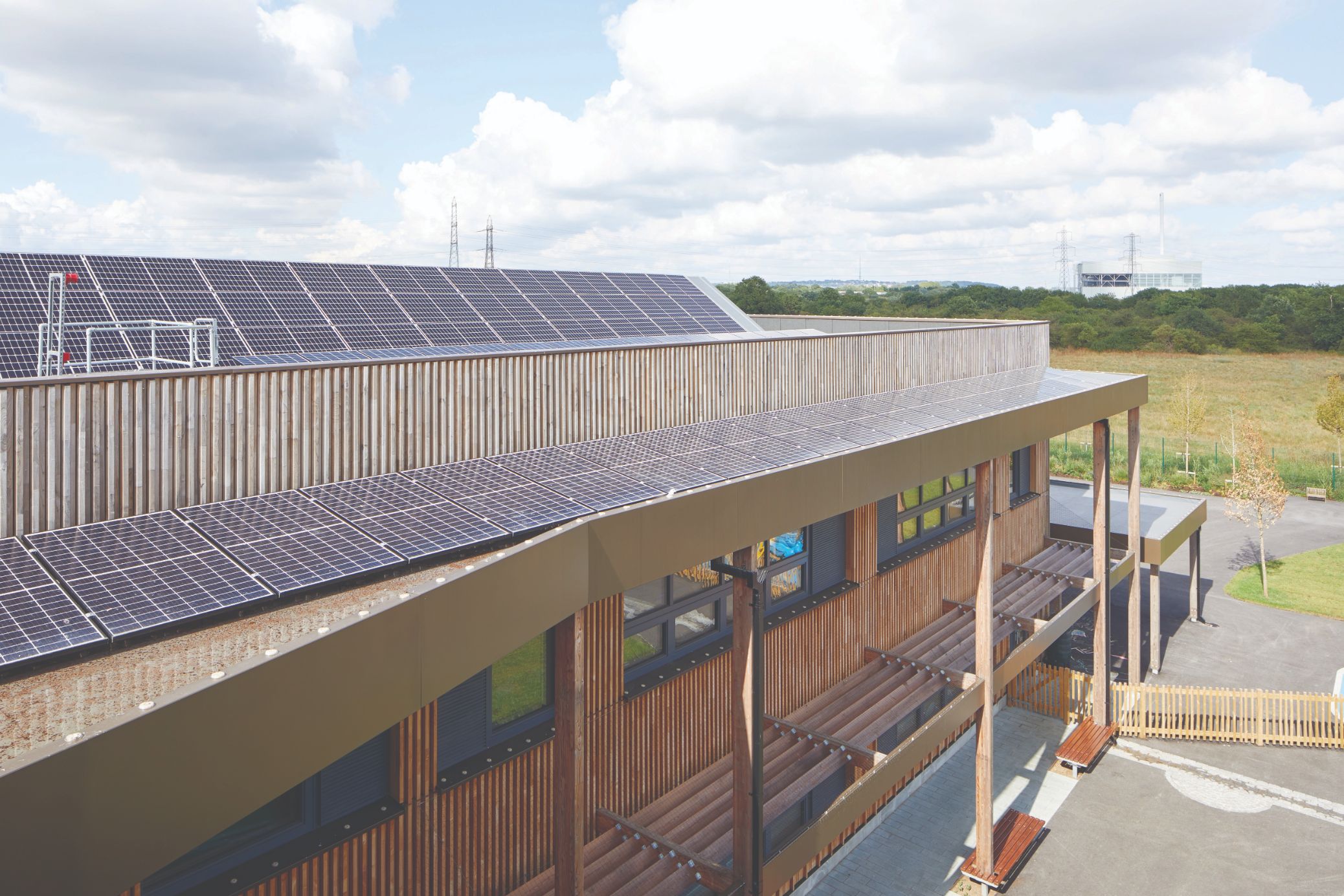 In October 2019 we handed over Hackbridge Primary School, creating the UK's first Passivhaus 'plus' net carbon positive school. The building remarkably only 75% of the 100% renewable energy that it generates, processing the excess energy back to the National Grid.