Every community is different, so we work with our customers and other local stakeholders to identify local needs and priorities, and then develop activities which will have the most impact.
We know that by working with partners – clients, customers, supply chain partners, charities and other organisations – we can achieve more than we can on our own. This spirit of collaboration is at the heart of the way we do business.
We are constantly seeking ways to maximise the beneficial impact, we can have on local communities and on society as a whole. The collective learning on social value is growing rapidly and we are keen to share our experiences and knowledge with like-minded organisations so that we can all improve and maximise the benefits.
Our Focus
We focus our community investment and social value activities mainly in three areas:
Youth unemployment and inspiring young people
We want to help young people develop the skills they need to find work, and we aim many of our interventions at young people who are at risk of becoming NEET (not in education, employment or training) or who have greater barriers to overcome. Working with young people requires significant resources and commitment from our teams, but it can also be very rewarding. Our people enjoy providing training, mentoring and other support, and frequently say how much they get out of the activities themselves.
Social exclusion
People living in poverty, ex-offenders, those who are homeless or those living with a disability are just some of the people facing social exclusion. These people are often hard to reach and connect with, but helping these people is a key focus for us. There is a significant cross-over with our first area of focus as we work with many young people from difficult backgrounds, but we have also supported other excluded groups – for example, helping those in custody to steer away from re-offending through our work with prisons and young offender institutes.
Community transformation
We know that thriving local communities can have a huge impact on the lives of the individuals, and we want to help them prosper. So we seek to employ local people and make sure that we purchase goods and services from local companies wherever we can. In addition, over the past twelve months we have carried out hundreds of activities which aim to support local communities and help them to grow. These range from the modest – such as litter clearing – to mammoth make-overs involving hundreds of work hours from both ourselves and our supply chain partners.
Whatever the size of the undertaking our approach is to work with the right local people so that the work can deliver the maximum result. The stories in our reviews illustrate just some of the many ways in which we are focusing our social value work in these key areas.
Our Target
We have set ourselves the challenging target of 'enhancing the life chances of 10,000 young people by 2020'. The target recognises that impact is key when it comes to social value. Giving a work experience opportunity to a young person is good, but it's the benefit – the skills to get a job – which is most important.
So how do we assess the impact of our interventions? Our methodology recognises that:
Some activities can have a greater impact than others: a classroom session on employability skills is likely to have less impact than an extended period of mentoring.
The impact of interventions may be more significant for people with greater barriers to overcome. So on this basis, if an activity genuinely transforms a young person's life chances, we count that as one point towards our target.
If we help a young person along the way – for example with interview skills – we count this as 1/3 of a point. The image below shows the sorts of factors we take into account when deciding if an intervention has enhanced or transformed lives. It's worth noting that we don't count some activities towards the target at all. For example, while careers fairs are beneficial for young people and sometimes even short conversations can change a young person's direction, in the main they are not transformational in themselves.
By the end of 2017 we had 'improved' the life chances of a total of 13,866 young people and 'transformed' the lives of 2,672 young people. Using our methodology, we have achieved 7,293 towards our target although we have made a difference to the lives of 12,088 young people.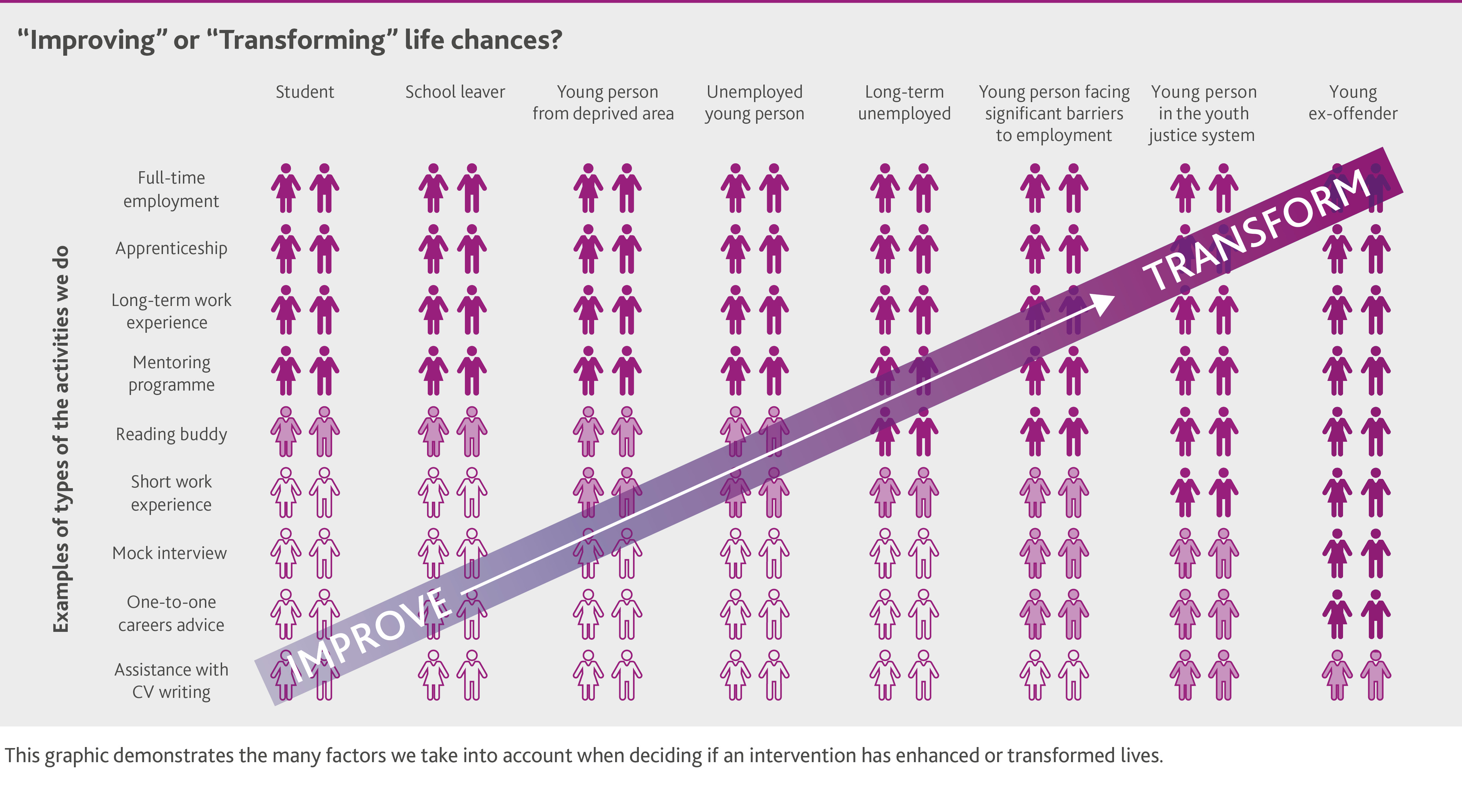 Our Progress
The strength of our social value work is that we constantly evaluate, learn and improve what we do.
Monitoring and valuing our efforts
Our numbers (which are externally verified by LBG¹, and Bureau Veritas²) provide our customers with robust data on what we have done in their local communities. They mean we can set targets which drive us to improve year on year.
In 2016 we introduced what we call our Social Value Account – a tool which helps us to calculate the monetary 'value' of our initiatives. It uses proxy financial data provided by an independent external expert in the field, to provide us with an idea of the value of our interventions to society.
During 2017 some of our projects have used this methodology to demonstrate the equivalent financial value they added through community activities to the local area. In early 2018 we were able to celebrate our first project returning over 10% of its contractual value in social return – and that is before you count the amount of money we spend in the local area on goods and services. During the summer months of 2018 a tool will be rolled out across the business to enable all our projects to scope, plan and report their social value in this way.
While we are clear that financial figures are not representative of the actual value of our interventions (for example, how do you truly value the benefit of helping a long-term unemployed person find a job – and the impact on their family and friends?), our Social Value Account is a valuable tool which helps us work with our customers to decide on the right kinds and levels of activities for them and their communities.
Influencing best practice
Our participation in the Government-backed Social Value Task Group enabled us to contribute to the development of the National TOMs Framework (Themes Outcomes and Measures). This resource provides a minimum reporting standard for measuring social value for private and public organisations. More information can be found here.
New programmes
We constantly look to take part in and support new flagship programmes which will add social value. In 2016 we supported the Design Engineer Construct qualifications in three schools across the country.
During 2017 we worked with the Ministry of Justice and the HM Prison and Probation Service to develop an Apprenticeship Pathway Programme – in May of 2018 our first apprentice via this programme was placed on site. We have also joined a construction consortium looking at how our industry can make better use of social enterprises. The first meet the buyer event was held in March 2018.
___
¹ LBG is a global network of companies which has developed a well-recognised and robust framework for measuring and benchmarking community investment.
² Bureau Veritas is a professional services company that provides independent verification and assurance services.