Sustainable development has long been a part of our ethos at Willmott Dixon so we have systems and processes to ensure that our staff have the right expertise. Job roles in the business has been assessed according to the types of sustainable development competencies needed, and these competencies have been incorporated into our job performance criteria.
We ensure that all our site teams are aware of our sustainability strategy and policy objectives, and cover waste, energy, water, ecology and sustainable procurement in site inductions. On top of the sustainability modules training developed for our operational teams, we raise awareness of our sustainability strategy and policy aims by displaying on site our:
Across all sites we ensure the relevant staff are in place to implements sustainability objectives and drive best practice in the following areas:
Project sustainability
Site environmental impact 

Environmental and sustainability training

We have developed a comprehensive, four-level training framework that covers strategically important areas of skills development for the Willmott Dixon business.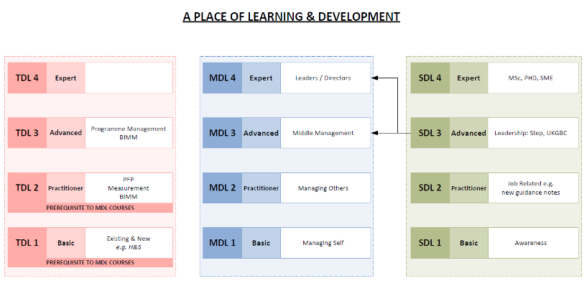 For general awareness training we have engaged the UK GBC STEP Introduction to the Built Environment course.
To ensure all employees have the technical skills required to deliver sustainable buildings we developed self-assessment competency matrices. Where any areas of development were identified, employees are required to undertake the training before their next personal development review. 

At both levels three and four of our management development and leadership programme, trainees attend a two-day sustainability leadership training course. The courses have been developed in-house with content supplemented by modules from guest presenters, to reflect the latest developments in the industry. The well-rounded course ensures future senior managers are fully aware of the need to drive sustainable development through the business.
For a number of years members of our executive teams have taken part in the UK GBC STEP Leadership Programme and the Cambridge Programme for Sustainability Leadership Business Sustainability Programme.
We have worked in partnership with IEMA (Institute of Environmental Management and Assessment) to secure formal recognition of all our existing in-house environmental and sustainability training courses. We are also training and supporting our environmental sustainability professionals towards full IEMA Membership and Chartered Environmentalist status.